After this "short" expose the bottom line is that the top half of the pyramid [to follow] has more in common with Leftist ideals of a larger government, and should be in a pyramid that includes ANTIFA and the beliefs of Michael Loadenthal.
DAN BONGINO: LEFTY ADMITS THE THINGS THEY DO ARE ILLEGAL
(See also ACE OF SPADES for more "stuff) Some backdrop to the above video, first by AMERICAN FAMILY NEWS: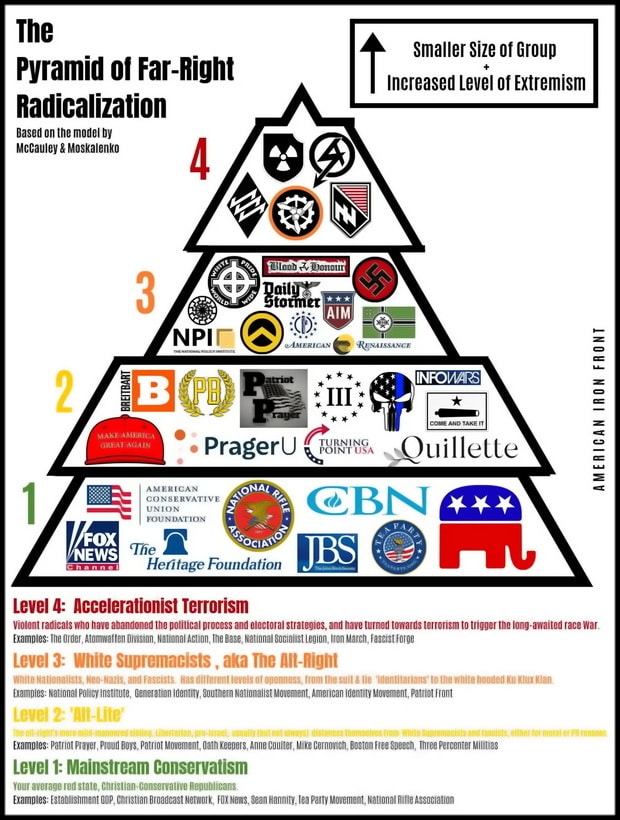 Yes, they are breaking laws, but the chart breaks common sense as well. I will explain what I mean a bit [those that follow me know when I say "a bit," sometimes that means "a lot"], but people have a very broken view of the issue and where the cards fall, so-to-speak.
So, let's delve into this issue with some partial past posts of mine discussing the main issue I see between levels 1 and 2 and those of 3 and four. (So I am cutting the pyramid in half essentially.) Here is the main idea via an old post that originally appeared in August 2007 on my old blog, but that eventually got imported and updated to my .com:
WHAT "IS" FASCISM ~ TWO OLD POSTS COMBINED
So we see that there is a misunderstanding at the core that doesn't account for the top half of the pyramid wanting a socialist form of government like Mussolini or Hitler set out to accomplish, versus, the "right" in America that wants a small government and voting brought back to the electorate through what the Constitution clearly enumerates in statehood.
So let us go through the bottom half a b it.

FIRSTLY, I cross out the JOHN BIRCH SOCIETY (JBS) and INFO WARS for a few reasons. I was heavily influenced by JBS through an old bookstore in North Hollywood back in the day. Lots of conspiracy books and VHS documentaries, yada-yada. While many authors and writers for JBS made great points and had insights into communism and the Left… there was a stream of conspiratorial views that I eventually rejected, and thus stopped following the society as a whole. I discuss this a bit in a chapter from my book:
In fact, even though these "conspiracy writers" may drop the ball on some historical facts and their connections, insights — like I said — are still admirable. For instance, some of the graphs I have already used above come from such a book: None Dare Call It Conspiracy, By GARY ALLEN. I wouldn't recommend the book to a young mind just starting out in parsing good political theory from bad… but I would recommend it to someone who can rightly parse good history from bad…. as there is worthwhile thoughts to glean from such a book. Especially with the World Economic Forum topic and the George Soros' of the world.
And my site makes it plain I am no fan of Alex Jones and  all he touches. Many on the right glom on to him as some sort of truth teller, when he is anything but. For instance, just one linked story from my site:
And I will admit I feel bad for conservatism proper that so many "of my people" follow such a clown. I also wish to not defend the tactics or actions taken by Patriot Prayer of Proud Boys… also in the bottom half of the pyramid. But I do not cross them out as may of their goals are maligned/distorted by the media and the left.
 I also have some recent notes on this idea that the Left maligns everyone who is violent as "white supremists." Here is my personal thoughts on the matter:
When "White Supremacists" Attack (UHaul Edition)
So the origin of the Proud Boys (PB) is a bit more innocent than they are painted to be. That doesn't mean that people in any of these groups do not have people in them (like any group) that abuse the stated goals of these groups. And the "boys" [in America at least], are small government advocates. As are John Birchers as well.
Which brings me to the upper half of the chart. Three and four.
I note on my site, after years of studying racist movements, that all these groups (black or white) almost always vote democrat. Here, for instance is another excerpt from a post of mine detailing this:
So the bottom line is that the top half of the pyramid has more in common with Leftist ideals of a larger government, and should be in a pyramid that includes ANTIFA and the beliefs of Michael Loadenthal.
So, as far as I can tell there are complete idiots at the FBI that follow the bad thinking of places like the Southern Poverty Law Center that further polluting the ideas that are soo easily refuted.
Here are just a couple examples of how the Left distorts reality:
THE SPLC!
An example of this infectious disease
The Southern Poverty Law Center bills itself as a watchdog of hate groups. But is this just a cover for its true aims? Journalist and author Karl Zinsmeister explains.
It is SHOCKING that the FBI works with this political cult!
MORE SPLC RADICALISM
GAY PATRIOT [now defunct, sadly] notes the radical attacks from Leftist organizations:
Stossel!
The WASHINGTON EXAMINER goes after the partisan hate-group with this excellent article: