In this installment of my series dealing with a local small papers regular article, I respond to the misdirection of energies to ideas surrounding religious and political extremism. A proper understanding of both history and one's own political leaders can direct one's energies to properly deal with the issues that animate so many.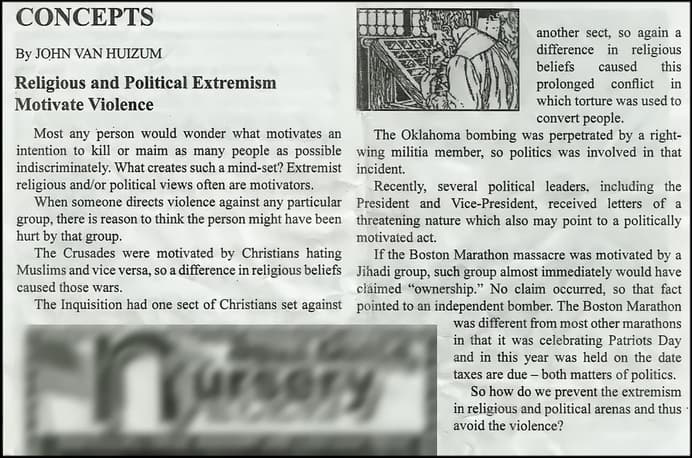 I only have the patience and time to correct a couple of items in the above (as usual, you may click the graphic to ENLARGE it). This will again fit into the category of Mr. Huizum not knowing history well, and based on such bad historical referencing making broad claims that hurt healthy dialogue. This is a common practice in higher education, and Professor Mike S. Adams comments on what affect this has on young students:
They motivate some students to dedicate their professional lives to finding solutions to non-existent problems.

They cause many students to become angry over things that aren't even true.
Letters to a Young Progressive: How to Avoid Wasting Your Life Protesting Things You Don't Understand (Washington, D.C.: Regnery Publishing, 2013), 42-43.
"Life is too short to spend being angry about things that aren't even true" (43). Similarly, one should put one's energies towards the right area of focus. So for instance, when John states,
The Oklahoma bombing was perpetrated by a right-wing militia member, so politics was involved in that incident.
He has in his mind a picture of a religious right-winger. When in fact Timothy McVeigh was an atheist who renounced the Judeo-Christian God and said his "god" was science. So in reality, McVeigh's motivations line up closer with John's political (and some would say, religious… because "atheism" is a metaphysical viewpoint) views rather than the "religious-right." And most of the violence has been committed by people who have left leaning political views.
(SEE BIOS OF SHOOTERS HERE, AND HERE; AS WELL AS THE MANY OCCUPY STORIES HERE; HERE, AS WELL AS THE VIOLENCE IN OPPOSITION TO BUSH AND PALIN.)
In other words, John Huizum's focus is wrongly placed, and so his outrage in the past has not only been misplaced, but infective as well.
Another portion that I wish to point to along a similar vein is this statement:
The Crusades were motivated by Christians hating Muslims and vice versa, so a difference in religious beliefs caused those wars.
Again, some history will benefit the discussion. The following is from a recent post on Pope Francis canonizing some Christians who were killed in Muslim/Christian conflicts:
What did I mean by "intrinsic"? When I talk to a Muslim I make sure I compare Jesus to Muhammad, and the Trinitarian God to the Islamic unitarian god.
The Quran, Haditha, and other sources make clear that Muhammad was a sinner, and had to repent FOR his sins… while the same sources say Jesus was sinless, confirming Biblical doctrine.
Which leads me to one of my favorite quotes:
So the Crusades were motivated by Muslims hatred for civilization, and this political view entwined in Sharia is still stuck in the barbarism of the 600's and is still at war with civilized society. I am not saying of course the Church is blameless, do not get me wrong. What I am saying is that people (fallen and infallible) responded at times wrongly in a correct situation that needed to be handled with military power… not ecumenism. Ecumenism was the root cause for Muslim's to take over large swaths of land. Just war stopped this onslaught and many centuries later we are still reaping the net benefit of this larger good that kept a large portion of the world free enough to allow maximal liberty. Even if this liberty was slow and gradual, it sill allowed the laboratory for experiments in political and religious philosophy that led to our current situation.
Otherwise, most of the world would still practice keeping Africans in slavery, like in Muslim countries.
John, in the above and previous articles, has made clear he disdains political and religious extremism — explicitly and implicitly. Again, I will include a recent conversation from my Hawaiian vacation that speaks to John not applying his concerns to the proper areas — religious extremism:
….But every point of disagreement or complaint Walter had focused around racism. Which led me to my final point of the discussion with his. I asked him why he was so sensitive to the topic of race/racism. He responded that he had a family member who passed in a concentration camp during WWII, mentioning his Jewish roots. Awesome!
This led me to my favorite analogy, which I asked Walter to allow me time to build. He agreed, revealing ultimately his political inconsistencies:
Walter, I will use Bush in my analogy. Let us say for twenty years Bush attended a church that twice prominently displayed David Dukes likeness on the cover of their church's magazine which reaches 20,000 homes, and a third time alongside Barry Mills (the founder of the Aryan Brotherhood). Even inviting David Duke to the pulpit to receive a "lifetime achievement award." Even selling sermons by David Duke in the church's book store. Authors of sermons sold in Bush's church's bookstore teach in accordance with Christian Identity's view that Jews and blacks are offspring of Satan and Eve via a sexual encounter in the Garden of Eden. In the church's bookstore, the entire time Bush attended, books like Mein Kampf, My Awakening (David Duke), and other blatantly racist books. Even members of the Aryan Brotherhood felt comfortable enough to sit in the pews at times… being that the pastor of the church was once a reverend for the group.
Now Walter, if Bush had gone to a church like that I would walk arm-n-arm with my Democratic comrades in making sure he would never be President. You would expect me to I am sure?
He confirmed my suspicion. I then shared my knowledge of Obama.
I purchased from Obama's church's bookstore online 3-books: A Black Theology of Liberation, Black Theology & Black Power, and Is God A White Racist?: A Preamble to Black Theology. In these books Walter, God is said to be against white people, and mirror in their hatred of whites to that of Jews in Mein Kampf, calling both devils.
"The personification of the devil as the symbol of all evil assumes the living shape of the Jew" ~ Adolf Hitler – Mein Kampf
"The goal of black theology is the destruction of everything white, so that blacks can be liberated from alien gods" ~ James Cone, A Black Theology of Liberation, p.62
"White religionists are not capable of perceiving the blackness of God, because their satanic whiteness is a denial of the very essence of divinity. That is why whites are finding and will continue to find the black experience a disturbing reality" ~ James Cone, A Black Theology of Liberation, p.64
(see more)
Obama's pastor not only was a minister in The Nation of Islam, an anti-Semitic/racist group, but the church's book store sells sermons by Louise Farrakhan, who teaches that the white man was created on the Island of Cyprus by a mad scientist, Yakub. (Mr. Farrakhan also believes he was taken up on a UFO to meet God, and was told he was a little messiah, take note also that he was directly involved in the deaths of police officers as well.) Louise Farrakhan was featured twice on the church's magazine which reach 20,000[plus] homes in the Chicago area. Even placing on the cover with Louise Farrakhan a third time the founder of the Nation of Islam, Elijah Muhammad. Elijah Muhammad likewise taught that the white man was created by Yakub 6,600 years ago. Walter, Louise Farrakhan teaches that the Jews in Israel do not belong there, and that the true Jews are the black people. Louise Farrakhan was invited into Obama's church, to the pulpit and given a "lifetime achievement award." In fact, the New Black Panthers and members of the Nation of Islam often times sat in the pews for sermons by Rev. Wright, whom Obama called a mentor.
So I expect you, Walter, to join arm-and-arm with me on finding out why the media, and Democrats who are so concerned about racism let such a man into office, when, if the tables were turned, I wouldn't want in office.
Do you know the next thing out of Walter's mouth was?
✫ "Didn't Bush speak in a church that forbid interracial marriage?"
I responded that no, it was a speech at Bob Jones University…
… and you are making my point Walter. If that bugs you soo much to mention it during the course of a conversation, why doesn't Obama's history more-so irk you? Not to mention the university overturned its silly rule, even Bob Jones said he couldn't back up that policy with a single verse in the Bible (CNN). Obama's CHURCH OF TWENTY YEARS has made no such concession.
At this point Walter started to get out of the hot-tub finishing with "well, that's just your opinion" (meaning my carefully laid out facts and years of study combined with an analogy was hogwash. Walter went his way, and even avoided me when he saw me in the international caffe — even though our conversation was calm, rational, and reasoned. I even asked him permission twice to make my analogies, being polite and respecting his age. Walter is a great example of how Democrats ignore following their own concerns to their logical conclusions, when applied to their own candidate. Sad.