To start out, I wish to quote someone I refer to as a "Cyber Friend," a good thinker and lover of our Constitution.
Yep. This and other bios I post here are not to blame others, but to merely counter what I see on Leftists and Democrats (and now #NeverTrumper) social media saying these are Republicans killing people. Or that Trump or the GOP caused this. Dumb! I have been tracking with this lie since Dubya's Presidency. You want to stop killing? Take all the guns away from Democrats and Leftists… and almost all the killings in the United States would stop. Here is a quick accounting of the three before we get into the weeds:
Let me be clear, as I link below and here… most of the political violence, murder, and hatred I have seen since I have been paying attention is from the Left. Here is another example: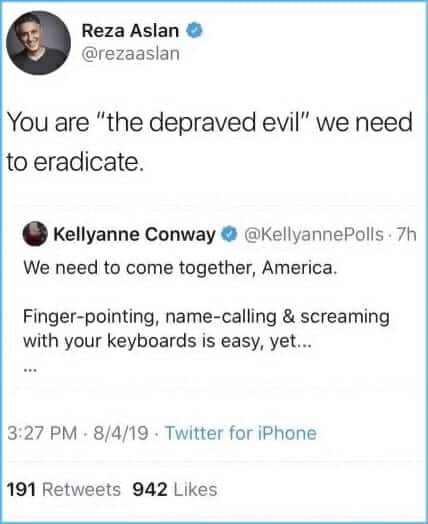 Okay. It is sad, but unfortunately I have to update my "CRAZED GUNMEN BIO'S" section with some of the latest. Now tell me, do these guys sound like Republicans? (The OHIO SHOOTER update is below.)
GILROY GARLIC FESTIVAL
First… the Gilroy Garlic Festival shooter, Santino William Legan. Prior to the shooting he posted three items on Instagram. One was this post: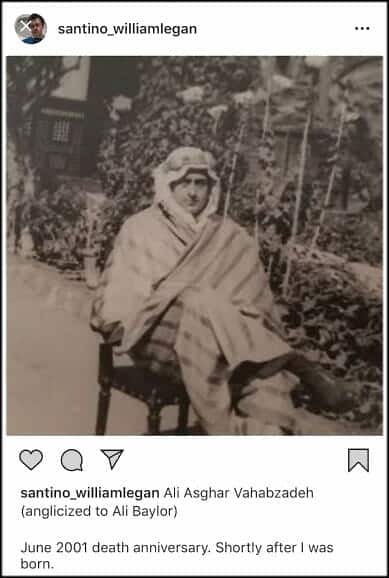 For someone who is part Iranian, and to memorialize this man, Ali Asghar Vahabzadeh, is saying something:
An Iranian source told LauraLoomer.us that anybody who idolizes Ali Asghar – Legan's grandfather's namesake – would view themselves as a Shia zealot to Islam. (LAURA LOOMER)
JIHAD WATCH throws water on the "jihadi" idea, but notes the proclivity of the media to leave out certain associations (empasized):
Not only that, but the book that, but the book Santino William Legan supposedly referenced and may have been in his possession is "Might Is Right or The Survival of the Fittest." This book was written by a late 19th-century/early 20th-century Nietzschean Social Darwinist who worshiped the "strong man," had anarchist sympathies, and despised Judaism and Christianity, which he thought were religions for the weak.
I also wish to note that the "Muslim" ties do not diminish the radical pre-war Germany reading list. Mein Kampf is a best seller in Arabic speaking countries. Here is a question and a response in a forum discussing this:
---
This article from the Telegraph makes the claim that Adolf Hitler's infamous manifesto, Mein Kampf is a bestseller in the Palestinian territories:
AN Arabic translation of Hitler's Mein Kampf which has become a bestseller in the Palestinian territories is now on sale in Britain.
This BBC article describes the book being a bestseller in Bangladesh:
Adolf Hitler's autobiography manifesto Mein Kampf is selling as well as Dan Brown's latest novel, The Lost Symbol.
The street vendors in Dhaka are found at every major road junction and intersection.
Most of the sellers are young boys and many compete with beggars to attract the attention of motorists.
This WND news piece goes even further and claims that Mein Kampf is a standard Arab textbook.
Are there any bestseller lists in Muslim countries that show that the book has become a bestseller in Muslim countries in the past 20 years?
According to the Middle East Media Research Institute's Special Dispatch No. 48, Hitler's Mein Kampf In East Jerusalem And PA Territories:
Mein Kampf "is sixth on the Palestinian best-seller list". This was back in 1999, and supports the claim of the BBC article in the OP which is from 2002.
Though the title in the OP generalizes to "Muslim countries", there is no corresponding claim referenced in the OP. Instead there is just one claim about the Palestinian territories and one claim about Bangladesh.
In India, which is essentially in a 3-way tie with Indonesia and Pakistan for the largest Muslim population, Mein Kampf has also been selling well according to Indian business students snap up copies of Mein Kampf. However, the article makes associations with Hinduism rather than Islam.
The article further states:
India is not the only country where Mein Kampf is popular. It has been a best-seller in Croatia since it was first published in while in [T]urkey it sold 100,000 in just two months in 2005. In Russia it has been reprinted three times since the de facto ban on the book was overturned in 1992.
See also Mein Kampf sales soar in Turkey
Additionally, according to Hitler's 'Mein Kampf' surges to top of e-book charts (2014) which has screen-shot evidence that the book was the #1 seller in the Propaganda & Political Psychology category:
A digital edition of the manifesto is currently Amazon's top-selling Propaganda & Political Psychology book, the 17th best-seller in Amazon's Nationalism category, and places in the top 20 on iTune's Politics & Events chart — twice.
So it is true that Mein Kampf sells well in various countries.
There is also a significant Wikipedia article Mein Kampf in Arabic.
---
In other words, people infatuated with Arab culture in a more radicalized sense may also have an affinity towards "anti-Semitic" literature. The Gilroy killer allegedly swallowed a bottle of valium before he went out to kill… probably to dull his conscience.
EL PASO WALMART
Patrick Crusius, the shooter that killed 20 people at a Walmart in Texas (may be more depending on the medical condition of these persons — all this is really sad to type. The devastated families and grief of loved ones. Man.) This is with thanks to GATEWAY PUNDIT, who notes the following: "This is not to say he's a Democrat or a Republican, but he is without question a progressive." Continuing… this scumbag wanted to lessen the weight of the welfare state to "achieve ambitious social projects" in:
a basic universal income

like universal healthcare

complained about cost of college

talked about how oil companies polluted water

how we wasted resources — trees for overuse of paper-towels

railed against BOTh Democrats and Republicans
And said,
Corporations are heading the destruction of our environment by shamelessly overharvesting resources
Here are the portions of the above:
He also wrote in the very first sentence of his manifesto this: "In general, I support the Christchurch shooter and his manifesto." I posted on the influences on this shooter. A Pagan nationalist named, Alain Benoist. A secular (pagan/New Age) philosopher. (More on my site.)
Lastly, he mentioned in his manifesto that he had started to hate Hispanics after reading a book back in 2011-2012 (LONG BEFORE TRUMP) The DAILY SIGNAL notes this:
That book discusses the Muslim immigration issue of France… and here Patrick swapped out Hispanic. Since he is in custody, and cooperating… he also noted the following (GATEWAY PUNDIT). He said he expected the media to blame the attack on President Donald Trump, noting: "This is not the case" — "My ideology has not changed for several years. My opinions… predate Trump and his campaign," he wrote (DAILY MAIL).
So Democrats, and NOT TRUMP according to Patrick… and not CNN / MSNBC.
THE MAIN POINT?
You cannot pigeon hole these guys as "Republicans," and the use of RIGHT-WING is more akin to the progressive socialism of pre-war Germany. Just add these guys to the LONG LIST OF LEFTIST POLITICAL KILLERS and terrorists I note HERE.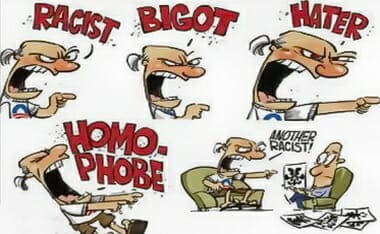 Again, I am seeing all over Facebook from my friends and others that this is a Republican blemish. I would think not, and I posted on my sites RPT-FACEBOOK PAGE this linked story and asked my peeps to keep it in mind for some years to follow — THOMAS SOWELL:
---
UPDATE
---
DAYTON OHIO SHOOTER
This update is with thanks to GATEWAY PUNDIT! Connor Betts is pictured here with a patch from a Satanist website called "Blackcraft," a Satanic website. They have since taken the patch off their store, but here are the other patches they sell.
His mother was a Catholic and had many "Virgin Mary's" in the house (per her social media posts… which may be why Connor was wearing a hoodie at the time of the shooting with a portion of a song from a metal-core band Acacia Strain: "No Heart to Feel, No Soul to Steal." Here are the full lyrics:
HEAVY has this about the shooter:
He also praised the Antifa bomber.
What seems to be a theme here is a loss of the True knowledge of God, and it being deeply rooted in our country's psyche. As we forget this and become more secular… we will see more of these shootings.