This story has popped up at times, even since it's debunking. So I thought I would add a bit of my own "swerve" to the fun. PJ-MEDIA (part one and part two) has a great response to this issue that I will merely add (adapt) to and from. So these are the issues I think undermind the idea that more violence and death are caused by "right-wing" extremists:
The perpetrators used as examples do not kill IN THE NAME OF an ideology;
The perpetrators noted as part of the data set are often NOT "right-wingers";
The data set starts AFTER 9-11;
The data sets DO NOT INCLUDE world-wide statistics.
This entire post can be summed up in one cartoon, to allow the person with low-attention-spen-deficet-disorder the opportunity to "get it" and click out: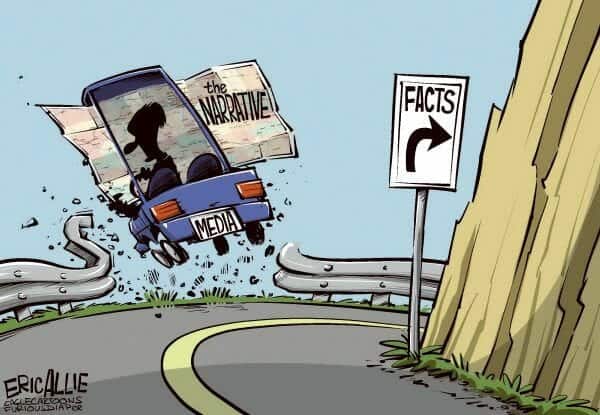 Just a quick note before beginning — that explains shortly (see the longer explanation here) — why almost all KKK'ers and "white supremacists" are socialists (a LEFT leaning political economic system):
…Continuing…
Even the EL PASO SHOOTER is not a right-winger… even though every media outlet labeled him such: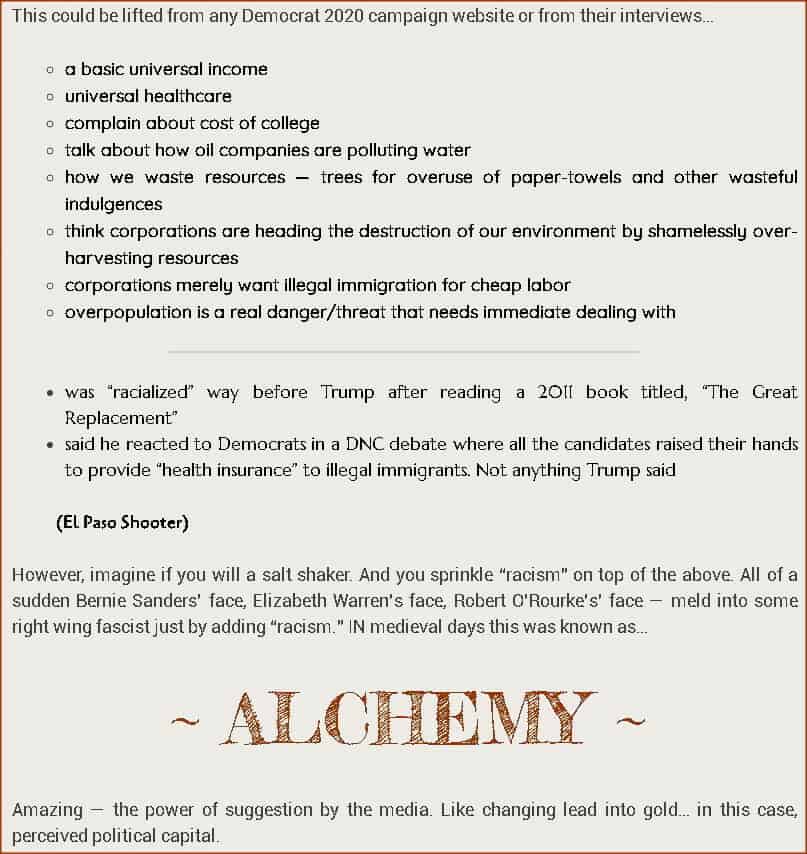 So, as an example[s] of the bullet points at the top of this post. VOX uses the following example:
JAMES HODGKINSON: In June, a 66-year-old white man from Illinois shot at Republican Congress members during an early morning baseball practice, severely wounding several people including Rep. Steve Scalise of Louisiana, the House of Representatives Majority Whip.
STEPHEN PADDOCK: Sunday night, a 64-year-old white man from Nevada opened fire

 on a crowd of more than 22,000 people at a country music festival in Las Vegas, killing more than 50 and wounding more than 200.
(BTW, I am not one who thinks NOT NAMING these cucks is helpful, so be aware. I am sure the media would like to obfuscate their roots by making it impossible to track them down to "test" their narrative.) Here is a good example of the obfuscation of "being a white-man" versus an "ideology" or belief you are doing your crime in the name of or for some twisted reasoning.
---
JAMES HODGKINSON (LEFTIST)
---
I posted on this in more depth, but here is an excerpt OF THAT POST:
The Shooter of Rep. Steve Scalise is a radical Leftist. He was deeply involved in the Occupy Wall Street movement. He railed against the one-percent. Was a long-time fan of Bernie Sanders years before he ran for election. Mind you. the media has a role in egging people on that may have these radical tendencies. On my Facebook, I noted this:
If Republicans are "worse than terrorists"… why wouldn't Leftists shoot them [us]? Yes, the Democrats (Bernie Sanders intimated this as well as others) say we are worse than ISIS due to rejecting the idea that mankind is driving in a significant manner climate change. The shooter had many posts on climate. I mean Democrats are seriously considering jailing Republicans for denying AGW (anthropogenic global warming).
These are some of the group the Shooter belonged to (BELLVILLE-NEWS DEMOCRAT):
"The Road to Hell is Paved with Republicans"

"Donald Trump is not my President"

"President Bernie Sanders"

"Illinois Berners United to Resist Trump"

"Boycott the Republican Party"

"Expose Republican Fraud"

"Terminate the Republican Party"
This shooter was also egged on by Democrat politicians (the following is adapted a bit from FRONTPAGE MAGAZINE):
---
STEPHEN PADDOCK (WHITE vs. BLACK CRIME RATES)
---
And to this day there was no motive known behind the Vegas shooter. If the idea is that he is merely white, and this leads to mass shootings… then African nations should be peaceful. Yet, in 100-days 800,000 people were killed. Not by whites. John Allen Muhammad and Lee Boyd Malvo killed 10-people. And? Chicago is a shit show:

Shot & Killed: 350

Shot & Wounded: 1712

Total Shot: 2062

Total Homicides: 383
One city., again, one city. Almost all black-on-black (similar to Paddocks white-on-white). Similarly, in the U.S., the Black murder rate and violent crime rate is much higher than white (DAILY WIRE):
51% of the mass shootings (if all are considered — i.e., gang violence) are by black people, and only 29% by white. AND? Paddock (except the Muhammad and Malvo case) is one of the few that didn't do the killings in the "name of something." (Yes, killing in the name of a gang is technically an ideology… but as we will see, Leftism far outstrips conservatism as a factor.)
On one site, the top ten White Terrorists are listed, with connections to the "right-wing." I will go through a couple to exemplify the "base" thinking of such connections.
Stack took Tea Party anger at taxes to a new level when he flew a plane into the Austin, Texas, IRS  building, killing himself. He left behind a manifesto attacking the IRS, taxes, and government bailouts.
Andrew Joseph Stack ("RIGHT WING")
This is from my post entitled:
There was no evidence that Stack belonged to a Tea Party organization, even though the media immediately made the connection.
MICHELLE MALKIN had some great posts on him… here are some excerpts:
Nope. Not a righty TEA Partier. Here is another person mentioned on the LIST:
James von BrunN ("Right-Winger")
Now isn't this fascinating. James von Brunn , the white-supremacist suspect in the Holocaust Memorial Museum shooting in which the guard who was shot has now tragically died, describes the relevance of evolution to his sick thinking. He's obsessed with "genetics." He writes in his manifesto (emphasis added):
An interesting aside. Dr. George Tiller, who was a women's health physician, and performed legal abortions. was gunned down in his church by an anti-abortion zealot. Here is how NewsBustrers wrote about the story then:
First Day Contrast: Keith Olbermann Called Tiller Shooting 'Terrorism' And A 'Jihad,' But Avoided Those Terms For Fort Hood.
On June 1 of this year, MSNBC host Keith Olbermann devoted most of his hour of Countdown to his withering outrage at the shooting of late-term abortionist George Tiller in Kansas (and how it was caused by Fox News).
The tone was dramatically different than his tone on November 5, the night of the Islamic terrorist shooting rampage at Fort Hood in Texas. Here's Olbermann's very dry opening: "Nightmare at Fort Hood: How could a soldier kill at least 12 other soldiers and wounded at least 31 more? And why?"
We know Mr. von Brunn HATES:
RUPERT MURDOCH

FOX NEWS

GEORGE W. BUSH

JOHN MCCAIN

WEEKLY STANDARD

IRAQ WAR

BELIEVED THAT 9/11 WAS AN "INSIDE JOB."
The bias is palpable.
MICHELLE MALKIN notes what Kathy Shaidle wrote about the shooter — a 9/11 Truther who hated "neo-cons:"
I think this guy fails the "right-wing" category given to him "willy-nilly."
Here is another guy from the "top-ten" list:
John Patrick Bedell ("Right-Winger")
The gunman identified by authorities in the Pentagon shooting, harbored intense anti-government feelings.
After the Christian Science Monitor and Talking Points Memo (TPM) connected Bedell to the Tea Party… real evidence started coming out in which I asked this question: "How many Tea Partiers or conservatives…"
Shoot at the Pentagon and hate the military?

Are registered Democrats?

Hate George Bush and the whole Bush family?

Think 9/11 was perpetrated not by Muslims but by Republicans?

Grow and smoke marijuana?

Read left-wing anti-Bush books?

Are anti-war?

Talk about "economic justice"?

Think the Vietnam War and the Iraq War were not merely mistakes but were part of a government conspiracy?
…Michelle Malkin uncovered a key inconvenient fact which doesn't quite fit this predictable "right-wing extremist" narrative — that bedell was a registered democrat. 
Ooops!
Bedell was also a marijuana smoker, grower and activist, as documented at Gateway Pundit.
Ooops!
Patterico has now posted a full transcript of one of Bedell's internet rants — the same one cited by Talking Points Memo as evidence of his right-wing leanings — which has Bedell uncorking phrases like "economic justice" and paragraphs like (writing in 2006 during the Bush presidency) "This organization, like so many murderous governments throughout history, would see the sacrifice of thousands of its citizens in an event such as the September 11th attacks, as a small cost in order to perpetuate its barbaric control. This collection of gangsters would find it in their interests to foment conflict and initiate wars throughout the world in order to divert attention from their misconduct and criminality. The true nature of such a regime would find its clearest expression in Satanic violence currently ongoing in Iraq." and anti-war conspiracy theories like "The political and military disasters such as the wars in Vietnam and Iraq that an illegitimate coup regime uses against the people…".
Ooops!
Add all that to the previous discovery already linked above that Bedell's Amazon "Wish List" featured the the left-wing conspiracy-theory books The Immaculate Deception: The Bush Crime Family and Family of Secrets: The Bush Dynasty, the Powerful Forces That Put It in the White House, and What Their Influence Means for America.
Ooops!
And finally, from GATEWAY PUNDIT:
BIAS DRIVES MISLABELING
Some "right-winger," so right-wing he registered as a Democrat! The problem is, as IJR points out that the LEFT merely uses a low-threshold definition of right wing:
Back to PJ-MEDIA'S article… they note that "Bloomberg['s] View columnist Megan McArdle noted several 'right-wing' cases in New America's data set that were dubious at best." Continuing with Megan's column:
The PJ-MEDIA article goes on to quote Florida State Professor Andrew Holt who looked at New America's data… of which the below is an extended quote from. BUT FIRST, the graph he used is old… HERITAGE FOUNDATION notes recently that the 114th Islamist terror plot was thwarted:
Law enforcement arrested a 19-year-old New York man before the Labor Day weekend and charged him with plotting a terrorist attack in New York City. It was the 114th Islamist terrorist plot or attack against the U.S. homeland. 
Here is the professors ending and addendums to the linked article:
SHORT LIST
Here is a quick listing from an OLDER POST of MINE discussing some of my research:
James von Brunn (Holocaust Memorial Museum shooter): von Brunn hated Rupert Murdoch, Fox News, George W. Bush and John McCain.
Nidal Hasan (Ft Hood Shooter): Reg¬istered Democrat and Muslim.
Aaron Alexis (Navy Yard shooter): black liberal/Obama voter.
Seung-Hui Cho (Virginia Tech shooter): Wrote hate mail to President Bush and to his staff, registered Democrat.
James Holmes: the "Dark Knight"/Colorado shooter: Registered Democrat, staff worker on the Obama campaign, #Occu¬py guy, progressive liberal, hated Christians.
Amy Bishop: the rabid leftist, killed her colleagues in Alabama, Obama supporter.
Andrew J. Stack (IRS bomber, flew plane into IRS building in Texas): Leftist Democrat, hated Bush and capitalism.
James J. Lee (who was the "green activist"): leftist took hostages at Discovery Channel – progressive liberal Democrat.
John Patrick Bedell: (Pentagon Shooter) registered Democrat, talked about economic justice.
Nkosi Thandiwe (Shooting spree targeting white ppl): Accepted "white priveledge."
Floyd Corkins (LGBT Chic-Fil-A shooter): hated conservative and Christians.
Karl Pierson (school shooter): loved communism, self-avowed Keynesian, hated Adam Smith and supported gun-control.
As you can tell from ALL of the above… this is a LIE perpetrated on the public — on a regular basis in fact. The Democrats push for violence in fact:
See more about this here:
"Totalitarian/Fascist Fits – Violence from the Democrat Left"