This post is merely to compare intent and outcome by a "pro-Trump" supporter (Cesar Sayoc), and an anti-Trump hater (Robert Bowers).
When I heard that the Synagogue shooter had said this, "Jews are the children of Satan," I knew he was influenced by Christian Identity. Here is a snippet of the racist ideology of this shooter, Robert Bowers (via CBN-NEWS):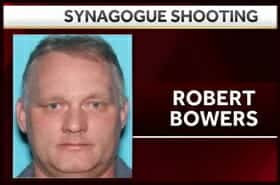 As one of the four main racist cults I have studied, Christian Identity teaches that Jews and other ethnicities are from an act of sensualism with the serpent [Satan] in the Garden of Eden — similar to the ideology supported and taught in President Obama's church the entire 20-years he attended and still embraced by many Democrat personages, in that the Jews and the white man were created by a big-headed scientist named Yakub on the island of Cyprus 6,600 years ago, thus white men are devils. Here is more from a good synopsis of the current issue via THE CLARION LEDGER:
For the record, no Republican supports the above crap, unlike Farrakhan's shite and the Democrats. This is where the "Religio-Political starts to come out in my posts. So excuse me while I opine. I have in the past already noted why the KKK and Christian Identity and all white supremacist groups vote Left in their politics:
They are typically socialist in their political views, and thus support the welfare state for personal financial reasons (poor) and ideological reasoning (socialist); or for the reason that it is a way of controlling minorities (racist reasoning). A modern plantation so-to-speak; There is a shared hatred for Israel and supporting of groups wanting to exterminate the Jews (Palestinians for instance). (TRUMP SIZED MANTRAS #3)
But also, the theological closeness of Farrakhan and this shooter (an evil man) are unmistakable (see more at DAILY CALLER):
This is probably the same stuff (except exchange black where Farrakhan speaks about white people) that Robert Bower believes with what I know of him so far. And many on the Left (more-so than the right) hate interracial marriage. Anyhew… let us segue to this bomber in Florida.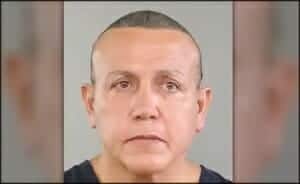 First and foremost, I am not defending this man in any way… I am merely comparing someone who like Trump to someone who hates Trump. First, let us deal with how the media deals with this bomber, Cesar Sayoc. Many headines read that the bomber was a registered Republican. Mind you, I never saw a headline saying that James T. Hodgkinson (the shooter of Republicans at a softball game) was a registered Democrat. President Trump noted what the media was doing:
"We have seen an effort by the media to use the sinister actions of one sinister individual to score political points against me and the Republican Party," President Trump said at a rally in North Carolina. (BIZPAC)
NATIONAL REVIEW continues the thinking:
Cesar Sayoc said his bombs were inert, not meant to harm anyone. And so far this seems to be the case… so far. If they were real bombs, Cesar, as "former federal proseuctor Andrew McCarthy noted, if the mailed IED devices were 'functionally explosive' they would fall under the category 'weapons of mass destruction' [defined here by U.S. code] and the indictment would include 18 US Code 2332a [SEE HERE]. The absence of this charge infers the devices were not functionally explosive." (<<< But more information will come out, but as of now, the indictment does not include what should be if these bombs were functional — see PDF indictment.)
The main point here is that Cesar, a registered Democrat till 2016…
CORRECTION — the MIAMI HERALD has him registered Republican since 2012: "He has been registered to vote in Miami-Dade as a Republican since 2012 and voted in recent primary and general elections."
…and one who thinks Bush and Cheney are war criminals, sent fake bombs. He didn't intend to hurt anyone. Whereas actual Trump haters and Republican haters, strap guns on and shoot people. Remember, I would put up the violence from the Left against Conservatives all day long… and the media's covering up of leftist connections with violence compared to those on the right. Here are some recent examples of people who killed or intended to kill — who at first the media labeled "right-wing" but later buried the connections to left wing ideology or positions:
---
Many of the recent violent acts in fact are by person's from the Left:
Elliot Rodger ("UCSB" shooter): Fan of the left-wing political talk show, The Young Turks.

James von Brunn (Holocaust Memorial Museum shooter): von Brunn hated Rupert Murdoch, Fox News, George W. Bush and John McCain.

Nidal Hasan (Ft Hood Shooter): Registered Democrat and Muslim.

Aaron Alexis (Navy Yard shooter): black liberal/Obama voter.

Seung-Hui Cho (Virginia Tech shooter): Wrote hate mail to President Bush and to his staff, registered Democrat.

James Holmes: the "Dark Knight"/Colorado shooter: Registered Democrat, staff worker on the Obama campaign, #Occupy guy, progressive liberal, hated Christians.

Amy Bishop: the rabid leftist, killed her colleagues in Alabama, Obama supporter.

Andrew J. Stack (IRS bomber, flew plane into IRS building in Texas): Leftist Democrat, hated Bush and capitalism.

James J. Lee (who was the "green activist"): leftist took hostages at Discovery Channel – progressive liberal Democrat.

John Patrick Bedell: (Pentagon Shooter) registered Democrat, talked about economic justice.

Nkosi Thandiwe (Shooting spree targeting white ppl): Accepted "white priveledge."

Floyd Corkins (LGBT Chic-Fil-A shooter): hated conservative and Christians.

Karl Pierson (school shooter): loved communism, self-avowed Keynesian, hated Adam Smith and supported gun-control.
(For a list of LEFT-WING murderers/killers, see this article.)
THANKFULLY, the shooter will be added to the "Failed assassins (whose politics we know)" column:
---
---
[fbvideo link="https://www.facebook.com/LevinTV/videos/1933637890255312/" width="690″ height="400″ onlyvideo="1″]
---
---
[fbvideo link="https://www.facebook.com/LevinTV/videos/1933638746921893/" width="690″ height="400″ onlyvideo="1″]