✦ "As we've seen more people in this country have been killed by rightwing extremists that radical Islamist extremists." (Gateway Pundit)
A great story on some of these and more can be found at The Blaze, and excoriates the media for their participation in this smear.
Okay, I have been wanting to do this for a while, which is, transfer some info from a cadre of old blogs to update the topic into one post that I can reference in the future. Keep in mind that some of the links are long dead. Blogs come-and-go. I am trying to stay. I will continue to post "bios" like this… it was at first a refutation of the legacy media who were immediately connecting many of these shooters to the T.E.A. Party, but an interesting pattern emerges. Also, when dealing with the media we are dealing with THIS type of bias:
Elliot Rodgers (May 2014)
The newest addition to this crappy list, is Elliot Rodgers. Elliot is the the son of Hunger Games assistant director Peter Rodgers. Now of course Elliot didn't go on a killing spree in the name of liberalism. And I believe that he, like many of the others, had a screw loose. But, I bet he came from a secular, liberal, Hollywood style upbringing that offered him nothing greater outside himself to battle the "natural man." In fact, the ONLY political affiliation he chose to associate himself with both on his YouTube and FaceBook is the left-wing political talk show, The Young Turks.
Here is how TYT is described via Gateway Pundit:
The Young Turk describes itself as "a young progressive or insurgent member of an institution."
The host of the channel Cenk Uygur is a far left political activist and former MSNBC host.
All I am saying is that Fox News wasn't on his list. I looked both at his FaceBook and YouTube "likes," and there were no religious or conservative interests in this young man. Nothing greater than nature challenging him to reign in feelings and test them with ethical religious mores. Moving on… and now I will go from the older posts to the more recent ones I have posted on over the years. I will concentrate mainly — but not exclusively — to murderers the media almost immediately blames the right on.
James Lee (September 2010)
The Guardian notes that
James Lee, the man police identified as the gunman who entered the headquarters of the Discovery Channel and took a group of hostages, was a self-styled eco-warrior and author of a manifesto describing humans as "the most destructive, filthy, pollutive creatures" destroying the planet.
Lee waged a one-man campaign aimed at forcing the Discovery Channel to run programmes encouraging human sterilisation and wildlife preservation….
Here's a sample of Lee's manifesto:
Humans are the most destructive, filthy, pollutive [sic] creatures around and are wrecking what's left of the planet with their false morals and breeding culture.
For every human born, ACRES of wildlife forests must be turned into farmland in order to feed that new addition over the course of 60 to 100 YEARS of that new human's lifespan! THIS IS AT THE EXPENSE OF THE FOREST CREATURES!!!! All human procreation and farming must cease!
It is the responsibility [sic] of everyone to preserve the planet they live on by not breeding any more children who will continue their filthy practices. Children represent FUTURE catastrophic pollution whereas their parents are current pollution. NO MORE BABIES!
James von Brunn (June 2009) 
Now isn't this fascinating. James von Brunn , the white-supremacist suspect in the Holocaust Memorial Museum shooting in which the guard who was shot has now tragically died, describes the relevance of evolution to his sick thinking. He's obsessed with "genetics." He writes in his manifesto (emphasis added):
An interesting aside. Dr. George Tiller, who was a women's health physician, and performed legal abortions. was gunned down in his church by an anti-abortion zealot. Here is how NewsBustrers wrote about the story then:
First Day Contrast: Keith Olbermann Called Tiller Shooting 'Terrorism' And A 'Jihad,' But Avoided Those Terms For Fort Hood.
On June 1 of this year, MSNBC host Keith Olbermann devoted most of his hour of Countdown to his withering outrage at the shooting of late-term abortionist George Tiller in Kansas (and how it was caused by Fox News).
The tone was dramatically different than his tone on November 5, the night of the Islamic terrorist shooting rampage at Fort Hood in Texas. Here's Olbermann's very dry opening: "Nightmare at Fort Hood: How could a soldier kill at least 12 other soldiers and wounded at least 31 more? And why?"
We know Mr. von Brunn hates:
Rupert Murdoch

Fox News

George W. Bush

John McCain

Weekly Standard

Iraq War

believed that 9/11 was an "inside job.
The bias is palpable.
John Patrick Bedell (March 2010) 
The gunman identified by authorities in the Pentagon shooting, harbored intense anti-government feelings.
After the Christian Science Monitor and Talking Points Memo (TPM) connected Bedell to the Tea Party… real evidence started coming out in which I asked this question: "How many Tea Partiers or conservatives…"
Shoot at the Pentagon and hate the military?

Are registered Democrats?

Hate George Bush and the whole Bush family?

Think 9/11 was perpetrated not by Muslims but by Republicans?

Grow and smoke marijuana?

Read left-wing anti-Bush books?

Are anti-war?

Talk about "economic justice"?

Think the Vietnam War and the Iraq War were not merely mistakes but were part of a government conspiracy?
…Michelle Malkin uncovered a key inconvenient fact which doesn't quite fit this predictable "right-wing extremist" narrative — that Bedell was a registered Democrat. 
Ooops!
Bedell was also a marijuana smoker, grower and activist, as documented at Gateway Pundit.
Ooops!
Patterico has now posted a full transcript of one of Bedell's internet rants — the same one cited by Talking Points Memo as evidence of his right-wing leanings — which has Bedell uncorking phrases like "economic justice" and paragraphs like (writing in 2006 during the Bush presidency) "This organization, like so many murderous governments throughout history, would see the sacrifice of thousands of its citizens in an event such as the September 11th attacks, as a small cost in order to perpetuate its barbaric control. This collection of gangsters would find it in their interests to foment conflict and initiate wars throughout the world in order to divert attention from their misconduct and criminality. The true nature of such a regime would find its clearest expression in Satanic violence currently ongoing in Iraq." and anti-war conspiracy theories like "The political and military disasters such as the wars in Vietnam and Iraq that an illegitimate coup regime uses against the people…".
Ooops!
Add all that to the previous discovery already linked above that Bedell's Amazon "Wish List" featured the the left-wing conspiracy-theory books The Immaculate Deception: The Bush Crime Family and Family of Secrets: The Bush Dynasty, the Powerful Forces That Put It in the White House, and What Their Influence Means for America.
Ooops!
And finally, from Gateway Pundit:
Joe Stack (March 2010)
Another guy the press immidiately tried to connect to the T.E.A. Party. It was pointed out that much of what the IRS Joseph "the bomber" Stack talked about was directly from Michael Moore movies.
The man suspected of intentionally crashing an airplane into a Texas office building today appears to have posted a lengthy online diatribe attacking the Internal Revenue Service and declaring that, "I know I'm hardly the first one to decide I have had all I can stand."
The things said in his manifesto seem to all be taken straight from Michael Moore movies?
Anti-health care system= Sicko

Anti-Capitalism= Capitalism, a Love Story

IRS cronyism with businesses= Capitalism, a Love Story

Anti-Bush= Fahrenheit 9/11

Blames Big Corporations for job issues= The Big One
(lots of debate here at the above quotes source) For a well thought out story string of stories, see Verum Serum's insights: Here, here, as well as the excerpt you see here:
One – Joe Stack was a liberal. As I pointed out recently ~ Stack:
Hates George W. Bush and his "cronies"

Hates Big Pharma

Hates Big Insurance

Hates GM executives

Hates organized religion

Refers favorably to communism

And in his last words before dying, denigrates capitalism.
James Holmes (July 2012) 
Good Morning America speculated:
Stephanolpoulos: I'm going to go to Brian Ross. You've been investigating the background of Jim Holmes here. You found something that might be significant. 

Ross: There's a Jim Holmes of Aurora, Colorado, page on the Colorado Tea party site as well, talking about him joining the Tea Party last year. Now, we don't know if this is the same Jim Holmes. But it's Jim Holmes of Aurora, Colorado. 

Stephanolpoulos: Okay, we'll keep looking at that. Brian Ross, thanks very much.
Bridge Bomb Plot
….Facebook profile, he lists his political views as "anarcho-communist," and lists "#OccupyCleveland" as his employment.
also, in his "liked" section just a few organizations he apparently endorses:
There are more bios of the above clowns HERE.
Nkosi Thandiwe
(H/T Christian Huber) Via The Blaze:
Moonbattery comments on this case:
…Thandiwe took the liberal propaganda the entire country has been marinating in for decades at face value. Like Colin Ferguson, he was sufficiently unstable to be set onto a maniacal killing spree by the vile poison of politically correct ideology.
Floyd Corkins 
This deranged far left shooter. A LGBT volunteer carrying bag of Chick-fil-A sandwiches shot up the conservative Family Research Center in August 2012. The armed man who walked into the Washington headquarters of the Family Research Council and shot a security guard was later identified as Floyd Corkins, 28, of Virginia. Fox News reported that Corkins posed as an intern and was carrying a Chick-fil-A bag with him during the attack. He admitted he got his information from the far left Southern Poverty Law Center website.
Corkins said he intended to "kill as many as possible and smear the Chick-Fil-A sandwiches in victims' faces, and kill the guard." The prosecutor said they reviewed the family computer and found that he identified his targets on the Southern Poverty Law Center's web site.
And a good commentary comes from Wintery Knight:
Chris Dorner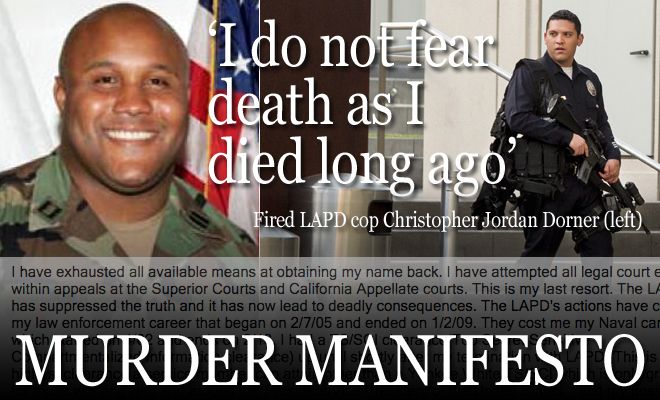 What is being reported as Mr. Dorner's manifesto not only endorses Hillary Clinton for president in 2016 and vigorously defends Barack Obama and the Democrats' current gun control push; he also savages the NRA's Wayne LaPierre while expressing all kinds of love for some of the biggest stars in the left-wing media — by name.
Nope, not a T.E.A. Partier.
Karl Pierson
Wait. I don't understand… if Sarah Palin draws targets on a map for important Democratic races, and she is tied with violence via the shooter of Gabrielle Giffords (via the flyer to the right). Then at what point is the press responsible for the wild accusations they make?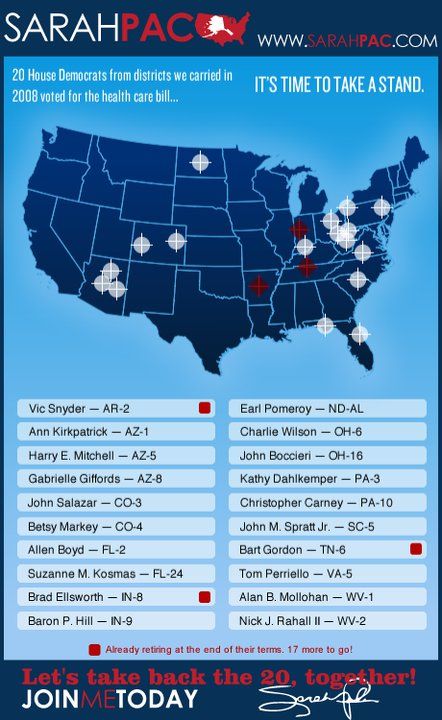 RightWing News has a few quotes to make the point:
Here is a short list as well from NewsBusters:
So MSNBC contributor Melissa Harris-Perry said conservatives romanticize the Confederacy as a time "where black people knew their place." Olbermann accused conservatives of "sanitizing secession" to ignore slavery. Matthews suggested that opposition to ObamaCare had "Republicans on the right talking like antebellum southerners," and called appeals to federalism as "code" for racism. Lawrence O'Donnell characterized Arizona legislation as a "new sort of secession bill." Maddow stressed that it was "important that Republican governors keep" commemorating Virginia's role in the Civil War, and guest Julian Bond wondered at Virginia's "canine-like affection for the Confederacy."
Breitbart starts to paint a picture for us about the shooter
And Gateway Pundit begins to paint a picture of the media:
After thinking things over, the Denver Post decided to delete the fact that Arapahoe School shooter Kark Pierson was a committed socialist from their news report. This is from the original article:

And, here is the updated article, sans "socialist."
Of course this goes with the LONG list of violent leftists shooters, as my "BIO's" at my old site and my new site show. Here are more examples of edited parts of the story that has been built about this shooter… why edit this stuff out? Unless you are shamed that the shooter is giving what you believe in (as most journalists and editors at major newspapers do) a bad name.
The below comes via the I.J. Review, in a piece entitled: "Denver Post Shamefully Omits Key Detail About Arapahoe High Shooter," the emphasized portions were removed.
Robert Lewis Dear, Jr.
Robert Lewis Dear, Jr. from Hartsel, Colorado is registered to vote in Park County, Colorado as a woman. And his party affiliation is UAF!
UPDATED INFO

: UAF may stand for "Unaffiliated," thanks to Trevor Stewart for the kind correction!
The pictured voting gender below is from IJReview:
Maybe society will deal with the instability of people who suffer GID (gender identity disorder)? I pray for the families involved of the death of their loved ones.
But — this site (beyond the compassion felt for lost loved ones) is also a site to defend against the craziness out there. I have seen stupid posts by people who hate Planned Parenthood saying they do not care if a worker at PP lost their lives, to the media saying this is a right-wing motivated attack. All of it dumb. But when the media (not bloggers or tweeters ~ see one example below) hops in on this, then I post rebuttals like this one below.
Robert Lewis Dear, Jr. from Hartsel, Colorado is registered to vote in Park County, Colorado as a woman. And his party affiliation is UAF!
The pictured voting gender below is from IJReview:
Example from Jezebel… this site blames in part the undercover videos released. Even claiming these are edited — even though they have been released in full [without any edits] for the skeptics to watch.
Of course there many "false flag" (not in the conspiratorial sense that is used) arson, poop swastikas, and graffiti against lesbians ~ by those who then claim "hate" has been used against them or their community.
One of the commentators on Jezebel's site said the following:
Dumb!
I respond: