A recent purported "hate crime" was a burning of a black church with "vote Trump" spray painted on the side. Here is how SNOPES ended their post on the matter:
And the Mayor of Greenville called the burning of Hopewell Missionary Baptist Church in Greenville a "hateful and cowardly act," Mayor Errick Simmons said this was "an attack on the black community." "It appears to be a race crime," Simmons said. "It happened in the '50s. It happened in the '60s. It shouldn't happen in 2016."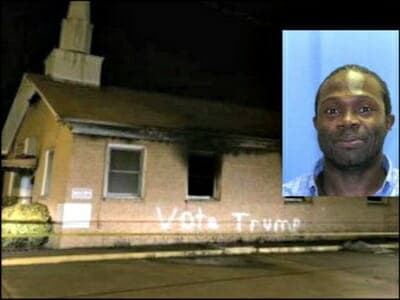 But as with most of these incidents in the past decade… they are hoaxes.
While in the past these churches have been burned by members of racist organization, nowadays it is a fostering of a grievance demographic via awards of victim-hood that has caused a significant increase in the hate-hoaxes. Magically however, this crime went from a hate-crime to just a regular crime — with the snap of a finger.
Media groups as well as left-leaning organizations have pin-pointed these acts to white-racist arsonists. For instance, here is the Washington Post noting the issue:
Except… the arsonist is black! The Daily Caller notes how the media and leftist groups immediately blamed the "white man."
---
FAKE HATE CRIMES are all the rage you know!
---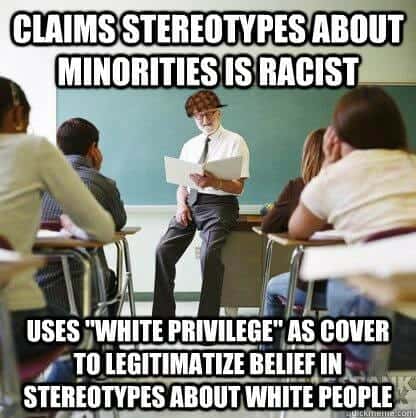 University of Michigan Hijab Wearer // Muslim Friend of Aisha Sharif at San Diego State // David Williams // Kara Stevens // Anne Arundel High School's Kool Kids Klan // Sinem // Michael Kee // Mike Hager // Ibtihaj Muhammad // Osama Nazzal // Kelly Carter // Scott Young // Hisham Saadi // Juan Thompson // Lakeville, Minnesota Non-Caucasian Special Ed Student // Khizr Khan // Halley Bass // Washington Cemetery // Alexandra Pennell // Vincent Palmer // Yasmin Seweid // Villanova University // William Tucker // Taylor Volk // Kirkland Phony Postelection Sexual Assault Victim // Williams College Fake // Blood Splatterers // Neighborhood Town Watch Anti-Hijab Letter // Eleesha Long // Malden, MA Phony Trumpsters Victim // Sara Farsakh // Kathy Mirah Tu // Chris Ball // Ashley Boyer // University of Louisiana Heisted Hijab // Abdul Aziz // Brooklyn Muslim Community Center Teens // London, Ontario Islamic Shopper // Calum McSwiggan // Marcus Owens // Hamza Warsame // Alexis Adams // SIUC White is Right Video // Salisbury University Graffiti Artists // TarheelTransgender // Jordan D. Brown // Bingen Syrian // Eric Danko and Jordan Schaeffer // Manhattan Self-Slasher // Seattle Africatown Center Graffiti // Mari Poindexter // Phony Nevada Klansmen // Saida Chatti  // Julian Kinzel // Imani Perry // Asha Burwell and Friends // Jesus Francisco Cabrera // Michael Dekota McRae // Gary Nathaniel Moore // San Bernardino Backlash // Mercutio Southall // Hyacinth Peccoo // Clive Higgins and Lonnie Blackwell // Anonymous Liar From India in Orangeburg County, SC // Kayla-Simone McKelvey // Hidden Dores // Royall Must Fall // Shalaria Jones // Emmanuel Bowden // Kynnedi Grant // Clarke Perkins // FierceFemtivist // Payton Head // Mizzou Fecal Swastika // Berkeley High // Dorothy Bland // Georgia Tech Person of Preferred Pigmentation // Melvin and Angelica Hale // Haakon Gisvold // University of Delaware // Ahmed Muhamed // Ashley Powell // Garnet Coleman // John Sherman // Carol Anne and Laura Stutte // Minati Roychoudhuri // Frank Elliott // Planned Parenthood // Sean King // Julie Baker // Vincent Broughton // Rick Jones // Connie St Louis // Rachel Dolezal // Tahera Ahmad // Phony University of Minnesota Rape Victim // Sarah Silverman // Kassim Alhimidi  // George Washington University Swastika // Adam Hoover // Ambreen Sharif // Charles Blow // Morgan Triplett // Desiree Nall // Mindy Brickman // Oberlin College // Lena Dunham // Rolling Stone/Jackie // University of Chicago Facebook Hoax // Adam Saleh and Sheikh Akbar // Daniele Watts // Keith Jones // Sweet Briar College Hoaxer // Grand Valley State University Student // Richard Kennedy // Anonymous Hercules Middle-High School Student // Joe Williams // Andrea Brazier // Genesis Hernandez // Danya Morales // Toni Christina Jenkins // Dylan Bleier and Matt Alden // Meg Lanker-Simons // Olander Cuthrell // Charlie Rogers // Sharmeka Moffitt //  Joseph Baken  // Alexandra Pennell // Aimee Whitchurch and Christel Conklin // Quinn Matney // Aubriana Banks // Sarah Marshak // Floyd Elliot // Tawana Brawley // Crystal Gail Mangum // Kerri Dunn // Leah Miller // Ahmad Saad Nasim ~ (See Each Case Here: MOOBATTERY!)