I heard about the "Twitterverse" not even allowing a story by the NEW YORK POST to grace their site. When I got home I tried it. And sure enough, the story would not post. So I tried it again early this morning… nope: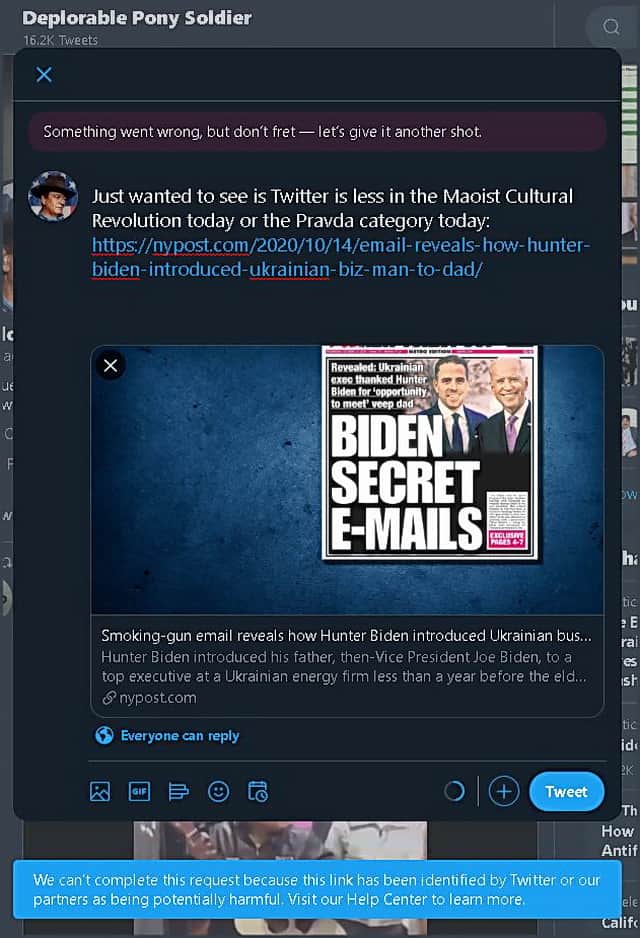 I just tried it again this evening. HUGH HEWITT in his first hour played Tucker Carlson and then the President… I also include a call from Detective Tom – as – he asks good questions as usual.
The real story now as well is the idea that Twitter and Facebook can control what they feel is a hoax and what is genuine news. As the NEW YORK POST reasonably asks: "If 'unreliable' is the issue, why did social media never block anti-Trump stories?" Indeed… they continue:
The New York Post has published two bombshell stories that raise more questions over whether Joe Biden abused his power as the vice president of the United States for the financial benefit of his family. It's a made-for-TV tale of foreign business dealings, money, corruption, and power – and the social media gods really, really don't want you to read it.