Before starting this post one must note that this post is connected to other "war" positions taken against Christians by typically — atheists: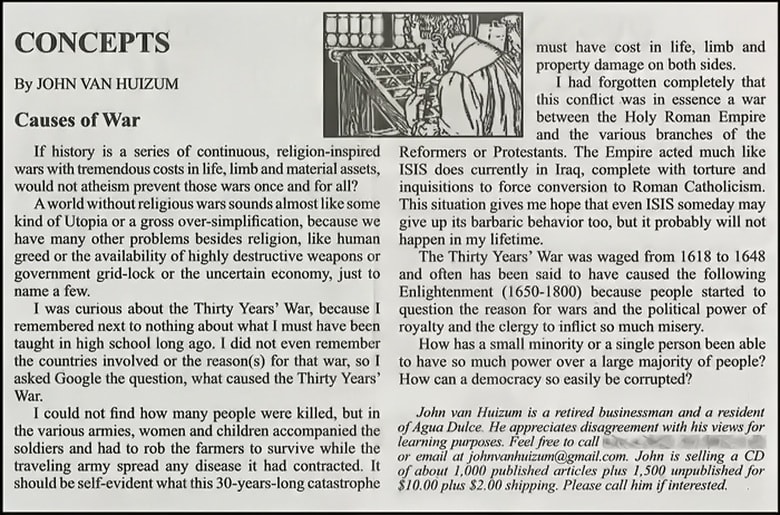 (As usual, if you wish you can enlarge the above by clicking the article.)
This is gonna be mainly raw text from two sources about the Thirty Years' War. The first is a run-down of stats of the war from The Encyclopedia of War…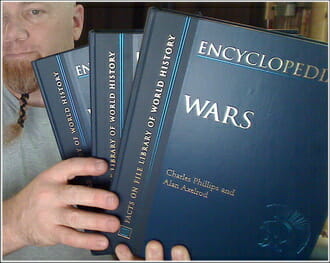 …The second will be from the great resource The Myth of Religious Violence, and will answer two charges against the War. (Take note as well that I dealt with an aspect of this in a previous post/article by John, HERE.)
All this will be preceded by a summary of sorts from the following four sources:
Alan Axelrod & Charles Phillips, Encyclopedia of Wars, 3 volumes (New York, NY: Facts on File, 2005);
The General History of the Late War (Volume 3); Containing It's Rise, Progress, and Event, in Europe, Asia, Africa, and America (No Publisher [see here], date of publication was from about 1765-1766);
William T. Cavanaugh, The Myth of Religious Violence (New York, NY: Oxford University Press, 2009).
Gordon Martel, The Encyclopedia of War, 5 Volumes (New Jersey, NJ: Wiley, 2012).
Summary
[….]
The other encyclopedia in this excerpt, edited by Gordon Martel, is a bit too expensive for me to add to my home library. I will have to wait for a reasonably priced used copy of this multi-volume set:
If you click the below "Info Graphic," it brings you to the original large version at Wesley Huff's site.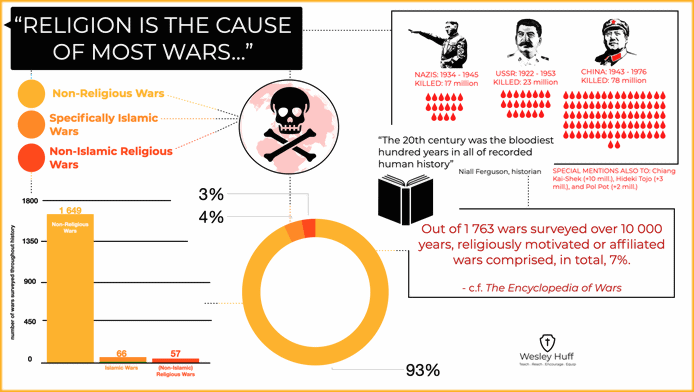 Dr. Cavanaugh sets up the premise like John Van Huizum did, but then responds. (Again, the longer response follows the summary information):
Another thought. Assuming John's position that the Thirty Years' War was religious… it was religion fighting for more freedom. So the analogy John is making falls apart. ISIS is not fighting for freedom… they are fighting to enslave… like their predecessors:
(See more)
Okay, that short answer above now gets much more technical — and is geared toward the history buff or technical/in-depth response using history. I will include Dr. Cavanaugh's 4-part list of issues in regards to the Thirty Years' War, BUT ONLY his first two responses. His book is so good I recommend the person who has a stomach for history buy it. Here is the raw facts from The Encyclopedia of War:
Okay, now for the in-depth items to deal with… remember, only "A" and "B" are responded to. Take note as well that the death toll of secular — non-religious — governments in the 20th Century alone are included (the graphic is linked) at the end.
---
---
Switching gears a bit… to how secular society is far worse off than any (save Islamic) religious culture prior. One must keep in mind the mass killings on a grand scals for the Twentieth Century was "prophesied" about by a well-known atheist, Frederick Nietzsche:
Here is an adaptation of the linked article:
"The stronger must dominate and not mate with the weaker, which would signify the sacrifice of its own higher nature.  Only the born weakling can look upon this principle as cruel, and if he does so it is merely because he is of a feebler nature and narrower mind; for if such a law [natural selection] did not direct the process of evolution then the higher development of organic life would not be conceivable at all….  If Nature does not wish that weaker individuals should mate with the stronger, she wishes even less that a superior race should intermingle with an inferior one; because in such a case all her efforts, throughout hundreds of thousands of years, to establish an evolutionary higher stage of being, may thus be rendered futile."
Adolf Hitler, Mein Kampf, translator/annotator, James Murphy [New York: Hurst and Blackett, 1942], pp. 161-162; found in: Norman L. Geisler & Peter Bocchino, Unshakeable Foundations: Contemporary Answers to Crucial Questions About the Christian Faith [Minneapolis: Bethany House, 2001], 206.