MIKE B. posted a link to a NEW YORK TIMES story that in the first paragraph reminds me why I cannot stand almost the entirety of the Gray Lady. Here is the first paragraph:
When called upon to believe that Barack Obama was really born in Kenya, millions got in line. When encouraged to believe that the 2012 Sandy Hook murder of twenty children and six adults was a hoax, too many stepped up. When urged to believe that Hillary Clinton was trafficking children in the basement of a Washington, D.C., pizza parlor with no basement, they bought it, and one of them showed up in the pizza place with a rifle to protect the kids. The fictions fed the frenzies, and the frenzies shaped the crises of 2020 and 2021. The delusions are legion: Secret Democratic cabals of child abusers, millions of undocumented voters, falsehoods about the Covid-19 pandemic and the vaccine.
So, let's deal with some of this first paragraph.
BIRTHIRISM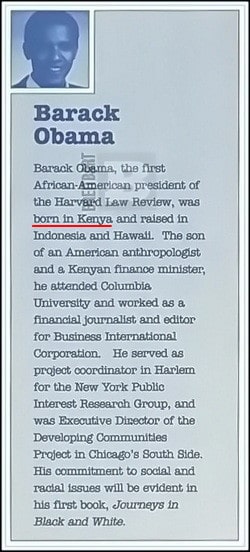 This is included in the NYT's list of right-wing conspiracies.
Which I find odd.
Because the first time this idea was put into the public's mind was by Barack's own publisher. Here is an highlighted portion of the above which was on Obama's publishers brochure in 1991 (to the right), and found elsewhere online till 2007. And the publisher of "Dreams of my Father" So far from it having a "Genesis" in some right wing "conspiracy" — for over a decade it was viewable by Obama and fans of his book.
I say "the first time this idea was put into the public's mind" because my belief is that he lied to unlock grants, gain access and recognition at Occidental College, his publisher, etc.… similar to Elizabeth Warren. (Or, Carrie Bourassa up in Canada, or Ward Churchill, or the MANY others. There is some gain to claiming "other".)
At any rate, that was the first the world heard of the "born in Kenya" idea. It was in the public eye from 1991 until April 2007…

…and then….
Hillary ran for office.
And this story went from public to through the Hillary Clinton "propaganda machine."
PERCENTAGE OF BELIEVERS
Some of this is from: Comparing Two Conspiracy Theories: Birtherism vs. 9/11 Conspiracies
Since this had it's origins as an idea via Democrats, it would be safe to assume many Democrats believed it.
Seems logical. While it was half [essentially] of Dems, it is still pretty high. I will combine polls from two conspiracies [Birthers and Truthers] to make a point.
Polls from RASMUSSEN (and others compiled at WIKI) that show an amazing thing. What is this "amazing thing," you rightly ask?
Democrats in America are evenly divided on the question of whether George W. Bush knew about the 9/11 terrorist attacks in advance. Thirty-five percent (35%) of Democrats believe he did know, 39% say he did not know, and 26% are not sure.
(RPT)
Not sure? Not sure? To be clear, Democrats by over a majority believed Bush either knew directly or they said they were [basically] "still on the fence." Here is more:
I've been looking for a good analogue to the willingness of Republicans to believe, or say they believe, that Obama was born abroad, and one relevant number is the share of Democrats willing to believe, as they say, that "Bush knew."
There aren't a lot of great public numbers on the partisan breakdown of adherents to that conspiracy theory, but the University of Ohio yesterday shared with us the crosstabs of a 2006 poll they did with Scripps Howard that's useful in that regard.
"How likely is it that people in the federal government either assisted in the 9/11 attacks or took no action to stop the attacks because they wanted the United States to go to war in the Middle East?" the poll asked.
A full 22.6% of Democrats said it was "very likely." Another 28.2% called it "somewhat likely."
That is: More than half of Democrats, according to a neutral survey, said they believed Bush was complicit in the 9/11 terror attacks….
(POLITICO)
What is the percentage of Republicans that believed (at it's height of belief) Obama was not born in America?
31% of Republican think/thought that Obama was not born in the states…
How many Democrats?
15% of Democrats believe the same… [as well as 18% of Independents]
However, a third who believe him to be born out of the country approve of him (ABC-NEWS and my RPT post).
So it is clear the "BIRTHIRISM" is not just a "right-wing" conspiracy.
Various Conspiracies and Ironies
However, I do not believe the New York Times has ever said 9/11 Trutherism is a "left-wing conspiracy." From the beginning of the next paragraph from the NYT article:
While much has been said about the moral and political stance of people who support right-wing conspiracy theories, their gullibility is itself alarming.
This article is for the gullible, as you will see.
ALEX JONES
Some of these listed conspiracies in the paragraph quote from the NYT are via Alex Jones…. whom I have an entire section of my main conspiracy-debunking page (some isolated here)… so I do not know who my friend is thinking is a "big conspiracy/gullible" person, as, I refute many conspiracies on my site.
I think my mom is the only person I know who believes almost every conspiracy named. Flat-earth, energy beams from space starting fires, the pizza "trafficking kids" thing, and the like. But she is getting senile.
SEX TRAFFICKING
What is ironic is that Hillary wasn't trafficking underage kids… they were being trafficked to Bill Clinton ("Slick Willy").
Clinton's presence aboard Jeffrey Epstein's Boeing 727 on 11 occasions has been reported, but flight logs show the number is more than double that, and trips between 2001 and 2003 included extended junkets around the world with Epstein and fellow passengers identified on manifests by their initials or first names, including "Tatiana." The tricked-out jet earned its Nabakov-inspired nickname because it was reportedly outfitted with a bed where passengers had group sex with young girls. (FOX | See also TOWNHALL)
NEW GEORGIA REVELATIONS
What prompted the NYT post was my posting a story about new video compiled by True the Vote after collecting and going over CCTV of the area around drop-boxes in Georgia. The collecting, viewing, and then isolating these many videos was a time consuming project. Here is a snippet from JUST THE NEWS:
….The group informed the secretary its evidence included video footage from surveillance cameras placed by counties outside the drop boxes as well as geolocation data for the cell phones of more than 200 activists seen on the tapes purportedly showing the dates and times of ballot drop-offs, according to documents reviewed by Just the News.
The group also said it interviewed a Georgia man who admitted he was paid thousands of dollars to harvest ballots in the Atlanta metropolitan area during the November election and the lead-up to Jan. 5, 2021 runoff for Georgia's two U.S. Senate seats, which were both captured by Democrats and ended GOP control of Congress. The group has yet to identify the cooperating witness to state authorities, referring to him in the complaint simply as John Doe.
Raffensperger confirmed in an interview aired Tuesday on the John Solomon Reports podcast that his office has deemed the allegations credible enough to open an investigation and possibly seek subpoenas from the State Election Board to secure evidence.
Here is BREITBART'S take:
Georgia Secretary of State Brad Raffensperger announced Tuesday he initiated a probe into possible illegal ballot harvesting in the 2020 election.
While former President Trump lost the state of Georgia by a 12,000 vote margin, True the Vote submitted a complaint to Raffensperger's office on November 30 that details digital data of 242 people making visits to drop boxes to dump mail-in-ballots, with about 40 percent of the trips occurring between midnight and 5:00 a.m., Just the News reported.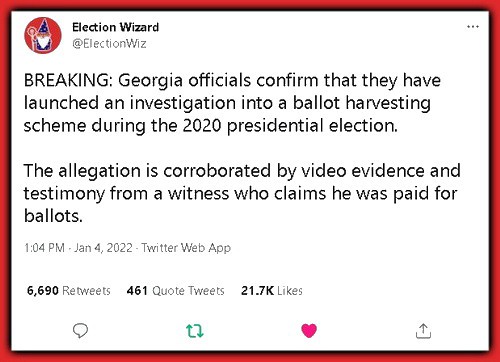 The True the Vote evidence reportedly includes phone data correlated with video that shows individuals dropping ballots at 5,662 ballot drops during the 2020 pandemic. Breitbart News reported on a True the Vote document in August:
In other words, what the document says is that True The Vote was able to take cell phone ping data on a mass wide scale and piece together that several people—suspected ballot harvesters—were making multiple trips to multiple drop boxes, raising potential legal questions in a number of these states.
Raffensperger told Just the News:
We do have some information. And we are going to investigate that. We did deploy drop boxes that were under 24/7 surveillance, and because they were then that really, you know, can indicate who dropped that information off, and we're really just going through that.
"If people give us, you know, credible allegations, we want to make sure that we do that," Raffensperger continued. "And we have that right now as an ongoing investigation." ….
---
CONVO
---
When MIKE B. saw a phone screen capture of a Gateway Pundit story on this from their site, he said:
I asked Why – to which he said:
because it is not based on fact.
I said:
There is video (in fact MANY hours). And someone who was part of delivering these illegal ballots was being paid?
To which MIKE B. notes:
all bs. Investigated by republican investigators. Look no further then Arizona recount. 6 months of investigation. Nothing found. And by a biased investigator. Time to move on from 2020. Trump lost.
Apparently, many people believe that the Arizona Audit didn't find anything. (Many of these same people believe conspiracies about: yellow cake uranium; that we supplied most of Iraq's weapons; that the Iraq war was over oil; that Halliburton was given "no bid contracts"; that the CIA trained Osama Bin Laden; or that there weren't WMDs in Iraq — to name a few examples)
I refuted the Arizona Audit not finding anything a while back, which was part of my next comment:
Arizona? Lol. You need to leave the NYT cocoon. Here are two examples from my post:
Nearly half of the votes flagged as suspicious — 23,344 — fell into a category called "ballots cast from individuals who had moved prior to the election." They included 15,035 who moved within the county before the registration deadline, 6,591 who moved to another state before the registration deadline and 1,718 who moved to a different county before the registration deadline.

Found 34,448 votes from those who voted more than once in Arizona in the 2020 election. 17,000 votes that NEVER should have been included in the audit!
That is what led him to simply post the URL to the NYT article.
To wit, let's talk about the NYT a bit.
NEW YORK TIMES Lies About History
One big lie which required the paper supporting the rewriting of history was the 1619 Project. One left leaning professor of history at Northwestern University, Leslie M. Harris, wrote a piece for POLITICO stating essentially after the NYT's approached her to fact check the article because she is an historian of African American life and slavery, she said she was ignored.
Weeks before, I had received an email from a New York Times research editor. Because I'm an historian of African American life and slavery, in New York, specifically, and the pre-Civil War era more generally, she wanted me to verify some statements for the project. At one point, she sent me this assertion: "One critical reason that the colonists declared their independence from Britain was because they wanted to protect the institution of slavery in the colonies, which had produced tremendous wealth. At the time there were growing calls to abolish slavery throughout the British Empire, which would have badly damaged the economies of colonies in both North and South."

I vigorously disputed the claim. Although slavery was certainly an issue in the American Revolution, the protection of slavery was not one of the main reasons the 13 Colonies went to war.
The editor followed up with several questions probing the nature of slavery in the Colonial era, such as whether enslaved people were allowed to read, could legally marry, could congregate in groups of more than four, and could own, will or inherit property—the answers to which vary widely depending on the era and the colony. I explained these histories as best I could—with references to specific examples—but never heard back from her about how the information would be used.
Despite my advice, the Times published the incorrect statement about the American Revolution anyway, in Hannah-Jones' introductory essay. ….
Over time via pressure, the NY Times began correcting the record. NATIONAL REVIEW headlines some major faux pas: Leaving Out Unwelcome Facts about Slavery; Smearing the Revolution; Distorting the Constitution; Misrepresenting the Founding Era; Misrepresenting Lincoln.
A more recent article found at the same place is by Professor Wilfred Reilly, associate professor of political science at Kentucky State University and the author of Taboo: 10 Facts You Can't Talk About, as well as Hate Crime Hoax: How the Left is Selling a Fake Race War. Both of which I have read.
April of last year was a big "correcting month" for the NYT, as the NEW YORK POST notes:
April was the month the narratives died.
On April 15, the Biden administration acknowledged there was no evidence that Russia ever offered bounties on American troops in Afghanistan, walking back a report that wounded former President Donald Trump in the run-up to the 2020 election.
Four days later, the Washington, DC, medical examiner revealed that Capitol Police Officer Brian Sicknick had not been murdered by rampaging Trump supporters during the Jan. 6 Capitol Hill riot, as reports had claimed, but had died of natural causes.
Both stories were based on anonymous, unidentifiable sources, but had become deeply enmeshed in the public consciousness. Both confirmed the assumptions of the nation's left-leaning media and academic elite, while damaging their political enemies.
And both were driven by The New York Times, where malicious misreporting has been the practice for a century, argues journalist and media commentator Ashley Rindsberg.
"My research churned up not mere errors or inaccuracies but whole-cloth falsehoods," Rindsberg writes in "The Gray Lady Winked" (Midnight Oil), out now, which examines how the nation's premier media outlet manipulates what we think is the news.
The "fabrications and distortions" he found in the Times' coverage of major stories from Hitler's Germany and Stalin's Russia to Vietnam and the Iraq War "were never the product of simple error," Rindsberg contends.
"Rather, they were the byproduct of a particular kind of system, a truth-producing machine" constructed to twist facts into a pattern of the Times' own choosing, he says.
Rindsberg argues that Times reporters have followed the same playbook since the 1920s.
Star reporters cite fuzzily identified sources and make sweeping assertions to support a narrative aligned with the corporate whims, economic needs and political preferences of the patriarchal Ochs-Sulzberger family, which has helmed the operation since 1896, he writes. The chosen narrative, reinforced from multiple angles, is entrenched through a network of stories over time.
"We toss the term 'fake news' around as if it's something whimsical," Rindsberg told The Post.
"But creating what I call a false media narrative is really hard," he said. "It takes coordination, deliberation, and a lot of resources. And there aren't many news organizations that can do it."
With close to $2 billion in annual revenue, the Times has the money, prestige, experience and stature to set the narratives that other news outlets almost invariably follow.
"When the Times breaks these stories, it's wall to wall," Rindsberg said. "MSNBC, CNN — everywhere you look, you'll get that story.
"And with the Times, it's never just one false claim," he said. "They make a concerted effort over time that they dig into and won't let go."
The paper's coverage of Adolf Hitler's Germany in the decade before World War II is an early example of its narrative manipulation, Rindsberg writes.
So glowing was its picture of the regime that the Nazis regularly included New York Times reports in their own radio programs.
That's because the Times bureau chief in Berlin, Guido Enderis, was a Nazi collaborator," Rindsberg said. ………
See also some audio uploads of mine on the NYT:
NYT's PULITZER
I have listened to Dennis Prager for years, and this is only the second time I have heard him this mad:
It should also be noted that without the Press, Stalin and Communism would not have had a pristine veneer. The Pulitzer prize winning New York Times writer, Walter Duranty, is quoted in THE WEEKLY STANDARD as an example: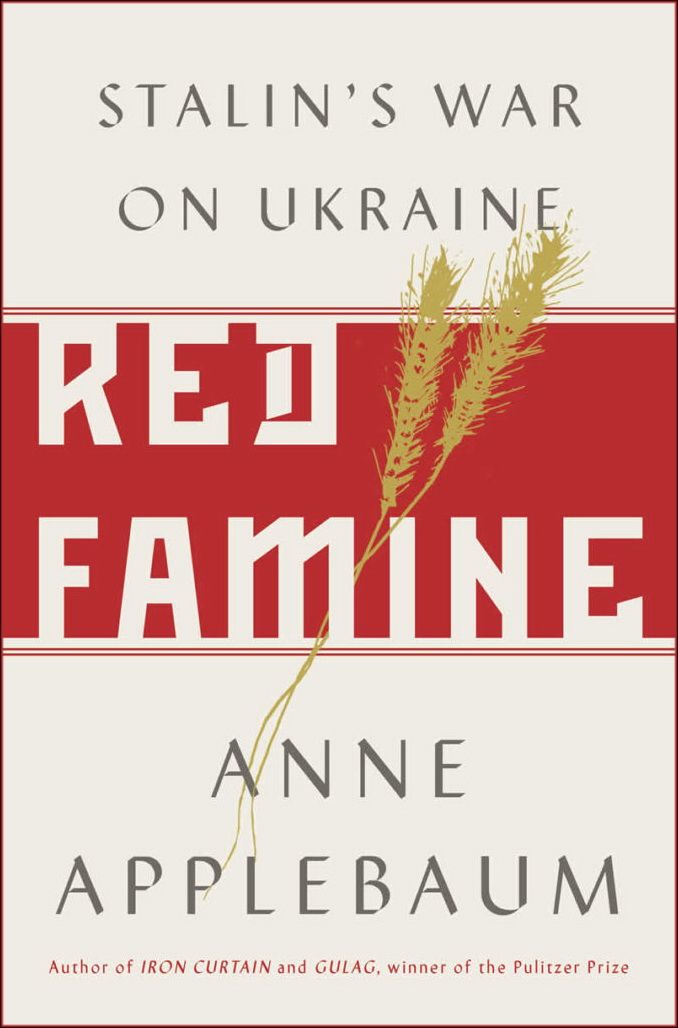 "There is no famine or actual starvation nor is there likely to be."




–New York Times, Nov. 15, 1931, page 1

"Any report of a famine in Russia is today an exaggeration or malignant propaganda."




–New York Times, August 23, 1933

"Enemies and foreign critics can say what they please. Weaklings and despondents at home may groan under the burden, but the youth and strength of the Russian people is essentially at one with the Kremlin's program, believes it worthwhile and supports it, however hard be the sledding."




–New York Times, December 9, 1932, page 6

"You can't make an omelet without breaking eggs."




–New York Times, May 14, 1933, page 18

"There is no actual starvation or deaths from starvation but there is widespread mortality from diseases due to malnutrition."




–New York Times, March 31, 1933, page 13
And here is a great recap by NEWSBUSTERS:
The New York Times doesn't change. The paper is atrociously biased today and it was 85 years ago when columnist Walter Duranty proved himself to be a useful idiot for Soviet propaganda. Talking about a famine that killed millions of Ukrainians, he insisted: "There is no actual starvation… There is no famine."
Another example from This Week in Media Bias History: CNN founder Ted Turner claimed global warming will kill "most of the people" with the survivors resorting to cannibalism.
Below are Rich Noyes's collected tweets from the 14th week of This Day in Media Bias History. To get the latest daily examples, be sure and follow Noyes on Twitter. To see recaps of the first 13 weeks, go here.)
The blow article is about the real reporter who risked his life to tell the truth. The NYT's should strip Duranty of the Pulitzer and ask for it to be transferred to Gareth Jones (click pic to enlarge):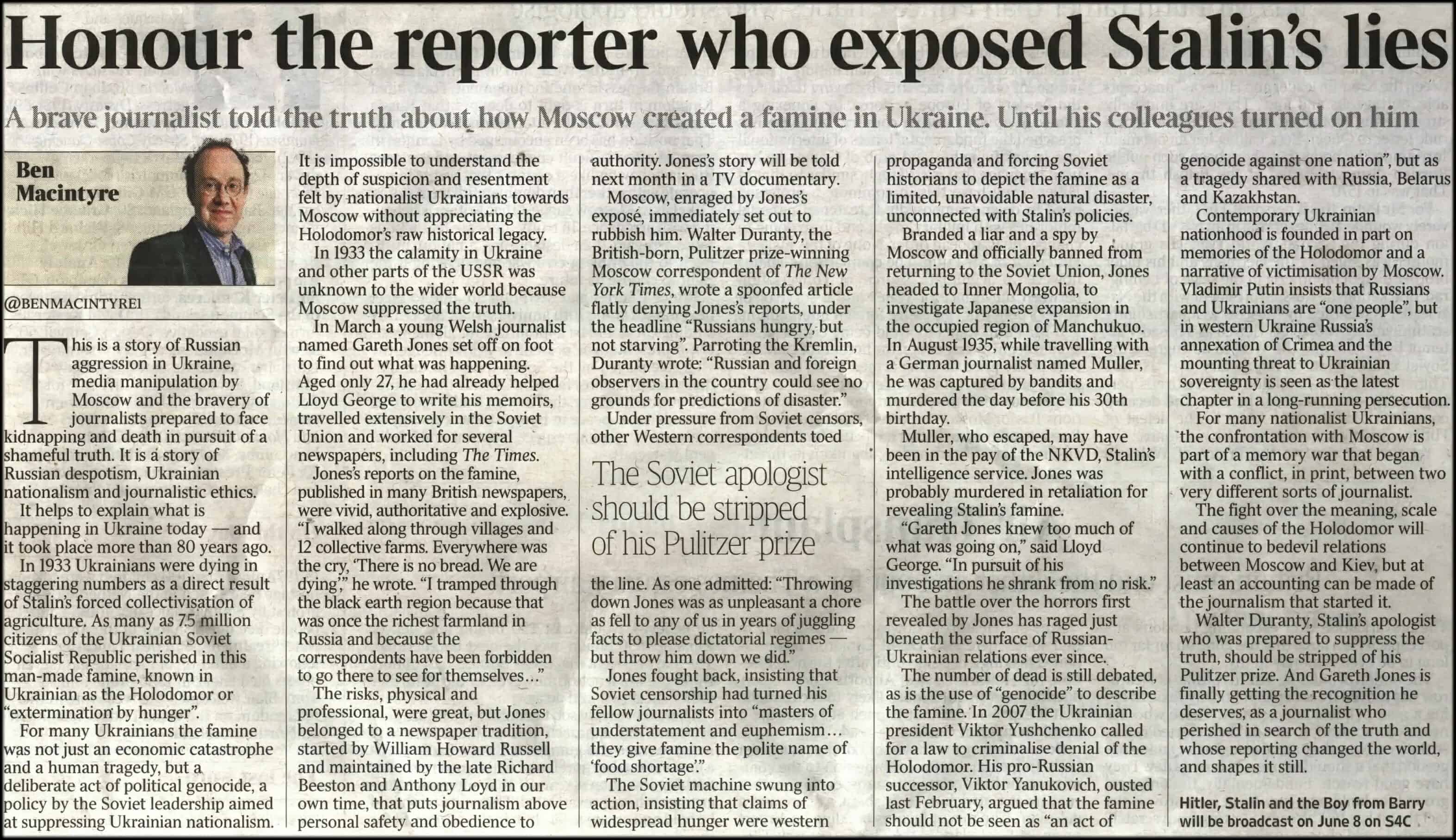 More:
Conclusion
So to post a link (URL) to an article that starts off badly and doesn't touch on the papers conspiracy views of it's own (another example):
…New York Times columnist Paul Krugman has for years now delved deep into partisan hackery. But now with the election of Donald Trump, he's plunged headlong into crazy conspiracy theory. It's amazing to watch.
Forget that Trump incest stuff. This is the real wacky theory, and there's no chance the New York Times is going to fire him for it, either: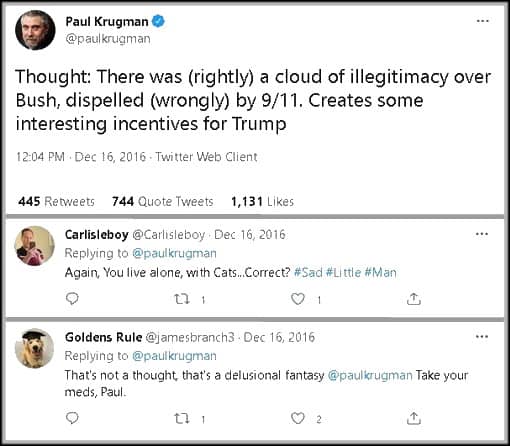 That's right, he just suggested Donald Trump would intentionally allow a major terrorist attack to kill thousands of Americans, just to raise his approval rating.
This is a tiny step from the old "Bush Knew" 9/11 truther theories out there, and this is from a columnist from a major left-wing newspaper, too. This guy is respected as an expert. Yet he comes up with this stuff. He posts theories like this and nobody pulls him back from the brink…