Over the past four years, President Biden has said that he did not know about, and did not benefit, from Hunter Biden's business dealings.
BRIETBART has more on the exact dates these lies were spoke:
This is a bit of a FLASHBACK PIVOT, but one worth making as it leads into a new talking point. Remember, the previous lkie told to get Biden across the finish line was that the laptop was Russian disinfo:
A MATT TAIBBI FLASHBACK
NOW THEY REJECT RUSSIAN DISINFO
Now that it has been confirmed, Democrat politicians and the MSM have switched gears, saying, that there is no evidence that Biden benefited from these [now proven] transactions. Let me re-word it how the MSM and Dems do:
"NO DIRECT EVIDENCE OF BENEFIT."
BREITBART again notes this newest pivot by Dems and media: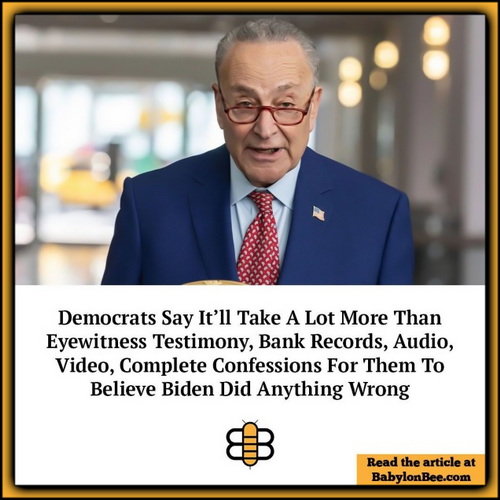 THEY THINK THEIR VIEWERS ARE DUMMIES
Professor Turley make the most salient point when discussing the Democrats position:
"Being a crook doesn't mean you're a moron, and it would take a moron to do a direct deposit into an account to the Biden family or send him some Zelle transfer. It's not done. The Bidens are very good at this,"
Here is more from DAILY CALLER:
CAVING TO FACTS… SLOWLY
Much like their other positions, this narrative is [grudgingly] starting to [have to] conform to evidence.
It's so bad that like the "trump called NAZI's good" lie, CNN has caved again to facts after a long holdout:
Maybe this fact will someday make the MSM?
9 VS. 6
Remember, Democrats challenged more states electors in 2016 with the election of President Trump in 2020, which is that in 2017 Democrats challenged nine state's electors and in 2021 Republicans challenged six state's electors:
THE BIG LIE DEM VS. GOP
Democrat's "Stolen" Election Claims | "Stolen" 2016 Election
The NEW YORK TIMES notes the following about the Democrats 21st century strategy:
The NYT article went on to say Hillary conceded, but so did Trump — as much as Hillary did:
"Rigged" Election Claims | Trump 2020 vs Clinton 2016
Not only that, but, Also, remember, more "unfaithful" electors went to Hillary than they did Trump. An often forgotten stat.
DEM VS. GOP FAITHFULNESS
THE BIG LIE MSNBC
Katie Phang is still [April 2023] saying that Trump stole the election!
RPT FLASHBACK
---
DEMOCRATS WERE FOR CHALLENGING ELECTORS
BEFORE BEING AGAINST IT
---
The last three times a Republican has been elected president — Trump in 2016 and George W. Bush in both 2000 and 2004 — Democrats in the House have brought objections to the electoral votes in states the GOP nominee won. In early 2005 specifically, Sen. Barbara Boxer, D-Calif., along with Rep. Stephanie Tubbs, D-Ohio, objected to Bush's 2004 electoral votes in Ohio.
My sons and I have discussed the January 6th issues, and, some historical aspects as well. Firstly, people saying Trump should be impeached are just as radical as the people breaking into the Capital. The throwing around of the "sedition" label is funny, and shows how people are not aware of the recent history of the lawful process of debate in Congress about just such topic. Here is one blogger noting Chuck Todd's biased lack of awareness:
PJ-MEDIA however has an excellent notation of this history when they point out Democrats outrage that Republicans objected to the certification of electoral votes. "It's 'conspiracy and fantasy,' says Senate Minority Leader Chuck Schumer." PJ further states,
And THE BLAZE also referenced it's readers to the same issues in their post (BTW, these are the two videos I used for my upload):