A family member commented on a sticker on the back-window of my van by affirming the idea of "Make Orwell Fiction Again." (Click to Enlarge) [This will be a continuing series to address this idea]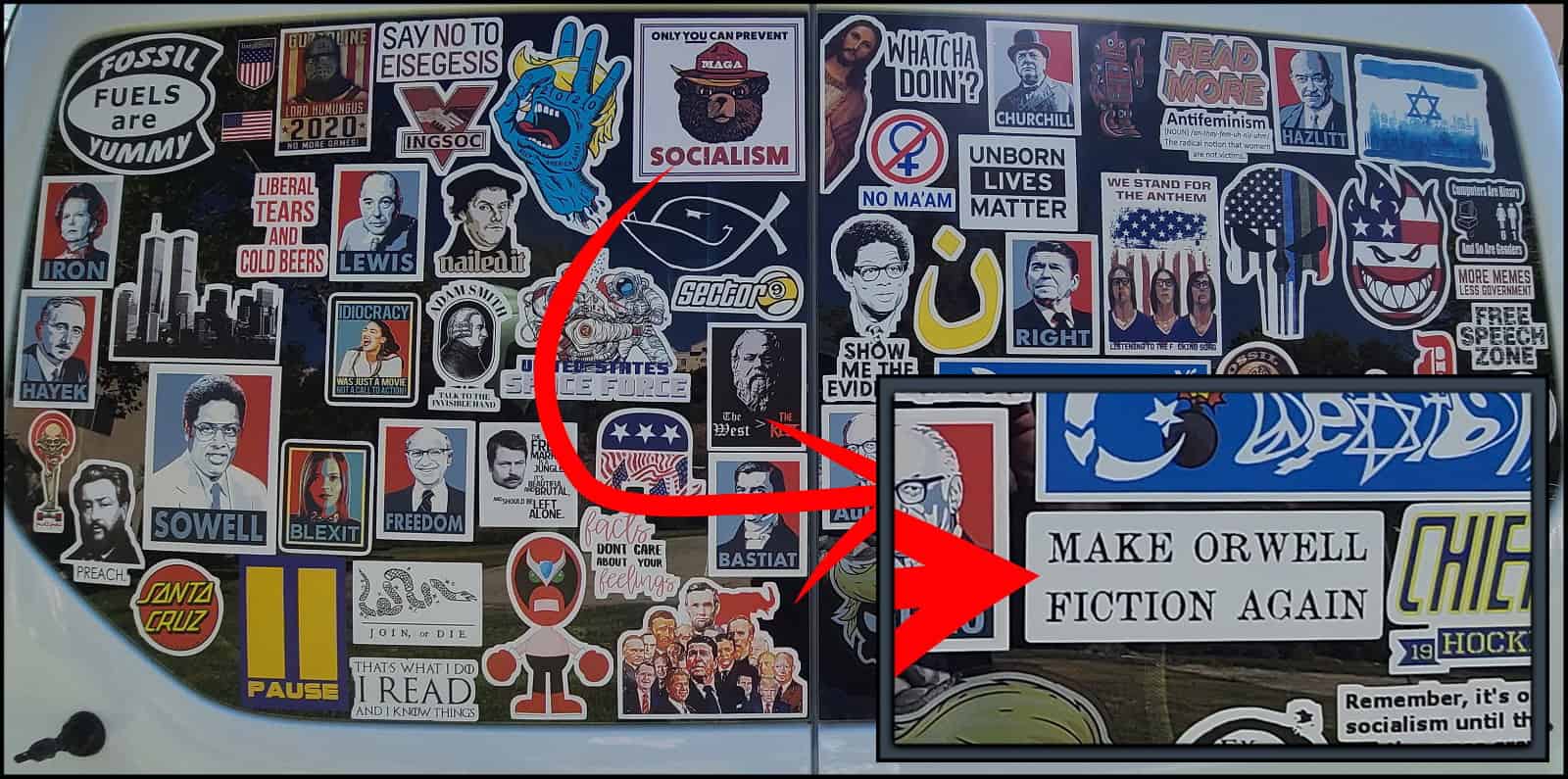 However,  knowing that his only form of news is essentially late-night [political] comics, CNN, and NPR… he meant it in a differing way than both the novel, and I meant it. So, below will be the beginning of a series of articles with small excerpts that I will continually add to in other posts. And note as well that what we have is a marriage of Orwell as well as Huxley as expressed in the quote from Joshua Charles' book, Liberty's Secrets: The Lost Wisdom of America's Founders, found here: Orwell vs. Huxley (Big Tech Update)
MOST MEDIA EXCLUDES CONSERVATIVE IDEAS
Only a society that can effectively block and censor news, and shut down free expression is the kind the sticker refers to. Non-conservative ideas and news stories can be found readily in the New York Times, Chicago Tribune, L.A. Times, San Francisco Chronicle, ABC, NPR, CBS, CNN, MSNBC, NBC, etc.
In fact, almost every newspaper WITH THE EXCEPTION of the opinion pages of the Wall Street Journal, the Washington Times, and the New York Post, and at times FOX NEWS, have a more conservative leaning bias and news stories to be considered.
One example is that years ago the L.A. Times carried columns by Dennis Prager (and other conservative voices). Today they carry zero.
TWITTER/FACEBOOK CENSOR MAJOR NEWS STORY
THE NEW YORK POST was censored for many weeks… scrubbed from Twitter as well as Facebook. Here is what my past Twitter looked liked when trying to share the story: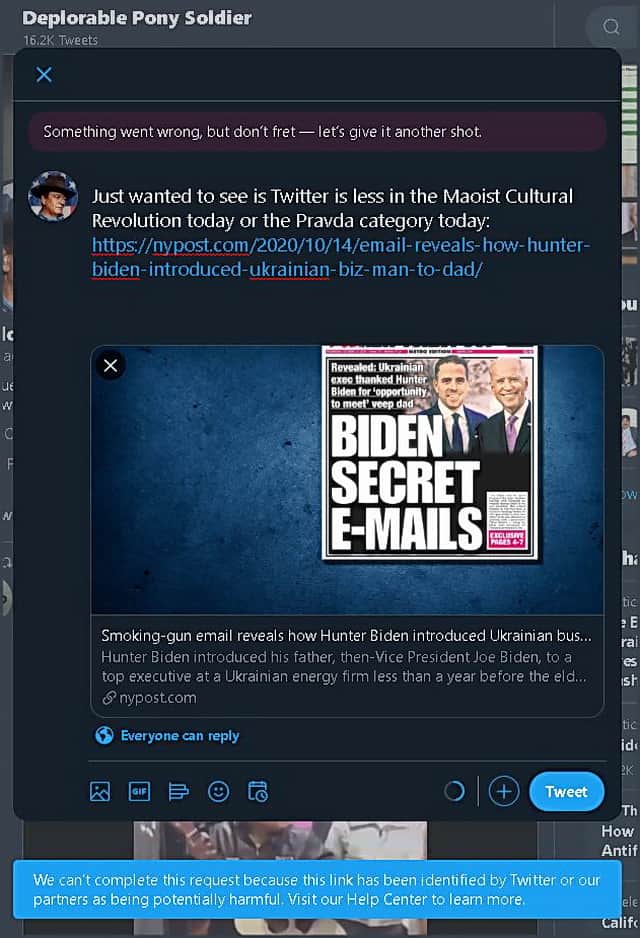 This was all common knowledge [for the most part] because of Peter Schweizer's March 2019 book, "Secret Empires: How the American Political Class Hides Corruption and Enriches Family and Friends". And the NEW YORK POST had a wonderful article that Facebook, Twitter, CNN, MSNBC, NPR, NYT, WaPo — essentially ignored or censored.
EVEN LEFTIE GLENN GREENWALD CENSORED
Armstrong and Getty cover Glenn Greenwald resigning from the "free speech" news outlet he founded. The article mentioned them of Glenn's is this one: "Article on Joe and Hunter Biden Censored By The Intercept". [As an aside, I added MUCH MORE of the Tucker interview.]:
In Glenn's article, this stood out (SUBSTACK):
50 FORMER SENIOR INTELLIGENCE OFFICERS WERE WRONG
The NEW YORK POST opines on the recent "discovering" of an old story: "Liberal media 'snuffed out' Hunter Biden coverage until after election to help defeat Trump: critics" . But a must read article is this one over at RED STATE: "Ric Grenell Blows Up, Big Time, the Group That Should Be Most Ashamed of What They Did on the Hunter Biden Story"
MEDIA "DISCOVERED" STORY AFTER BIDEN ELECTED
Except the story was [and still is] 100% true. It was Russian disinformation UNTIL BIDEN WON, then the media discovered it's veracity.
1984 JUMPS TO #1 ON AMAZON AMID EXPANDED CENSORSHIP
JUST THE NEWS notes the jump to #1 of 1984 on Amazon
Later ages are always surprised by the casual brutality of totalitarian regimes. What those innocent ages neglect is the unshakeable (though misguided) conviction of virtue that animates the totalitarians. The historian John Kekes, writing about Robespierre in City Journal some years ago, touched on the essential point. If we understand Robespierre, "we understand that it is utterly useless to appeal to reason and morality in dealing with ideologues. For they are convinced that reason and morality are on their side and that their enemies are irrational and immoral simply because they are enemies." That is the position of conservatives in American culture today. (AMERICAN GREATNESS)
Tammy Bruce's book, "The New Thought Police: Inside the Left's Assault on Free Speech and Free Minds," was an important salvo in all this. Not the first book, but one of the most relevant for it's day. Tammy has noted for years the censorship of the Left, one example is an older post:
The tech companies are just emboldened now. That's all.
TONY BOBULINSKI AND LEFTIE LEGAL SCHOLAR, JONATHAN TURLEY
Yep, there were MANY disgusting videos on Hunter Biden's laptop: him sexually abusing underage girls, including a family member, smoking crack, etc. But what was more disgusting was covering up a real news story [evidence of pay to play in the Ukraine and China] by almost all news outlets (print or media), as well as the censoring of it on social media. However, as Jonathan Turley notes wisely about NPR….. the designation as "a distraction" shows a bias rather than a news outfit, video precedes Turley's article for context:
Tony Bobulinski will attend Thursday night's debate as guest of President Trump.
JONATHAN TURLEY [Lefty Legal Scholar] notes this about Tony Bobulinski giving AMPLE evidence of who "the big guy" is:
THIS CENSORSHIP PUSHED BIDEN INTO THE "WIN" COLUMN
It did guarantee a Biden victory BTW:
---
OMISSION
---
(CNS NEWS)
---