EQUITY
OFF THE PRESS bullet points DAILY CALLER'S story for us:
Former Federal Emergency Management Agency Administrator Michael Brown blasted officials in Hawaii over their focus on "equity" prior to a deadly wildfire.
The West Maui Land Company accused M. Kaleo Manuel, an official with the Hawaii Department of Land and Natural Resources (DLNR), of delaying a response to a request to use water to refill reservoirs used by the Maui Fire Department to fight the wildfire, Hawaii News Now reported.
A video of Manuel discussing the importance of having conversations about "equity" when it came to water use surfaced Thursday.
BREITBART has more:
Here is this "water official" using woke buzzwords like "holistic" — they just string words together to sound important / compassionate:
What a douche. The LEFT looks for religion in all the wrong places.
WATER & POWER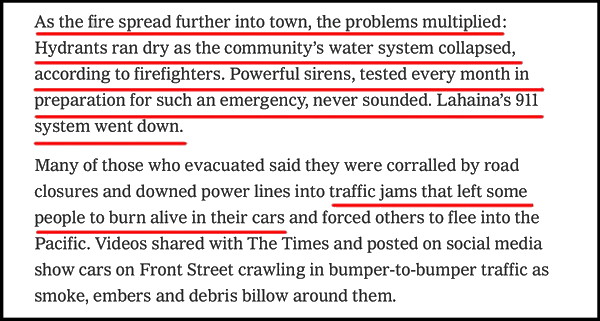 The government would rather blame "climate change" for the Hawaii wildfires than take responsibility for their own reckless disregard.
---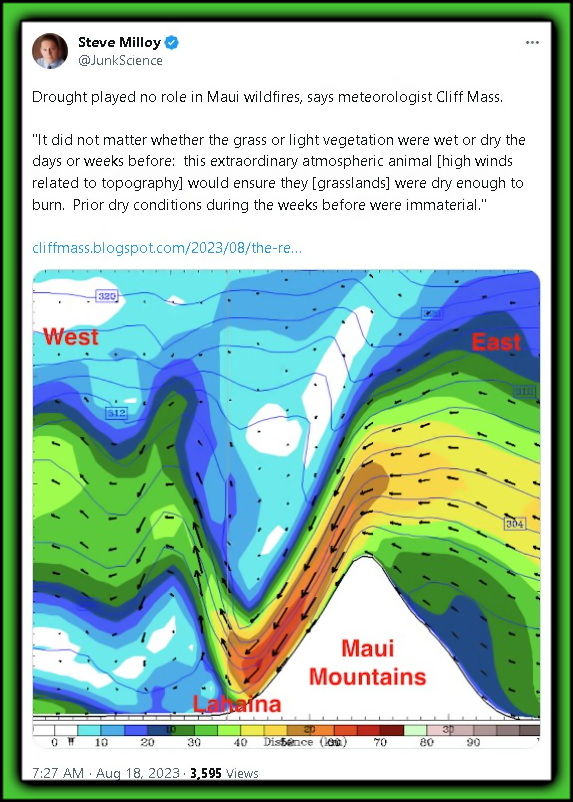 This event was not the result of climate change, Hurricane Dora, or an extended drought.  It resulted from an unusually intense mountain wave/downslope windstorm produced by a fairly rare convergence of conditions. (Cliff Mass Weather Blog)
And Steve Milloy points out another NEW YORK TIMES article that missed an opportunity to zero in on the issue: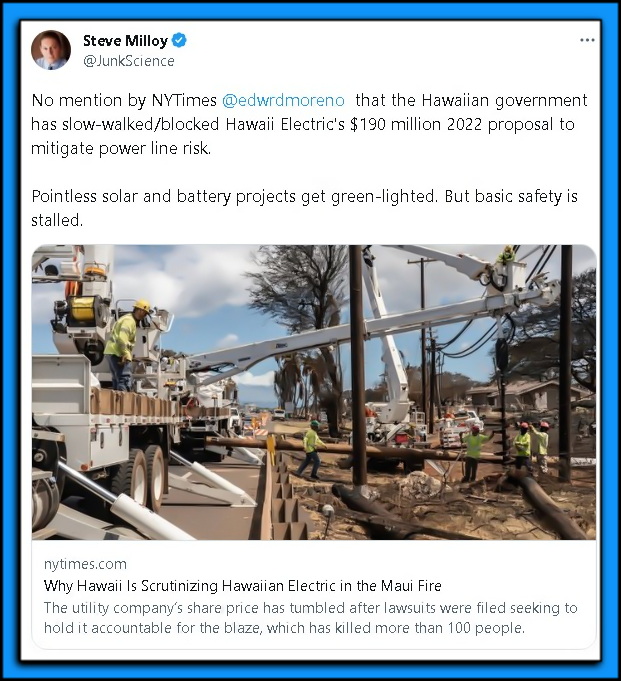 And THE BLAZE notes the issue with the power companies
All these useless policies to make politicians fell good through "messianism" [saving the planet] have consequences. Like all the other policies with a stated outcomes by the Left – they hurt those they purport to want to help.
SAINTHOOD
It reminds me of the stellar [extended] quote by David Mamet: