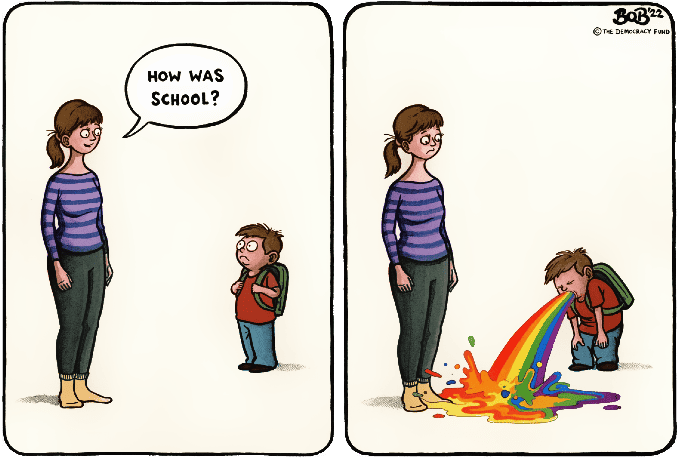 During a kid's birthday party (a classmate of my niece) — the birthday boy's father and I had a discussion partly spawned by my hat.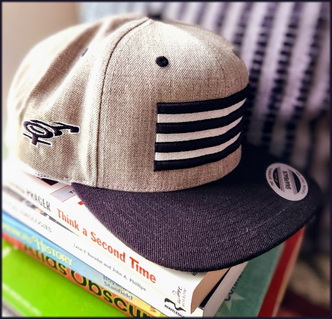 We discussed the current indoctrination push during "gay-pride" month, among other things. I discussed some of my past letters to the parents/teachers/and principles I had written when my boys attended school.
(5th Grade) Kwanzaa: Racism in Disguise
(6th Grade) Indians vs. Settlers – Letter from a Concerned Parent
(9th Grade) "Racism" Invoked in the Classroom
(My boys are 31 and 27 years of age now, so the indoctrination on all fronts has gotten worse for sure.)
He mentioned that it is bad, and I responded roughly like this:
My boys are 31 and 27 years-old, but I wonder what I would do if they were in school right now. For instance, if my kid told me [or on a parent teacher night I saw] there was a gay-pride flag in the classroom. I think what I would do is offer the teacher a similar sized flag which I would buy her [almost always a "she" touting "equality"] to hang in the classroom as well. And is she refused to show equality of flags representing sexuality [which flags representing sexuality shouldn't be allowed in the classroom, but that is neither here-nor-there], I would take the next step and discuss this with the principle. And if that met a dead end, the next step may be legal action. And by adding something to the "equality" stance, rather than asking them to take something down, I think would offer a more positive legal outcome.
When I mentioned this part of the conversation to my son he spoke like the teacher and said what would your response be to when she flatly refuses and says the flag is homophobic. To which I responded:
If someone in the classroom refused to include the "heteronormativity flag" (straight pride) – and it got to that point where they didn't want to put it up because of "bigotry" or "homophobia" – you would argue: Well, I'm, in fact, the one that wants both sides to be represented. I am not telling you to take something down or to put this one up exclusively, again, I'm the party who wants both sides to be represented. So if any "phobic" term is to be used, it's "heterophobe" here in this conversation.
That was just one part of the convo with some dads and friends of dad at the birthday party. I thought that that solution to one of the many problems faced by parents of kids in state-schools is worthy to catalog here for others to say, "Oh yeah, I think that is something I can do in my little corner of the community."
Two flags repping heteronormativity: