A liberal society might, then, find it prudent to ignore homosexuality, It might well deem it unwise to peer into private bedrooms. However, this is not the issue before us. Today the demand is that homosexuality be endorsed and promoted with the full power of the law. This would require us to abandon the standard of nature, the one standard that can teach us the difference between freedom and slavery, between right and wrong. (Source)
Via NEWSBUSTERS:
This is just a reminder to THE VIEW…. same-sex attraction is a complicated thing. And many gays do reject the attraction by changing orientation, or rejecting the orientation to serve Christ in a more meaningful way (see more HERE). I wish to tackle this in two ways here. FIRST, sexuality is fluid when persons are young. It is a surge of hormones and environment that account for the following:
Which is why we can really say there are more ex-gays alive today than gays. Is this "anti-science"? Another avenue in dealing with this is to show how the gay agenda is warping a proper understanding of nature presented to our children. Here is an example from another post of mine, "Gay Animals."
Before I get to a continuing conversation, I wanted to talk about an example I heard of a long time ago, and it has to do with the "famous" gay penguins, Roy and Silo. So popular was this pair of "gay" penguins that children's books were produced to explain that homosexuality should be acceptable, based on this male pair of penguins. (One being "And Tango Makes Three.") As we will see, using arguments like these often backfires on the person who thinks behaviors rooted in nature should be applauded in the Homosapien world.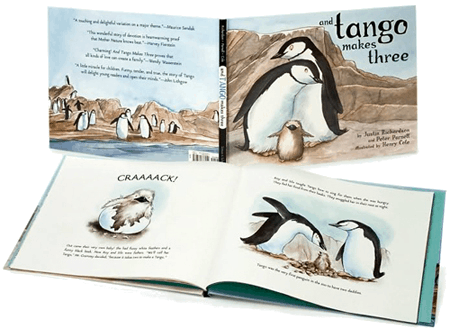 Conservapedia notes that in July of 2009, the alleged homosexual penguin pair in a California zoo crumbled under the weight of nature. Peter LaBarbera reported:
When will we see a book on penguin sexual behavior showing that reparative therapy works, and there can be ex-gays? And that one can choose by volition over his or her nature, when is this kids book coming? The Telegraph expounds upon this behavior in penguins more as more is known:
This "loneliness," really high testosterone levels, is a great description the N.Y. Times gives to the Roy/Silo conundrum:
"Heartbreaking!" I am sure Andrew Sullivan was beside himself… weeping and gnashing of teeth was worldwide I am sure. Okay, a "pop-culture" example removed, lets move to my discussion via Facebook. Again, to be clear, since Dr. Antonio Pardo makes it known that there isn't an animal that's exclusively "gay," and we have a popular example of this in Silo "switching teams," I see two things:
1) this can at the most be an argument for bisexuality, and
2) the mutability of homosexuality.