I have been challenged with this same statement above many times, but have never posted on the topic. So here it is to be entered officially in my growing library of responses to those opposed to the traditional, historical, classical definition of marriage.
Before I get to a continuing conversation, I wanted to talk about an example I heard of a long time ago, and it has to do with the "famous" gay penguins, Roy and Silo. So popular was this pair of "gay" penguins that children's books were produced to explain that homosexuality should be acceptable, based on this male pair of penguins. (One being "And Tango Makes Three.") As we will see, using arguments like these often backfires on the person who thinks behaviors rooted in nature should be applauded in the Homosapien world.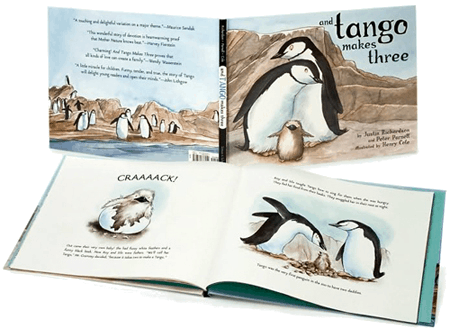 Conservapedia notes that in July of 2009, the alleged homosexual penguin pair in a California zoo crumbled under the weight of nature. Peter LaBarbera reported:
When will we see a book on penguin sexual behavior showing that reparative therapy works, and there can be ex-gays? And that one can choose by volition over his or her nature, when is this kids book coming? The Telegraph expounds upon this behavior in penguins more as more is known:
This "loneliness," really high testosterone levels, is a great description the N.Y. Times gives to the Roy/Silo conundrum:
"Heartbreaking!" I am sure Andrew Sullivan was beside himself… weeping and gnashing of teeth was worldwide I am sure. Okay, a "pop-culture" example removed, lets move to my discussion via Facebook. Again, to be clear, since Dr. Antonio Pardo makes it known that there isn't an animal that's exclusively "gay," and we have a popular example of this in Silo "switching teams," I see two things:
1) this can at the most be an argument for bisexuality, and
2) the mutability of homosexuality.
More on #2: if people argued and used this example to export homosexual behavior from the animal kingdom to the "animal" Homo sapiens… then for THAT to be a valid argument, one must now admit that the example has changed to show — from nature — that homosexuality is mutable.

Here I wanted to slow down some thinking of a gentleman who typically goes into long prose that have nothing to do with the topic discussed. As you can see, it took me a while to get J.R. to keep to one topic. I will include his attempt to get off topic. Many are use to this tactic and it keeps them from having to deal with any one-example specifically. Here is the statement by J.R. that got me interested in conversation with him:

"Mammals of many species express homosexual behavior."
Actual Conversation
So I started out:
As I was typing my next question to keep the conversation on track, J.R. posted this next part. To which I also responded to. So my two responses should be seen as in order of what was written by J.R.:
Here are my two responses, respectively:
At this point, I went and grabbed from his Facebook profile a favorite quote of his by Eleanore Roosevelt to stir up his focus:
Now J.R. is starting to catch himself, and I applaud him actively trying to stay focused.
Miracles do happen!
I have to break here and say I was hoping J.R. was going to "fact-check" my Sam Harris quote. While being a bit out of context, the full context makes the situation worse for J.R.'s vacuous case. I quoted Sam Harris as saying:
"…there are many things about us for which we are naturally selected, which we repudiate in moral terms. For instance, there's nothing more natural than rape. Human beings rape, chimpanzees rape, orangutans rape, rape clearly is part of an evolutionary strategy to get your genes into the next generation if you're a male…."
Here is the rest:
How, then, can we "move from that Darwinian fact about us to defend 'homosexuality' as a good practice?" Have we not "transcended that part of our evolutionary history"? Or, do political points of view dictate what we have-and-haven't "transcended"?
This led to my final comment, final in that J.R. has yet to continue the convo:
My hope in this post is to offer some responses to a challenge many do not know how to respond to. Also, this is posted as a model in keeping someone zeroed in on a topic at a time. Too often people will state one thing, hear an answer, and instead of dealing with the implications the instead move onto another subject. It is incumbent on us to learn how to keep the discussion on one topic/evidence at a time. It is hard, and I have to again applaud J.R., he did what some cannot do. Focus like a laser-beam… at least for a short while.