A friend has been noting a couple times that people should stop with the political hate. Posting this: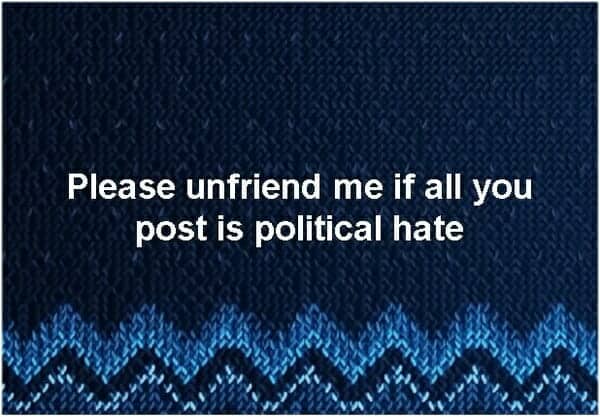 You see, a lot of people treat their Facebook like another version (private version) of themselves… with no regard to others who may be friends, family, co-workers, or the like. As I often do, I wonder if they are talking about me… but I post pretty mainstream stuff — nothing from crazy conspiracy sites like Alex Jones, or the like. And when I do post something from Mark Dice or Paul Joseph Watson, I ALWAYS include the following:
While I like their rants (Paul Watson, Mark Dice, and others) and these commentaries hold much truth in them, I do wish to caution you… he is part of Info Wars/Prison Planet network of yahoos, a crazy conspiracy arm of Alex Jones shite. Also, I bet if I talked to him he would reveal some pretty-crazy conspiratorial beliefs that would naturally undermine and be at-odds-with some of his rants. Just to be clear, I do not endorse these people or orgs.
But, I do not typically post on others walls unless family or friends start posting incessantly about the following… calling [essentially] me for my vote, one of the following (or any combination thereof): sexist, intolerant, xenophobic, homophobic, Islamophobic, racist, bigoted (S.I.X.H.I.R.B.)
When I disagree, I try to keep it civil… like I was talking to someone in a line at the local grocery store, with others (kids) present. As one can see from my CONVERSATION SERIES, I keep it full of facts, evidence, and a modicum of civility. So I realized that the call to civility on a friends Facebook was not about me, as I have never (beyond maybe a birthday wish) really interacted with said "old-school acquaintance/friend."
But NOW I was curious as a cat. So I read the replies and found one that said: "I post a lot of animal stuff too… so I'm not gonna unfriend you… Because I LOVE YOU!"
To me it sounded like an admission… so I clicked over to this persons wall. NOT that this person was the culprit… but I was merely curious. This is the kinda stuff I found:
All I can say is that the above is one of the reasons why winning in 2020 will be easier than in 2016. People are visiting this person's wall and saying to themselves, "wow, if this is the state of the party I belong to… I don't feel like voting." The up-and-come front runner for the Democrat Party said this of me:
"Is it racist to vote for Trump?" CNN's Jake Tapper asked the South Bend., Ind., mayor [Pete Buttigieg] on Sunday. "Well, at best, it means looking the other way on racism."
I realize many people BELIEVE this crap. But in a good c-o-n-v-e-r-s-a-t-i-o-n, it doesn't stand up to scrutiny.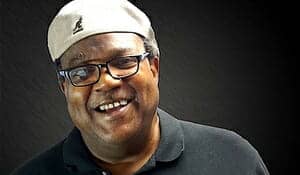 I mean, Rush's producer, "Bo Snerdly" (pictured to the right) founded an org to (as he put it): "…promises to 'make Black Americans Republican again'" (WASHINGTON TIMES). So I don't even wish to respond to the very demeaning and not true KKK meme.
So, I merely wish to post my response to the Scotts Bluff County Democratic Party "Meme" about the Tuskegee Airman. And this is why winning a conversation with the Left is easy.
FIRST, the Medal of Freedom is not one often given to war heroes… it is given to people — who unfortunately — donate to the campaigns of those in office. Or have really made an impact on culture. FOR INSTANCE, Oprah Winfrey created an audience of 20-million viewers and kept it at that number until she retired. So to has Rush Limbaugh done the same, to this day. These are the only people in media to do this. This is an amazing accomplishment. And what Rush has done for the base of the conservative movement and media is summed up well in Hugh Hewitt's commentary:
SECOND, President Trump DID AWARD a more prestigious award to this Tuskegee Airman. For instance, the U.S. AIRFORCE notes:
Why give him the lowly regarded "Medal of Freedom" when you can give a more substantive award?
THIRDLY, here are some examples of Obama's Medal of Freedom recipients — sorry for the LONG excerpt from PJ-MEDIA'S post:
Here some other early morning radio peeps talking about Rush:
Rush Limbaugh is no doubt, the godfather of talk radio and has been at the top of the pile for decades and decades. So it only makes sense when someone like him drops some major news, he makes the top of the headlines for days. He is conservative broadcasting and single-handedly saved the am band and invented modern talk radio. Watch this clip to hear the gang recall their favorite Rush moments and what he's meant to their careers.