It is funny. In this conversation (which is part two, part one can be found here) I have noticed a theme… which is, the detractors in question will bring up topics of a religious bent, even going as far as quoting Scripture; then, when corrected on the theological or historical/cultural aspects they themselves brought up — they mention why talk religion? They continue that faith is a personal thing that no one will ever agree on.
You see, they expect others to see their viewpoint on the Bible, but then when simple in text explanations (exegesis) are explained — clearly — all of a sudden you are accused of "nitpicking and going through contortions" (that is a quote). So, this second part unlike the first that dealt more with Natural Law and biology deals more with Biblical texts and proofs brought up in conversation. These skeptical positions enumerated herein are held typically by liberal progressive skeptics… which many in the conversation reject politically (that is, liberalism and progressivism). I was disappointing that many of my fellow brethren could make cogent, stat/fact filled arguments incorporating history and reason to refute liberal/progressive positions. But as soon as religion is mentioned, the previously held conservative linear thought is jettisoned for a more emotion-based, feelings styled approach that uses unfounded and unreasonable positions.
Which is why this was written with the idea that it should not be taken as a personal attack as much as a mild correction and clarion call to conservative thought even in looking at religious positions. It is a funny thing that they understand this in conversation between liberals and conservatives, but not between liberal believers and conservative believers.
I will explain with an example recently posted on this same FaceBook group regarding Ronald Reagan's birthday. In it Chris corrects another for his egregious take on history.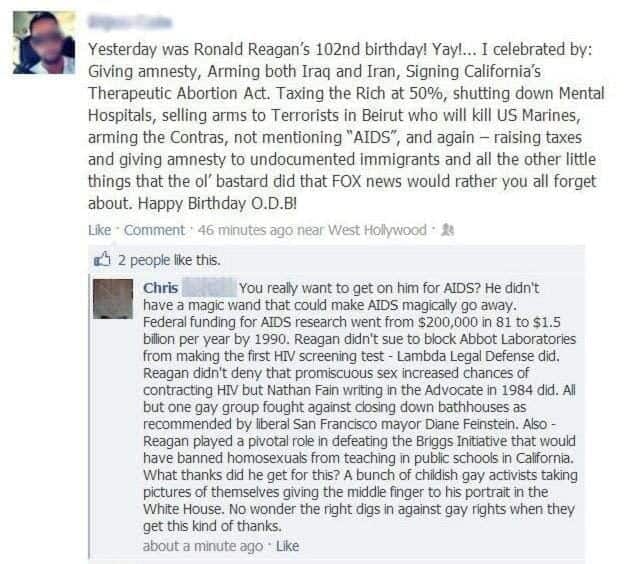 Now, anyone in an emotional conversation knows that typically when people write lists of reasons why they do not believe in a particular ideology — in this case, conservative/Republican fiscal ideals and philosophy — these people will merely produce a new list when the previous one is dealt with point-by-point incorporating history, facts, and reason. You see, said-person being responded to really doesn't want to change, or listen to reason. They JUST WANT to feel like they have reasons to reject a position. And even thought this rejection is psychologically based, a feeling that one has to have reasons in their rejection runs deep. I give an analogy in my first chapter from my book:
One comment on the above post by ChrisH was this one by CF:
C.F.'s comment needs to be kept in mind as we look at the skeptical responses to the idea that homosexual behavior is of equal cultural levels as keeping kosher. A "good understanding" of the culture, text, language, and the like, is lacking. These detractors take SUCH STRONG, ABSOLUTE positions on the Biblical texts based on no cultural understanding… and then in the same breath accuse me (or whomever) that we are being waaayyy too legalistic and literal. Their uninformed, prejudicial position strays far away from proper hermeneutics that any ancient text (not just the Bible) deserves. To be clear, this rejection is more in line with liberalism and progressive thinking rather than the deep thinking of conservative ideals that many in this group profess. I would counsel these believers to be CONSISTENT in how they deal with tough subjects. Religious or political.
I will start the conversation with Dennis Prager correcting Obama on his (really, the liberal position) Biblical knowledge. He deals with the same topic that was presented to me by two people, fortuitously AFTER my conversation about the same topic: ShellFish! Now to the conversation.
G.C. starts out the second round of conversation by saying:
I respond:
Here are the very next words/list out of G.C.'s mouth [keyboard]:
Again, I respond:
…MORE, my second point… patience please:
Here are the very next words/list out of G.C.'s mouth [keyboard]:
You see, G.C. (as well as E.M.) do not want to accept what the Bible says at face value.
They have no need for ways to approach ancient texts to allow personal opinion and deconstructionism (progressive values) to be set aside and create a model for all people to equally and fairly come to these texts to get the most truth from them.
I explain this well in another post where the Bible is attacked and the people doing so are the literalists/legalists, similar to G.C. and Others.
They are the absolutists.
Conservative Christian and Jews are not the Biblical literalists as these skeptics define it (wrongly, creating a straw-man)… even though we are painted as such.
In other words, they incorporate what they deny, while applying straw-man positions to our side, its very convoluted on their part and why progressives typically think these attacks are acceptable.
A final word from Dr. Copan, that also touches a bit on the salvonic history involved in this discussion, that is often overlooked by the skeptics. He makes a point also about the wooden interpretation of the pharisees and has to point out that these topics (divorce, slavery, and the like) are not ideals from God but Him dealing with man's "hardness of heart."
One last small dialogue from the larger strain. E.M. mentioned the following:
To which I quoted Scripture (not to mention Jesus was heavily involved in writing Leviticus! Just Sayin'). I respond:
This organic union is what I speak to in part one.
You can read more about how to approach text in ways any deep-thinking literary critic is trained to as well as the person seeking truth. Obviously G.C. rejects portions of Scripture to embolden his view how he views man's nature and his own standing before God. He fashions God and His Holy Spirit to fit his conception. Not based on deep study, but of psychological wants and needs. You can click through to my other post. I caution you however, this is a step those interested in truth should take. Those not interested in literary criticism, history, hermeneutics, and the like, shouldn't take.
These are three books I recommend to the serious student: