I was graciously invited to a site that is a depot for many conservatively minded homosexuals as well as supporters of these Republican leaning folk. For the record there are many independents and libertarian leaning guys and gals in the group as well. The person that invited me to the Facebook group, JK, soon after posted a link to one of my blog posts to help submerge me into the site's ethos a bit. Which I did. I have to say, it makes my heart joyous that good, calm dialogue — even in disagreement — can happen. Why can it happen? Because they are conservative. No matter if I talked to heterosexual or homosexual persons from the Left about this, almost always you are hit with name-calling, pigeonholing, and straw-man arguments. So kudos to the guys and gals on the Facebook group.
Which leads me to the below. While being a bit long, I must post this dialogue here in the hopes that others will a) find what I am arguing for persuasive, and b) be able to incorporate these arguments into ones apologetic. And I must say, that the only positive argument I have seen put forth is one from the Left. That is "equality" (not liberty) being the main driving force. It is an ethic closer to the French Revolution which denied [capital "N"] Natural [capital "L"] Law but almost an earlier form of "legal positivism." Here is Francis Canavan speaking to this topic just a bit for the person interested in this dichotomy, after which I will post the dialogue from FB:
Liberty, equality, fraternity was the slogan of the French Revolution. Liberty and equality were the Revolution's operative goals, and fraternity was brought in as a cement to hold them together. For liberty and equality are not necessarily in harmony and, in fact, are often at war with each other. Keeping the peace between them therefore became the role of fraternity. Alas, fraternity has not been terribly successful at it, as the history of class struggle since the French Revolution has shown.
In the evolution of democratic theory in the past two centuries, two main currents have emerged from the same wellspring of radical individualism: the liberal stream, emphasizing liberty while acknowledging equality of civil rights, and the egalitarian stream equality of civil rights, emphasizing equality while preaching the liberty guaranteed by civil rights.
Liberal democracy understands rights as immunities from governmental interference. Their function is to prevent government from unduly restraining any individual's liberty. The egalitarian conception of rights is much broader than the classical liberal one and includes a wide range of positive benefits to be conferred by government. It tends toward an equality of results rather than merely of opportunities. To put it crudely, it means not only that you are free to apply for the job, but that you get it and you keep it.
Liberal democratic thought has as its economic counterpart the ideology of capitalism and a free-market economic system. The egalitarian stream ushers in the ideology of socialism and a government dedicated to bringing about substantial economic equality among all citizens.
Liberalism as it exists in the United States today is an effort to have the best of both ideological worlds. It assigns to government the duty of fostering, not complete economic equality, but general and a more equal share in it for all citizens. At the same time, through an ever-expanding array of civil rights, it seeks to emancipate the individual from religious, moral, and social restraints that are not of his own choosing. The contemporary liberal ideal would be a country in which everyone was employed at high wages in work which he/she found fulfilling, without distinction of race, color, creed, gender, ethnic origin, educational background, or sexual preference, and could live by any "lifestyle" that he/she chose.
Contemporary American conservatism is largely a reaction to this brand of liberalism, and therefore is a mixed bag of views. Among its adherents we find "conservatives" who are really nineteenth-century liberals eager to get government off the back of business. We also find "social-issue" conservatives angered by the liberal dissolution of our public morality. Still others are "libertarians" who want no public morality at all but oppose liberalism because of the large role it gives government. Another group of conservatives are regionalists or "states-righters" who are against not government as such, but the federal government.
The ideological conflict between and among liberals and conservatives is carried on in terms of liberty and equality.
Francis Canavan, The Pluralist Game: Pluralism, Liberalism, and the Moral Conscience (Lanham: Rowman & Littlefield, 1995), 127-128.
Remember, if marriage is just about happiness or love, then why not polygamy, polyandry, or the like ("I've married my sister – now we're having our second baby" ~ Daily Mail). Because, marriage is NOT about those things. JK is the person who invited me to the group, and who promptly posted a link to one of my excerpts from a book I posted on my blog (see, right). (*Caution, RAW Language*) Without further adieu: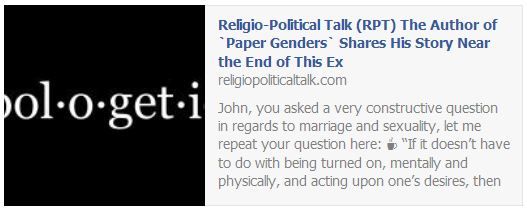 This is where I finally wade in. So far, as you can see, many have had a sexual encounter during a young age with someone older involved in leading these people (adult or teen) to be fondled or to fondle them.
Just a side-note. There seems to be an unhealthy dislike for the sexes in the gay community. This has worked its way into many areas of the same sexes who happen to be gay. For instance, when I was in jail many years ago I was a trustee (worker) that fed the jail masses. Some of those masses were the gay men, who were pretty normal in appearance and attitude. A separate group were the very feminine gay men, and the third group were transvestites. I asked why they were separated and the officer said that they would kill each other if not. Similarly, there is some good work showing that the very "butch type" female gays and men were key in helping incarcerate the many effeminate homosexuals in the camps during WWII. While the next response isn't as extreme, it does offer up some insight into gay community and its biases brought on by nurture [or nature]? (I will emphasize where someones experience and scholarship is rejected do to gender):
I continue, but in response to HH.
JK posted a video he quickly mentioned to me at a dinner meeting with like minded conservatives:
[…] Small Talk […]
[…] Small Talk […]
[…] Small Talk […]
This is about where the substantive discussion petered out. I wanted to add this larger thought to elucidate the crux of the issue. that is, this debate revolves around some very important questions one should be asking, rather than simply defining marriage as "happiness," or claim that "love" is the binding factor of what marriage "is," or that some warped progressive view of "equality" is the way Republicans should head. Questions like these:
These are questions I see none of these conservative gay men ask themselves in all my hunting around at this group. Instead, many are happy with court room interference, much to the delight of their liberal foes. The excerpt of questions came from the book by Robert P. George, In Defense of Natural Law (New York, NY: Clarendon Press-Oxford, 1999), 213-218. Click to enlarge: