(ORIGINALLY POSTED APRIL OF 2016 | UPDATE ADDED)
---
We ARE programmed to believe one way and through the creative power (and infinite genius) of God, get to choose this natural tendency or to cover it up with our sinful, selfish nature that Romans 1 alludes to by numbing our faculties with an whole array of options.
What else does this craving, and this helplessness, proclaim but that there was once in man a true happiness, of which all that now remains is the empty print and trace? This he tries in vain to fill with everything around him, seeking in things that are not there the help he cannot find in those that are, though none can help, since this infinite abyss can be filled only with an infinite and immutable object; in other words, by God himself.
Blaise Pascal (Pensees 10.148)
---
Deborah Keleman studies cognitive development in children and Josh Rottman is a PhD student working with her. In a chapter in "Science and the World's Religions." they write (p. 206-207):
…

religion primarily stems from within the person rather than from external, socially organised sources

….

evolved components of the human mind tend to lead people towards religiosity early in life.
Before continuing I just want to make a point, none of them by myself but brought here to review by myself. It has to do with merely assuming the evolutionist position, if true, makes theism true and atheism anathema to the survival of the species. For instance, Patricia Churchland notes what the brains primary chore is:
And this is the main point… okay… if I assume evolution is true, then, out of the choices of "religion" and "non-religion" — which of the two provide a better survival rate of the species? To wit:
Even Darwin had some misgivings about the reliability of human beliefs. He wrote, "With me the horrid doubt always arises whether the convictions of man's mind, which has been developed from the mind of lower animals, are of any value or at all trustworthy. Would any one trust in the convictions of a monkey's mind, if there are any convictions in such a mind?"
Given unguided evolution, "Darwin's Doubt" is a reasonable one. Even given unguided or blind evolution, it's difficult to say how probable it is that creatures—even creatures like us—would ever develop true beliefs. In other words, given the blindness of evolution, and that its ultimate "goal" is merely the survival of the organism (or simply the propagation of its genetic code), a good case can be made that atheists find themselves in a situation very similar to Hume's.
The Nobel Laureate and physicist Eugene Wigner echoed this sentiment: "Certainly it is hard to believe that our reasoning power was brought, by Darwin's process of natural selection, to the perfection which it seems to possess." That is, atheists have a reason to doubt whether evolution would result in cognitive faculties that produce mostly true beliefs. And if so, then they have reason to withhold judgment on the reliability of their cognitive faculties. Like before, as in the case of Humean agnostics, this ignorance would, if atheists are consistent, spread to all of their other beliefs, including atheism and evolution. That is, because there's no telling whether unguided evolution would fashion our cognitive faculties to produce mostly true beliefs, atheists who believe the standard evolutionary story must reserve judgment about whether any of their beliefs produced by these faculties are true. This includes the belief in the evolutionary story. Believing in unguided evolution comes built in with its very own reason not to believe it.
This will be an unwelcome surprise for atheists. To make things worse, this news comes after the heady intellectual satisfaction that Dawkins claims evolution provided for thoughtful unbelievers. The very story that promised to save atheists from Hume's agnostic predicament has the same depressing ending.
It's obviously difficult for us to imagine what the world would be like in such a case where we have the beliefs that we do and yet very few of them are true. This is, in part, because we strongly believe that our beliefs are true (presumably not all of them are, since to err is human—if we knew which of our beliefs were false, they would no longer be our beliefs).
Suppose you're not convinced that we could survive without reliable belief-forming capabilities, without mostly true beliefs. Then, according to Plantinga, you have all the fixins for a nice argument in favor of God's existence For perhaps you also think that—given evolution plus atheism—the probability is pretty low that we'd have faculties that produced mostly true beliefs. In other words, your view isn't "who knows?" On the contrary, you think it's unlikely that blind evolution has the skill set for manufacturing reliable cognitive mechanisms. And perhaps, like most of us, you think that we actually have reliable cognitive faculties and so actually have mostly true beliefs. If so, then you would be reasonable to conclude that atheism is pretty unlikely. Your argument, then, would go something like this: if atheism is true, then it's unlikely that most of our beliefs are true; but most of our beliefs are true, therefore atheism is probably false.
Notice something else. The atheist naturally thinks that our belief in God is false. That's just what atheists do. Nevertheless, most human beings have believed in a god of some sort, or at least in a supernatural realm. But suppose, for argument's sake, that this widespread belief really is false, and that it merely provides survival benefits for humans, a coping mechanism of sorts. If so, then we would have additional evidence—on the atheist's own terms—that evolution is more interested in useful beliefs than in true ones. Or, alternatively, if evolution really is concerned with true beliefs, then maybe the widespread belief in God would be a kind of "evolutionary" evidence for his existence.
You've got to wonder.
Mitch Stokes, A Shot of Faith: To the Head (Nashville, TN: Thomas Nelson, 2012), 44-45.
While I am not a fan of Charisma… as of late they have posted a few good articles. This being one of them:
➤ Science Proves Your Brain Recognizes the Reality of God, Researchers Say
Remember, there was much discussion about destroying or harming parts of the brain that decrease belief in God:
This has to be embarrassing… if you're an atheist. A new study performed at the University of York used targeted magnetism to shut down part of the brain. The result: belief in God disappeared among more than 30 percent of participants.
That in itself may not seem so embarrassing, but consider that the specific part of the brain they frazzled was the posterior medial frontal cortex—the part associated with detecting and solving problems, i.e., reasoning and logic.
In other words, when you shut down the part of the brain most associated with logic and reasoning, greater levels of atheism result.
You've heard the phrase, "I don't have enough faith to be an atheist"? Apparently we can now also say, "I have too many brains to be an atheist."…
(Via my previous post on targeted magnetism)
I also posit that person's who use illicit drugs, such as marijuana, are less likely to believe in the Judeo-Christian God due to deterioration/destruction of sections of the brain. Parts of the brain most affected are memory and cognitive or parts of the brain that use logic and reason). Whereas, it seems, we see that a healthy brain is ready to receive faith:
…In a piece for the Washington Post, atheist Elizabeth King writes that she cannot shake the idea of God's existence.
★ "The idea of God pesters me and makes me think that maybe I'm not as devoted to my beliefs as I'd like to think I am and would like to be. Maybe I'm still subconsciously afraid of hell and want to go to heaven when I die. It's confusing and frustrating to feel the presence of something you don't believe in. This is compounded by the fact that the God character most often shows up when I'm already frustrated," King writes.
Neurotheologian Newberg says this is because science does back the reality of religious experiences.
(CHARISMA)
---
HOWEVER, the key quote in my mind's eye is this, from Shaheen E Lakhan, MD, PhD, MEd, MS, FAAN — the BRAIN BLOGGER:
The question of whether religion has been "hardwired" into our brains or an evolutionary adaptation has been debated for decades, however, more recently we have uncovered scientific underpinning for both possibilities.
In other words, evolution (if one believes in that exclusively) has hard wired our brains for faith. Not for non-faith.
See also:
National Geographic contacted Neuroscience News and invited us to take part in a virtual roundtable discussion to help promote an upcoming episode of Brain Games called The God Brain. (Brain Games: The God Brain premieres Sunday, February 21, at 9 pm ET on National Geographic Channel).
---
This supports another study of Japanese kids raised with no thoughts of a monotheistic God
For example, researchers at Oxford University (at which Dawkins himself was until recently the holder of the Charles Simonyi Chair in the Public Understanding of Science) have earlier reported finding children who, when questioned, express their understanding that there is a Creator, without having had any such instruction from parents or teachers. As Dr Olivera Petrovich, who lectures in Experimental Psychology at Oxford, explained in an interview with Science and Spirit:
My Japanese research assistants kept telling me, 'We Japanese don't think about God as creator—it's just not part of Japanese philosophy.' So it was wonderful when these children said, 'Kamisama! God! God made it!'—Dr Olivera Petrovich, Oxford University.
"I tested both the Japanese and British children on the same tasks, showing them very accurate, detailed photographs of selected natural and man-made objects and then asking them questions about the causal origins of the various natural objects at both the scientific level (e.g. how did this particular dog become a dog?) and at the metaphysical level (e.g. how did the first ever dog come into being?). With the Japanese children, it was important to establish whether they even distinguished the two levels of explanation because, as a culture, Japan discourages speculation into the metaphysical, simply because it's something we can never know, so we shouldn't attempt it. But the Japanese children did speculate, quite willingly, and in the same way as British children. On forced choice questions, consisting of three possible explanations of primary origin, they would predominantly go for the word 'God', instead of either an agnostic response (e.g., 'nobody knows') or an incorrect response (e.g., 'by people'). This is absolutely extraordinary when you think that Japanese religion — Shinto — doesn't include creation as an aspect of God's activity at all. So where do these children get the idea that creation is in God's hands? It's an example of a natural inference that they form on the basis of their own experience. My Japanese research assistants kept telling me, 'We Japanese don't think about God as creator — it's just not part of Japanese philosophy.' So it was wonderful when these children said, 'Kamisama! God! God made it!' That was probably the most significant finding."
Today, nearly a decade since Petrovich's study, there is now a "preponderance of scientific evidence" affirming that "children believe in God even when religious teachings are withheld from them".
I often hear atheists exude confidence in natural selection and evolution and all that it entails. However, when natural belief in God emerges… they reject this as fantasy rather than a superior survival mechanism. It is important to understand that I am not arguing for evolution but showing that it is self-referentially false:
NOTE: if you believe in evolution and are an atheist, you would root for and support neo-Darwinian evolutionary "natural selection" in choosing religious belief as superior to that of non-belief!
In a debate during the Q&A session between a theist and atheist/evolutionist, a student asked this great question… and while he did not have the answer to Dr. Pigliucci's challenge, I do:
Assuming the validity of the "underlying instinct to survive and reproduce" then, out of the two positions (belief and non-belief) available for us to choose from which would better apply to being the most fit if the fittest is "an individual… [that] reproduces more successfully…"?[1] The woman that believes in God is less likely to have abortions and more likely to have larger families than their secular counterparts.[2] Does that mean that natural selection will result in a greater number of believers than non-believers?[3]
---
Footnotes
---
[1] From my son's 9th grade biology textbook: Susan Feldkamp, ex. ed., Modern Biology (Austin, TX: Holt, Rineheart, and Winston, 2002), 288; "…organisms that are better suited to their environment than others produce more offspring" American Heritage Science Dictionary, 1st ed. (Boston, MA: Houghton Mifflin, 2005), cf. natural selection, 422; "fitness (in evolution) The condition of an organism that is well adapted to its environment, as measured by its ability to reproduce itself" Oxford Dictionary of Biology, New Edition (New York, NY: Oxford University Press, 1996), cf. fitness, 202; "fitness In an evolutionary context, the ability of an organism to produce a large number of offspring that survive to reproduce themselves" Norah Rudin, Dictionary of Modern Biology (Hauppauge, NY: Barron's Educational Series, 1997), cf. fitness, 146.
[2] Dinesh D'Souza points to this in his recent book, What's So Great About Christianity:
Russia is one of the most atheist countries in the world, and abortions there outnumber live births by a ratio of two to one. Russia's birth rate has fallen so low that the nation is now losing 700,000 people a year. Japan, perhaps the most secular country in Asia, is also on a kind of population diet: its 130 million people are expected to drop to around 100 million in the next few decades. Canada, Australia, and New Zealand find themselves in a similar predicament. Then there is Europe. The most secular continent on the globe is decadent in the quite literal sense that its population is rapidly shrinking. Birth rates are abysmally low in France, Italy, Spain, the Czech Republic, and Sweden. The nations of Western Europe today show some of the lowest birth rates ever recorded, and Eastern European birth rates are comparably low. Historians have noted that Europe is suffering the most sustained reduction in its population since the Black Death in the fourteenth century, when one in three Europeans succumbed to the plague. Lacking the strong religious identity that once characterized Christendom, atheist Europe seems to be a civilization on its way out. Nietzsche predicted that European decadence would produce a miserable "last man' devoid of any purpose beyond making life comfortable and making provision for regular fornication. Well, Nietzsche's "last man" is finally here, and his name is Sven. Eric Kaufmann has noted that in America, where high levels of immigration have helped to compensate for falling native birth rates, birth rates among religious people are almost twice as high as those among secular people. This trend has also been noticed in Europe." What this means is that, by a kind of natural selection, the West is likely to evolve in a more religious direction. This tendency will likely accelerate if Western societies continue to import immigrants from more religious societies, whether they are Christian or Muslim. Thus we can expect even the most secular regions of the world, through the sheer logic of demography, to become less secular over time…. My conclusion is that it is not religion but atheism that requires a Darwinian explanation. Atheism is a bit like homosexuality: one is not sure where it fits into a doctrine of natural selection. Why would nature select people who mate with others of the same sex, a process with no reproductive advantage at all? (17, 19)
Some other studies and articles of note: Mohit Joshi, "Religious women less likely to get abortions than secular women" (last accessed 9-6-2016), Top Health News, Health News United States (1-31-08); Anthony Gottlieb, "Faith Equals Fertility," Intelligent Life, a publication of the Economist magazine (winter 2008) [THIS LINK IS DEAD] most of the original Economist article can be found at the WASHINGTON TIMES as well as The Immanent Frame (both accessed 9-6-2016); W. Bradford Wilcox, "Fertility, Faith, & the Future of the West: A conversation with Phillip Longman" (last accessed 9-6-2016), Christianity Today, Books & Culture: A Christian Review (5-01-2007); Pippa Norris and Ronald Inglehart, Sacred and Secular: Religion and Politics Worldwide (New York, NY: Cambridge University Press, 2004), 3-32, esp. 24-29 — I recommend this book for deep thinking on the issue.
And churchgoing women have more children than their nonreligious peers, according to the Center for Disease Control's National Survey of Family Growth, an ongoing survey spanning 2011-2015. The survey involves about 5,000 interviews per year, conducted by the University of Michigan Institute for Social Research. Women between the ages of 15 and 44 who attend religious services at least weekly have 1.42 children on average, compared with the 1.11 children of similar-age women who rarely or never attend services. More religious women said they also intend to have more kids (2.62 per woman) than nonreligious women (2.10 per woman), the survey found. (Baby Boom: Religious Women Having More Kids —

LIVESCIENCE

)
In fact, Blume's research also shows quite vividly that secular, nonreligious people are being dramatically out-reproduced by religious people of any faith. Across a broad swath of demographic data relating to religiosity, the godly are gaining traction in offspring produced. For example, there's a global-level positive correlation between frequency of parental worship attendance and number of offspring. Those who "never" attend religious services bear, on a worldwide average, 1.67 children per lifetime; "once per month," and the average goes up to 2.01 children; "more than once a week," 2.5 children. Those numbers add up—and quickly. Some of the strongest data from Blume's analyses, however, come from a Swiss Statistic Office poll conducted in the year 2000. These data are especially valuable because nearly the entire Swiss population answered this questionnaire—6,972,244 individuals, amounting to 95.67% of the population—which included a question about religious denomination. "The results are highly significant," writes Blume: "…women among all denominational categories give birth to far more children than the non-affiliated. And this remains true even among those (Jewish and Christian) communities who combine nearly double as much births with higher percentages of academics and higher income classes as their non-affiliated Swiss contemporaries." (God's little rabbits: Religious people out-reproduce secular ones by a landslide —

SCIENTIFIC AMERICAN

)

Another value that is both measurable and germane to fertility is the importance of religion. People who are actively religious tend to marry more and stay together longer.

To the extent that time spent married during reproductive years increases fertility, then religion would be a positive factor in fertility rates. For example, in Canada women who had weekly religious attendance were

46

percent more likely to have a third child than women who did not. (The Northern America Fertility Divide —

HOOVER INSTITUTE

)
[3] Adapted from a question by a student at a formal debate between Dr. Massimo Pigliucci and Dr. William Lane Craig. The debate is entitled "Craig vs. Pigliucci: Does the Christian God Exist?" (DVD, Christian Apologetics, Biola University, apologetics@biola.edu ~ Category Number: 103000-400310-56107-Code: WLC-RFM014V).
---
UPDATE
---
The AMERICAN SPECTATOR published a wonderful article. And it in large part supports the above contention that belief in God is a natural (in born) position… and that atheism is the REAL product of environment. Read on to see:
University of Oxford developmental psychologist Dr. Olivera Petrovich has spent years researching a single question: Are children predisposed to belief in a transcendent being?
This research, much deserving of greater exposure, intrigued me, since I have engaged atheism's most prominent modern proponents. I chaired three of atheist and evolutionary biologist Richard Dawkins's debates with his Oxford University colleague, the mathematician and Christian John Lennox. I debated Christopher Hitchens on stage, chaired a number of his debates, and wrote a book about those encounters. And I debated Tufts University cognitive scientist Daniel Dennett on Al Jazeera television with a Muslim tossed into the mix. I even had a lively exchange with agnostic John Stossel on the "God question" on Fox News.
In each of these discussions, much was made out of the evidence — or, as some would have it, the lack of evidence — for God's existence. Belief in God (or a god, if you prefer), they say, is a product of environment, wishful thinking (like belief in fairies or Santa Claus), or a "mental virus."
"Part of what I want to say," writes Richard Dawkins in his bestseller The God Delusion, "is that it doesn't matter what particular style of nonsense infects the child brain. Once infected, the child will grow up and infect the next generation with the same nonsense, whatever it happens to be."
But as Dawkins's archrival, the aforementioned mathematician John Lennox, has said, "Not every statement made by a scientist is a scientific statement." This appears to be just such an instance. According to Dr. Petrovich, Dawkins' statement lacks scientific evidence. On the contrary, her research strongly suggests that children are "hardwired" to believe in God.
In a cross-cultural study of British and Japanese children who were shown photographs of manmade and natural objects and then asked to explain how those objects came into existence, children predominantly chose the theological explanation. Dr. Petrovich told me,
The pattern of responding among Japanese children is highly significant in this context seeing that those children live in a culture that does not in any way encourage a belief in God as creator. Yet, the most common reply given by Japanese preschoolers about natural objects' origins was "Kamisama [God]! God made it." Whilst there is growing research evidence that children from across different religious and cultural backgrounds consistently attribute to god the existence of natural objects, what is so interesting about the Japanese participants is that this particular causal inference is not a product of their education but a natural development in their understanding of the world.
Another aspect that shows the increased natural selective nature of belief and longevity (the opportunity to leave more offspring) is the POSITIVE INFLUENCE OF RELIGION:
---
Social Sciences Agree
~ Religious More "Fit" ~
---
Via my post on family values: A Family Values [Atheist] Mantra Dissected: Nominal vs. Committed
SOCIAL SCIENTISTS AGREE
Religious Belief Reduces Crime Summary of the First Panel Discussion Panelists for this important discussion included social scientists Dr. John DiIulio, professor of politics and urban affairs at Princeton University; David Larson, M.D., President of the National Institute for Healthcare Research; Dr. Byron Johnson, Director of the Center for Crime and Justice Policy at Vanderbilt University; and Gary Walker, President of Public/Private Ventures. The panel focused on new research, confirming the positive effects that religiosity has on turning around the lives of youth at risk.

Dr. Larson laid the foundation for the discussion by summarizing the findings of 400 studies on juvenile delinquency, conducted during the past two decades. He believes that although more research is needed, we can say without a doubt that religion makes a positive contribution.

His conclusion: "The better we study religion, the more we find it makes a difference." Previewing his own impressive research, Dr. Johnson agreed. He has concluded that church attendance reduces delinquency among boys even when controlling for a number of other factors including age, family structure, family size, and welfare status. His findings held equally valid for young men of all races and ethnicities.

Gary Walker has spent 25 years designing, developing and evaluating many of the nation's largest public and philanthropic initiatives for at-risk youth. His experience tells him that faith-based programs are vitally important for two reasons. First, government programs seldom have any lasting positive effect. While the government might be able to design [secular/non-God] programs that occupy time, these programs, in the long-term, rarely succeed in bringing about the behavioral changes needed to turn kids away from crime. Second, faith-based programs are rooted in building strong adult-youth relationships; and less concerned with training, schooling, and providing services, which don't have the same direct impact on individual behavior. Successful mentoring, Walker added, requires a real commitment from the adults involved – and a willingness to be blunt. The message of effective mentors is simple. "You need to change your life, I'm here to help you do it, or you need to be put away, away from the community." Government, and even secular philanthropic programs, can't impart this kind of straight talk.

Sixth through twelfth graders who attend religious services once a month or more are half as likely to engage in at-risk behaviors such as substance abuse, sexual excess, truancy, vandalism, drunk driving and other trouble with police. Search Institute, "The Faith Factor," Source, Vol. 3, Feb. 1992, p.1.

Churchgoers are more likely to aid their neighbors in need than are non-attendees. George Barna, What Americans Believe, Regal Books, 1991, p. 226.

Three out of four Americans say that religious practice has strengthened family relationships. George Gallup, Jr. "Religion in America: Will the Vitality of Churches Be the Surprise of the Next Century," The Public Perspective, The Roper Center, Oct./Nov. 1995.

Church attendance lessens the probabilities of homicide and incarceration. Nadia M. Parson and James K. Mikawa: "Incarceration of African-American Men Raised in Black Christian Churches." The Journal of Psychology, Vol. 125, 1990, pp.163-173.

Religious practice lowers the rate of suicide. Joubert, Charles E., "Religious Nonaffiliation in Relation to Suicide, Murder, Rape and Illegitimacy," Psychological Reports 75:1 part 1 (1994): 10 Jon W. Hoelter: "Religiosity, Fear of Death and Suicide Acceptibility." Suicide and Life-Threatening Behavior, Vol. 9, 1979, pp.163-172.

The presence of active churches, synagogues… reduces violent crime in neighborhoods. John J. Dilulio, Jr., "Building Spiritual Capital: How Religious Congregations Cut Crime and Enhance Community Well-Being," RIAL Update, Spring 1996.

People with religious faith are less likely to be school drop-outs, single parents, divorced, drug or alcohol abusers. Ronald J. Sider and Heidi Roland, "Correcting the Welfare Tragedy," The Center for Public Justice, 1994.

Church involvement is the single most important factor in enabling inner-city black males to escape the destructive cycle of the ghetto. Richard B. Freeman and Harry J. Holzer, eds., The Black Youth Employment Crisis, University of Chicago Press, 1986, p.354.

Attending services at a church or other house of worship once a month or more makes a person more than twice as likely to stay married than a person who attends once a year or less. David B. Larson and Susan S. Larson, "Is Divorce Hazardous to Your Health?" Physician, June 1990. Improving Personal Well-Being

Regular church attendance lessens the possibility of cardiovascular diseases, cirrhosis of the liver, emphysema and arteriosclerosis. George W. Comstock amd Kay B. Patridge:* "Church attendance and health."* Journal of Chronic Disease, Vol. 25, 1972, pp. 665-672.

Regular church attendance significantly reduces the probablility of high blood pressure.* David B. Larson, H. G. Koenig, B. H. Kaplan, R. S. Greenberg, E. Logue and H. A. Tyroler:* " The Impact of religion on men's blood pressure."* Journal of Religion and Health, Vol. 28, 1989, pp.265-278.* W.T. Maramot:* "Diet, Hypertension and Stroke." in* M. R. Turner (ed.) Nutrition and Health, Alan R. Liss, New York, 1982, p. 243.

People who attend services at least once a week are much less likely to have high blood levels of interlukin-6, an immune system protein associated with many age-related diseases.* Harold Koenig and Harvey Cohen, The International Journal of Psychiatry and Medicine, October 1997.

Regular practice of religion lessens depression and enhances self esteem. *Peter L. Bensen and Barnard P. Spilka:* "God-Image as a function of self-esteem and locus of control" in H. N. Maloney (ed.) Current Perspectives in the Psychology of Religion, Eedermans, Grand Rapids, 1977, pp. 209-224.* Carl Jung: "Psychotherapies on the Clergy" in Collected Works Vol. 2, 1969, pp.327-347.

Church attendance is a primary factor in preventing substance abuse and repairing damage caused by substance abuse.* Edward M. Adalf and Reginald G. Smart:* "Drug Use and Religious Affiliation, Feelings and Behavior." * British Journal of Addiction, Vol. 80, 1985, pp.163-171.* Jerald G. Bachman, Lloyd D. Johnson, and Patrick M. O'Malley:* "Explaining* the Recent Decline in Cocaine Use Among Young Adults:* Further Evidence That Perceived Risks and Disapproval Lead to Reduced Drug Use."* Journal of Health and Social Behavior, Vol. 31,* 1990, pp. 173-184.* Deborah Hasin, Jean Endicott, * and Collins Lewis:* "Alcohol and Drug Abuse in Patients With Affective Syndromes."* Comprehensive Psychiatry, Vol. 26, 1985, pp. 283-295. * The findings of this NIMH-supported study were replicated in the Bachmen et. al. study above.
(From a post entitled "Love")
(Also see 52 REASONS TO GO TO CHURCH) These indicators are also mentions in a HERITAGE FOUNDATION article, "Why Religion Matters: The Impact of Religious Practice on Social Stability"
The strength of the family unit is intertwined with the practice of religion. Churchgoers are more likely to be married, less likely to be divorced or single, and more likely to manifest high levels of satisfaction in marriage.

Church attendance is the most important predictor of marital stability and happiness.

The regular practice of religion helps poor persons move out of poverty. Regular church attendance, for example, is particularly instrumental in helping young people to escape the poverty of inner-city life.

Religious belief and practice contribute substantially to the formation of personal moral criteria and sound moral judgment.

Regular religious practice generally inoculates individuals against a host of social problems, including suicide, drug abuse, out-of-wedlock births, crime, and divorce.

The regular practice of religion also encourages such beneficial effects on mental health as less depression (a modern epidemic), more self-esteem, and greater family and marital happiness.

In repairing damage caused by alcoholism, drug addiction, and marital breakdown, religious belief and practice are a major source of strength and recovery.

Regular practice of religion is good for personal physical health: It increases longevity, improves one's chances of recovery from illness, and lessens the incidence of many killer diseases.
So we can see that the above are important factors in a healthy, stable, family which would have the highest percentage or chance in a family situation to create "family values." What about divorce rates and the 2009 data. This is dealt with well at CHRISTIAN ACTION LEAGUE, and shows how Barna and the Government can miss-categorize whole swaths of people and their affiliations:
…Wright did his own research using the General Social Survey; a huge study conducted by the National Opinion Research Center at the University of Chicago, and found that folks who identify as Christians but rarely attend church have a divorce rate of 60 percent compared to 38 percent among people who attend church regularly. More generally, he found that Christians, similar to adherents of other traditional faiths, have a divorce rate of 42 percent compared with 50 percent among those without a religious affiliation.
And his is not the only research that is showing a link between strong faith and increased marriage stability.
University of Virginia sociologist W. Bradford Wilcox, director of the National Marriage Project, concluded that "active conservative Protestants" who regularly attend church are 35 percent less likely to divorce than are those with no faith affiliation. He used the National Survey of Families and Households to make his analysis.
[….]
Glenn Stanton, the director for family formation studies at Focus on the Family in Colorado Springs, Colo., has been writing articles to spread the truth about the lower divorce rate among practicing Christians.
"Couples who regularly practice any combination of serious religious behaviors and attitudes — attend church nearly every week, read their Bibles and spiritual materials regularly; pray privately and together; generally take their faith seriously, living not as perfect disciples, but serious disciples — enjoy significantly lower divorce rates that mere church members, the general public and unbelievers," Stanton wrote in the Baptist Press early this year.
At issue in Barna's studies is how he defined "Christian" and to what other groups he compared the "Christian" divorce rate. Apparently, his study compared what he termed "born-again" Christians — those who described their faith in terms of "personal commitment," "accept as savior" and other evangelical, born-again language to three other groups, which included self-identified Christians who do not describe their faith with those terms, members of other, non-Christian religions and people of no religious beliefs.
Because his second group would have included many Catholics and mainline Protestants, Wright points out that Barna was, in many ways, "comparing Christians against Christians." No wonder the rates were similar….
In USA TODAY, David Kinnaman, Barna's president, said that "the statistical differences reflect varied approaches, with Wright looking more at attendance and his research firm dwelling on theological commitments." Duh! The bottom line seems to be that the more seriously couples take their faith, the less likely they are to get a divorce. That seems like a self-evident truth, but it appears there is also evidence for it. In other words, this is a nominal, vs. committed Christian vs. secular person battle.
I can go on-and-on, but lets shorten what we have learned, and it all revolves around this:
"There's something about being a nominal 'Christian' that is linked to a lot of negative outcomes when it comes to family life."
I realize that much of this can be classified broadly as "The Ecological Fallacy" — but it is an amassing of stats to show that in fact the committed Christian understands the totality of "family values" and commits to them more than the secular person.
---
1a) Those who attend church more are to be found in the Republican Party;
1b) Those who do not, the Democratic Party;
2a) Those in the Republican Party donate much more to charitable causes;
2b) Those in the Democratic Party, are much more stingy;
3a) Republicans earn less and give more;
3b) Democrats earn more and give less;
4a) Conservative Christians and Jews (people who believe in Heaven and Hell) commit less crimes;
4b) Liberal religious persons (universalists) have a higher rate of crime;
5a) Regular church attendees have a lower drug use rate;
5b) Irreligious persons have a higher rate;
6a) Moral "oughts" are answered in Christian theism (one "ought" not rape because it is absolutely, morally wrong);
6b) Moral "oughts" are merely current consensus of the most individuals, there is no absolute moral statement that can be made about rape;
7a) Republicans are happier than Democrats;
7b) Democrats are more depressed;
8a) The sex lives of married, religious persons is better/more fulfilling — sex is being shown to be a "religious" experience after-all;
8b) The sex lives of the irreligious person is less fulfilling;
9a) The conservative is more likely to reach orgasm [conservative woman I assume];
9b) The liberal woman is not;
10a) They are less likely to sleep around, which would also indicate lower STDs;
10b Democrats are more likely to have STDs through having more sex partners;
11a) Republicans are less likely (slightly, but this is so because of the committed Christians in the larger demographic) to have extra-marital affairs;
11b) Democrats more likely;
12a) Republicans over the last three decades have been reproducing more…
12b) Democrats abort more often and have less children through educational/career decisions
13a) Christians are more likely to have children and impact the world;
13b) Skeptics replace family with pleasure and travel.
---
Forty-three percent of people who attend religious services weekly or more say they're very happy, compared to 26 percent of those who go seldom or never. The Pew analysis does not answer the question of how religion, Republicanism and happiness might be related, however.
[….]
Most young people start out as naive, idealistic liberals. But as they get older, that changes. They get more conservative, usually because they grow up. But just imagine that you never get out of that liberal mindset. You go through your whole life trying to check people into a victim box, always feeling offended, always trying to right all of the wrongs in the world, and always blaming government for it. It's no wonder you'd end up miserable when you get older! Going through your entire life feeling like that would make you a very angry, bitter, jealous, selfish person — and often, that describes aging liberals to a T.
All in all, being a Republican gives you a 7% edge in the happiness department, which doesn't sound like much, but it's a greater factor than race, ethnicity, or gender. And just a reminder — Republicans have the advantage across all class lines as well, from upper class to middle class to lower class. Lower class Republicans are happier than lower class Democrats. Middle class Republicans are happier than middle class Democrats. And upper class Republicans are happier than upper class Democrats.
And I'll say it again. It's because of the difference in world view.
THE BLAZE helps set up some of the following media presentations:
…The organization also released the results of a survey that it conducted among its members. That poll, commissioned online between June and December 2015, garnered 8,000 responses, finding that 96 percent respondents are registered to vote. It should be noted that the results are restricted to member of the Freedom From Religion Foundation and may not be representative of atheists more broadly.
Secular members were asked to identify their political persuasion, with 29 percent selecting "Democratic" and 36 percent selecting "progressive/liberal." While that totals 65 percent, 21 percent selected Independent. On the flip side, only 1 percent identified as Republicans, with 3 percent selecting "Socialist/Marxist" and 3 percent selecting "Green."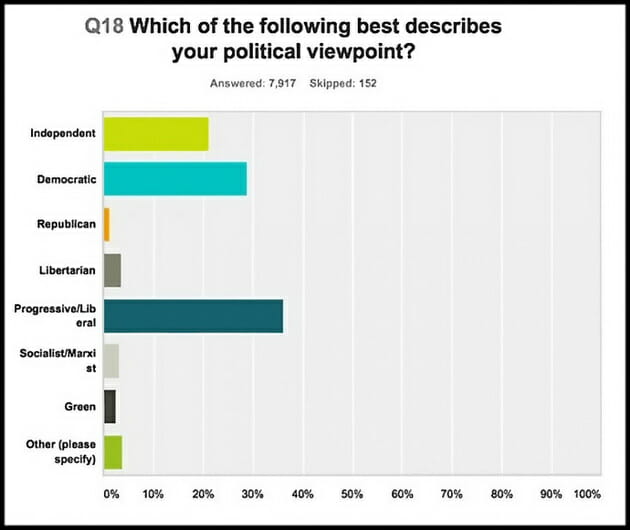 MORE MEDIA…
Democrats often think of themselves as kind and caring, and of Republicans as callous and mean-spirited. But why? Are Progressive policies more likely to raise people out of poverty than conservative ones? And what really counts as "kind": supporting policies that feel good? Or supporting policies that do good? William Voegeli, Senior Editor of the Claremont Review of Books, explains.
AEI President Arthur C. Brooks explains how we can win the fight for free enterprise by articulating what's written on our hearts. "We have to see that we're not in an economic battle for the future of America," Arthur says. "We're in a moral battle."
Dennis talks Arthur Brooks, professor of public administration at Syracuse University, Who Really Cares: The Surprising Truth about Compassionate Conservatism. (Originally broadcast December 28, 2006)
[…..]