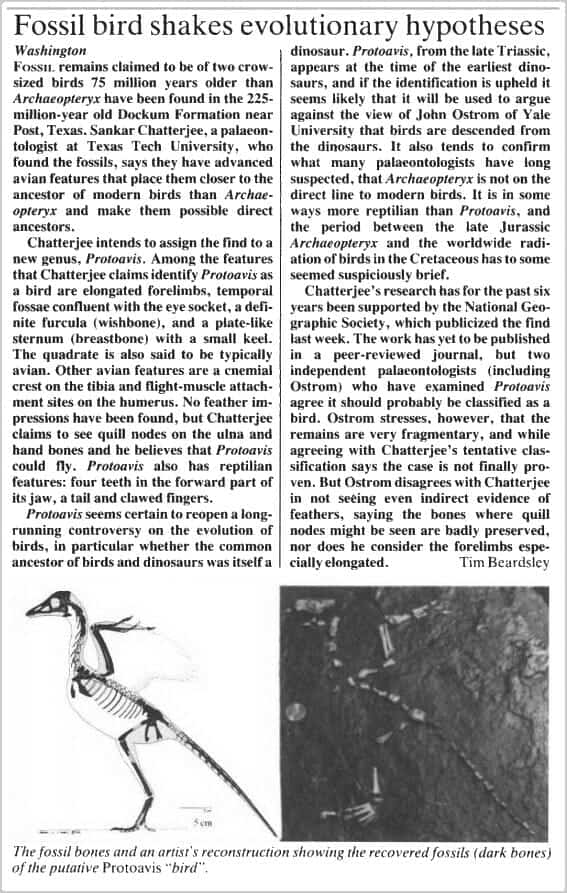 The below is a response to a conversation elsewhere on the WWW.
ARCHAEOPTERYX
I have a digital edition of Science Magazine and they allow me to read all the past articles (like this one, Archaeopteryx: Early Bird Catches a Can of Worms). In the article a wild eyed creationist… er… I mean, a respected evolutionist discusses how Archaeopteryx is more bird like, not the missing link between dino and bird.
In the article we find this:
feathers are 100% bird feathers;

hollow bones like birds;

It's claws were perching claws (similar to the Bowerbird)…

doubts connected with dico/bird progression
…even the father of the modern "bird/dino" theory, John Ostrom, says this of recent revelations about Archaeopteryx:
"I'm just having a ball," he said with a chuckle. "It sounds to me as if Alan [Feduccia] has presented a very good argument; I'm not sure he's absolutely right, but I'm sure he's on solid ground."
Since the writing of the linked article at Science, more evidence (I will repeat, e-v-i-d-e-n-c-e) has come to light supporting the articles authored (Alan Feduccia) and curator of birds at the Smithsonian Institute, Storrs Olson:
bumps in the bone where feathers were connected (just like birds);

the avian lung was present in Archaeopteryx [pneumatized vertebrae and pelvis];

Cat Scans of the skull shows that the brain was birdlike, not dino-like ("Axial and appendicular pneumaticity in Archaeopteryx," Proceedings of the Royal Society of London, Series B. 267:2501–2505, 2000);

similar inner ear findings ("The avian nature of the brain and inner ear of Archaeopteryx," Nature 430(7000):666–669, 5 August 2004; Witmer, L.M, "Inside the oldest bird brain, perspective," same issue, pp. 619–620);

In 2011, "the Royal Society's Biology Letters, the researchers wrote that Archaeopteryx's assignment to a dinosaur group earlier this year 'was acknowledged to be weakly supported', They constructed new cladograms that pictured Archaeopteryx with birds, and not with any dinosaurs, with a caption that reads, 'Archaeopteryx robustly reinstated as the most basal bird'." ("Likelihood reinstates Archaeopteryx as a primitive bird," Biology Letters. Published online before print October 26, 2011).
Some more resources for the above bullet points:
AND FINALLY
Since other feathered "birds" have been found around the same time or earlier than Archaeopteryx, causing Alan Feduccia to quip, "You can't be older than your grandfather" (Creation.com)… Nature has published an article pointing out that Archaeopteryx is JUST LIKE modern flightless birds.
And so it could have been losing its ability for flight (like modern birds have).
There is just as much [at best] evidence for this proposition as the next. "Devolution" — a loss of specificity, may be a more reasonable position to take via observed evidence. We see this all the time (directly below is an example from Lee Spetner's new book), and EVOLUTION NEWS says that "looks like Archaeopteryx may have to be reclassified as a different sort of icon — symbolizing evolution by loss of function." Oops.
A friend comments about the newer position on his Creation/Evolution Headlines saying one "paleontologist remarked, 'We really need an improved understanding of how anatomy relates to these diverse behaviours, so we can better interpret the fossil record'." Continuing he adds his thinking to the matter: