ORIGINALLY POSTED IN 2013
LONG UPDATE:
This update will be placed at the top as it is key as you go through this post that the "negative [-] and positive [+] values" have changed since many of these stats came out. And note as well, that this means "Party" values/comparison "negative [-] and positive [+] values" have changed as well. Quite a bit: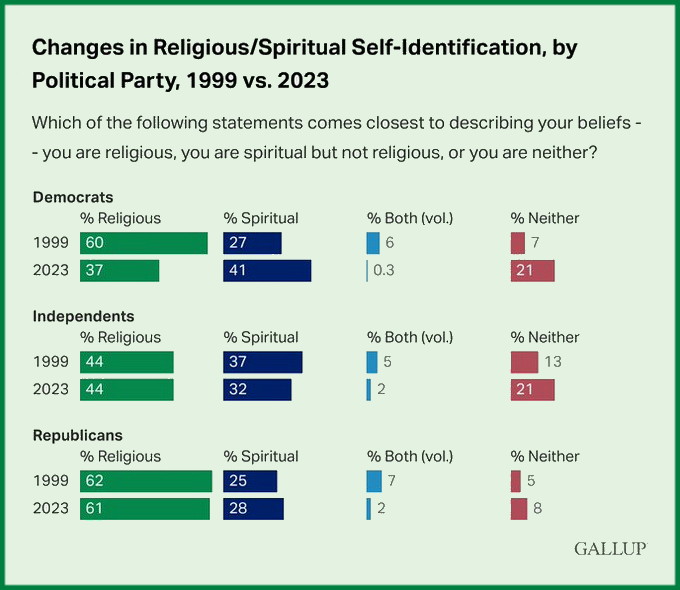 GALLOP has more on the above:
BREITBART zeroes in a bit on this political change:
As A PREVIOUS POST OF MINE notes as well, this religious trend affects Party Patriotism as well: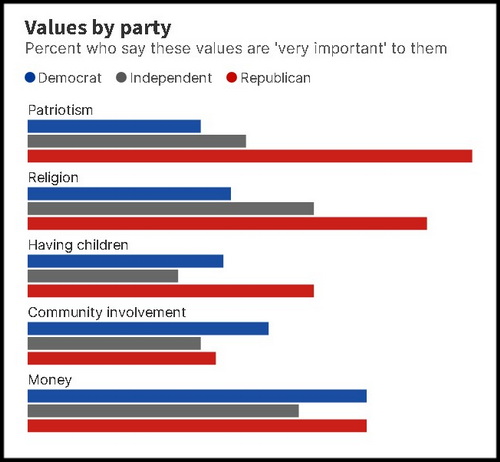 Republicans, Holding the Patriotic Line!
This is the Democrat base… and influences Democratic politics. It BOOS GOD | ISRAEL being in the Democrat platform. It tries to get rid of God from the pledge ("Democrats and independents were more likely than Republicans to think the phrase should be taken out"). It tries to force religious people to pay for abortions. Here is BREITBART:
---
END OF UPDATE
---
I found this title of an article very myopic,  ill-considered. You will see what I mean as we get into it, but first, here is the title of the article, "Atheists Have Stronger Family Values Than Evangelical Christians." Not only is the title ill-considered, but the arguments within the article are as well. Divorce, crime, and the like are mentioned in the article, and as we will see later, the 2009 info is a bit twisted… but I will deal with some other issues first. Here is the crux of the article:
(CONSERVAPEDIA has a wonderful "drilling down" on this)
Mind you I realize I am stomping around "The Ecological Fallacy," but this is a powerful cumulative case that the above is not just wrong, but very wrong. Also note this will turn out to be a battle between committed Christians, nominal Christians and the secular person. In the end you will see that if you were to have your taxes done, you would want them done by a committed Christian. That aside, one should also note that histories biggest mass murderers are atheistic in their cosmology, but conservative Christians who understand the ENTIRETY of their faith, commit less crime than all others in these stats. For instance, Prager did a show on these findings that shows that people who only believe in heaven (universalism, e.g., liberal theology) commit more crimes than those who believe in both heaven and hell.
But there are other parts of this article that interest me. It is this: "both liberalism and high levels of education correlate with atheism,"  the far left site, Daily Kos, agrees as well. Higher education leads to a higher pay as well… this will become important in dismantling a popular myth. This fact disproves many mantras and myths that the political Left. So lets delve into my thoughts on this. And this begins the complexity of what "family values" are, and it is a myriad of positions. Okay, let us divide political positions firstly:
Keep in mind that when "Republicans" are mentioned below, they have a higher percentage serious Christians. Here we go. During the 2000 elections (I know these stats are old, but all of this holds true today) an interesting stat caught my attention:
This is important for the conversation. According to the very left leaning Daily Kos, most atheists vote Democrat now, harkening back to the 2000 election stats above, what does this mean? They are selfish? Stingy? You decide.
BIDEN (Politico):
When the Obama campaign released past tax returns for Biden in 2008, it was revealed that the Bidens donated just $3,690 to charity over 10 years — an average of $369 a year.
OBAMA (WaPo):
2005: $77,315 to charity out of income of $1.66 million (4.6 percent)

2004: $2,500 out of $207,647 (1.2 percent)

2003: $3,400 out of $238,327 (1.4 percent)

2002: $1,050 out of $259,394 (0.4 percent)
Why bring up the Blue State and Red State divide and recent elections? Because is shown in every poll by Gallop (since this category was started), that Republicans are happier than Democrats ~ Giving and helping increase happiness, not dependence on government. Now, how bout church attendance, how does this strengthen family and thus family values?
We know that the left/right divide is an indicator of church attendance, how does regular church attendance break down into crime, and a healthy, happy life? Here are some indicators:
(Also see 52 REASONS TO GO TO CHURCH) These indicators are also mentions in a Heritage Foundation article, "Why Religion Matters: The Impact of Religious Practice on Social Stability"
The strength of the family unit is intertwined with the practice of religion. Churchgoers are more likely to be married, less likely to be divorced or single, and more likely to manifest high levels of satisfaction in marriage.

Church attendance is the most important predictor of marital stability and happiness.

The regular practice of religion helps poor persons move out of poverty. Regular church attendance, for example, is particularly instrumental in helping young people to escape the poverty of inner-city life.

Religious belief and practice contribute substantially to the formation of personal moral criteria and sound moral judgment.

Regular religious practice generally inoculates individuals against a host of social problems, including suicide, drug abuse, out-of-wedlock births, crime, and divorce.

The regular practice of religion also encourages such beneficial effects on mental health as less depression (a modern epidemic), more self-esteem, and greater family and marital happiness.

In repairing damage caused by alcoholism, drug addiction, and marital breakdown, religious belief and practice are a major source of strength and recovery.

Regular practice of religion is good for personal physical health: It increases longevity, improves one's chances of recovery from illness, and lessens the incidence of many killer diseases.
So we can see that the above are important factors in a healthy, stable, family which would have the highest percentage or chance in a family situation to create "family values." What about divorce rates and the 2009 data. This is dealt with well at CHRISTIAN ACTION LEAGUE, and shows how Barna and the Government can miss-categorize whole swaths of people and their affiliations:
…Wright did his own research using the General Social Survey; a huge study conducted by the National Opinion Research Center at the University of Chicago, and found that folks who identify as Christians but rarely attend church have a divorce rate of 60 percent compared to 38 percent among people who attend church regularly. More generally, he found that Christians, similar to adherents of other traditional faiths, have a divorce rate of 42 percent compared with 50 percent among those without a religious affiliation.
And his is not the only research that is showing a link between strong faith and increased marriage stability.
University of Virginia sociologist W. Bradford Wilcox, director of the National Marriage Project, concluded that "active conservative Protestants" who regularly attend church are 35 percent less likely to divorce than are those with no faith affiliation. He used the National Survey of Families and Households to make his analysis.
[….]
Glenn Stanton, the director for family formation studies at Focus on the Family in Colorado Springs, Colo., has been writing articles to spread the truth about the lower divorce rate among practicing Christians.
"Couples who regularly practice any combination of serious religious behaviors and attitudes — attend church nearly every week, read their Bibles and spiritual materials regularly; pray privately and together; generally take their faith seriously, living not as perfect disciples, but serious disciples — enjoy significantly lower divorce rates that mere church members, the general public and unbelievers," Stanton wrote in the Baptist Press early this year.
At issue in Barna's studies is how he defined "Christian" and to what other groups he compared the "Christian" divorce rate. Apparently, his study compared what he termed "born-again" Christians — those who described their faith in terms of "personal commitment," "accept as savior" and other evangelical, born-again language to three other groups, which included self-identified Christians who do not describe their faith with those terms, members of other, non-Christian religions and people of no religious beliefs.
Because his second group would have included many Catholics and mainline Protestants, Wright points out that Barna was, in many ways, "comparing Christians against Christians." No wonder the rates were similar….
In USA TODAY, David Kinnaman, Barna's president, said that "the statistical differences reflect varied approaches, with Wright looking more at attendance and his research firm dwelling on theological commitments." Duh! The bottom line seems to be that the more seriously couples take their faith, the less likely they are to get a divorce.  That seems like a self-evident truth, but it appears there is also evidence for it. In other words, this is a nominal, vs. committed Christian vs. secular person battle.
I can go on-and-on, but lets shorten what we have learned, and it all revolves around this:
"There's something about being a nominal 'Christian' that is linked to a lot of negative outcomes when it comes to family life."
I realize that much of this can be classified broadly as  "The Ecological Fallacy" — but it is an amassing of stats to show that in fact the committed Christian understands the totality of "family values" and commits to them more than the secular person.
1a) Those who attend church more are to be found in the Republican Party;
1b) Those who do not, the Democratic Party;
2a) Those in the Republican Party donate much more to charitable causes;
2b) Those in the Democratic Party, are much more stingy;
3a) Republicans earn less and give more;
3b) Democrats earn more and give less;
4a) Conservative Christians and Jews (people who believe in Heaven and Hell) commit less crimes;
4b) Liberal religious persons (universalists) have a higher rate of crime;
5a) Regular church attendees have a lower drug use rate;
5b) Irreligious persons have a higher rate;
6a) Moral "oughts" are answered in Christian theism (one "ought" not rape because it is absolutely, morally wrong);
6b) Moral "oughts" are merely current consensus of the most individuals, there is no absolute moral statement that can be made about rape;
7a) Republicans are happier than Democrats;
7b) Democrats are more depressed;
8a) The sex lives of  married, religious persons is better/more fulfilling;
---
…According to psychotherapist and couples' sex expert Esther Perel, marriage is when your sex life really begins…
---
8b) The sex lives of the irreligious person is less fulfilling;
9a) The conservative is more likely to reach orgasm [conservative woman I assume];
9b) The liberal woman is not;
10a) They are less likely to sleep around, which would also indicate lower STDs;
10b Democrats are more likely to have STDs through having more sex partners;
11a) Republicans are less likely (slightly, but this is so because of the committed Christians in the larger demographic) to have extra-marital affairs;
11b) Democrats more likely;
12a) Republicans over the last three decades have been reproducing more…
12b) Democrats abort more often and have less children through educational/career decisions
13a) Christians are more likely to have children and impact the world;
13b) Skeptics replace family with pleasure and travel.
For these and other reasons not mentioned here I reject the study referenced at the beginning of this post. You can see from the above why this blog is called "Religio-Political Talk," separating the values of religion from politics is an impossible task. As Wayne Grudem points out:
BOOK RECOMMENDATION: