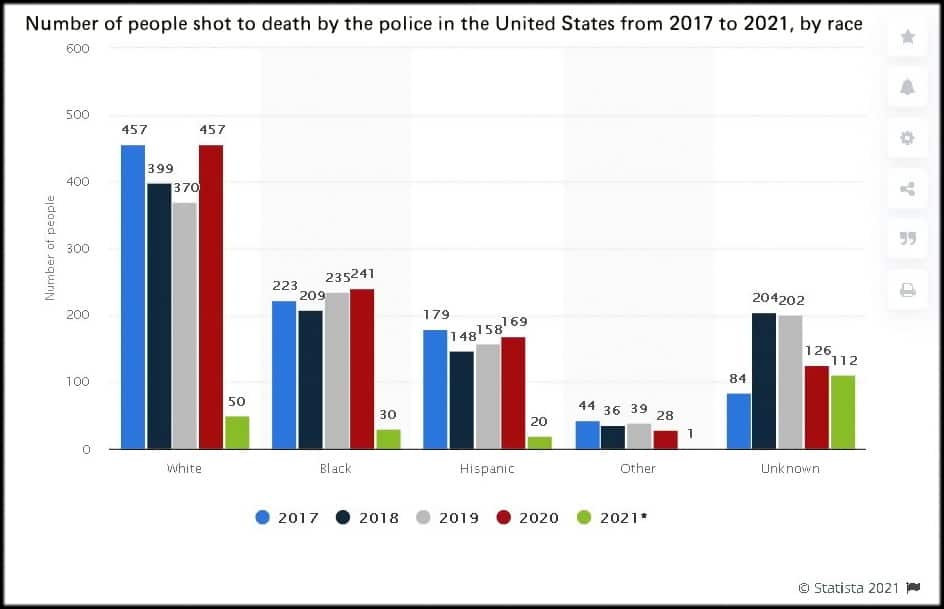 (Using the Left's thinking)
How many unarmed blacks were killed by cops last year? 9.
How many unarmed whites were killed by cops last year? 19.
(Washington Post)
Ergo, cops are racist against white considering black [mainly young me] commit about 50% of all homicides. In Los Angeles, blacks commit 44 percent of all violent crime but make up 9 percent of the population.  In St. Louis, blacks are less than a third of the population but commit 90 percent of all homicides. In New York City, blacks commit about three quarters of all shootings although they're 23 percent of the population.
Even if you allow the higher numbers — In 2020, the police fatally shot 18 allegedly unarmed blacks [24 whites] (unarmed being defined extremely loosely to include suspects grabbing an officer's gun or fleeing in a car with a loaded pistol on the seat) — that represents 0.2 percent of all blacks who died of homicide in 2020, and an infinitesimal percentage of the 40 million blacks in the U.S. If the police ended all fatal shootings tomorrow, it would have a negligible effect on the black death-by-homicide rate, which is 13 times higher than the white death-by-homicide rate for decedents between the ages of ten and 43.
Want More Evidence That Police Are Racist Towards Whites?
According to the Centers for Disease Control and Prevention, police killings of blacks declined almost 80% from the late '60s through the 2010s, while police killings of whites have flatlined. A police officer is 18.5 times more likely to be killed by a black male than an unarmed black male is to be killed by a police officer." Last year, according to The Washington Post, the police killed nine unarmed blacks. They killed 19 unarmed whites. In recent years, about 50 cops have been shot and killed annually in the line of duty. So, more cops are killed each year than are unarmed black suspects.
And yet they mow down white people!
Need More Evidence?
And yet, they shoot whites more than blacks.
Using the Left's logic, case closed.
Obviously I do not think police are "racist" in any systematic way. But that isn't the point in this post.