UPDATE BELOW ORIGINAL POST ~ JUMP
On March 28, 2023, Andy Ngo spoke with Tucker Carlson about the pipeline to violent radicalization for young transgender people. The interview followed the Nashville church/school mass shooting by a transgender person. Three young children and three school staff were murdered by Audrey "Aiden" Hale, a biological woman who identified as a man.
The entire show on RUMBLE is a must watch: "Nashville Uncensored: The Truth From A To Z! | Louder with Crowder"
WARNING: Rough Language
Data indicate that 82% of transgender individuals have considered killing themselves and 40% have attempted suicide, with suicidality highest among transgender youth. Using minority stress theory and the interpersonal theory of suicide, this study aims to better understand suicide risk among transgender youth. (PubMed)
When 'the tumult and shouting dies,' it proves not easy nor wise to live in a counterfeit sexual garb. The most thorough follow-up of sex-reassigned people—extending over 30 years and conducted in Sweden, where the culture is strongly supportive of the transgendered—documents their lifelong mental unrest. Ten to 15 years after surgical reassignment, the suicide rate of those who had undergone sex-reassignment surgery rose to 20 times that of comparable peers. [….] The study identified increased mortality and psychiatric hospitalization compared to the matched controls. The mortality was primarily due to completed suicides (19.1-fold greater than in control Swedes), but death due to neoplasm and cardiovascular disease was increased 2 to 2.5 times as well. We note, mortality from this patient population did not become apparent until after 10 years. The risk for psychiatric hospitalization was 2.8 times greater than in controls even after adjustment for prior psychiatric disease (18 percent). The risk for attempted suicide was greater in male-to-female patients regardless of the gender of the control. Further, we cannot exclude therapeutic interventions as a cause of the observed excess morbidity and mortality. The study, however, was not constructed to assess the impact of gender reassignment surgery per se. (HERITAGE FOUNDATION)
Transgender people have a 42% attempted suicide rate. American slaves & Jews in concentration camps didn't commit suicide at 19x more than the general population. (STEVEN CROWDER)
EXCERPT:
Killer shot by police: WARNING!
BREAKING: Police releases body-camera footage of the officers fatally shooting transgender shooter Audrey Hale inside the Nashville Covenant School pic.twitter.com/blqZ9u8f0z

— Insider Paper (@TheInsiderPaper) March 28, 2023
---
LANGUAGE WARNING
---
It's been a while since we've done an Emergency Gun Meme Review, but Jesus did you guys flood my inbox with memes after this one so uh…here we go…
Here are a few items more to consider about the violent Left.
---
UPDATE!
---
SOMEWHAT RELATED: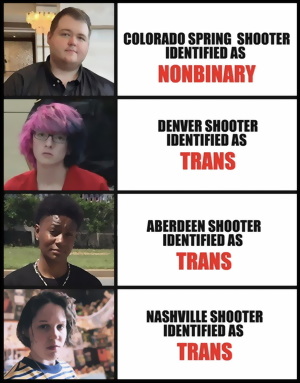 PJ-MEDIA has this on a foiled "trans shooter" named William Whitworth. (NOTE: at the POSTMILLENNIAL shows a bit of the manifesto that had Trump's name on it.):
Now, when people post that on Twitter, pictures of "straight white male" shooters or "Christian" shooters appear. But almost 100% of the shooters of the shooters have a hatred for traditional Christianity, are atheists, and are Lefties – politically. (One short list of mine.) Moving on to another example.
Here is the backstory for those who do not know:
This is called using the same definitions the Left uses to paint actions as insurrections. How I put it on my Facebook was
"Chickens coming home to roost!"
The violent Left — per Andy Ngô (see one of my examples here):
As revenge for Democrats @brotherjones_ & @Justinjpearson being expelled from the Tennessee House for leading a direct action to shut down official proceedings in the state capitol, leftists on social media are urging arson attacks across the state. One of the people inciting… pic.twitter.com/LTSi8xlJvS

— Andy Ngô 🏳️‍🌈 (@MrAndyNgo) April 7, 2023
One comment on that Tweet made a salient point: