White Liberals Are Here To Save You From Math!
(THE BELOW ARE TWO POSTS COMBINE FROM MARCH OF 2014 AND THE OTHER 2-YEARS AGO)
Dennis Prager reads from Fox News' [and the original sources as well] article: "Oregon Promotes Teacher Program That Seeks to Undo 'Racism In Mathematics'". The idea that Mathematics can be used to promote "equity" is older than this idea… see my, "Chicago Teachers Union President Politicizes Math".
Some Comments via My Upload:
…

need to be kept away from any space program.

It's only going to make the difference in math scores more prominent because people who can afford private schools or can homeschool will make the public school kids more behind.

Besides, who would want to hire a contractor who doesn't get the right math answers.
Read the POST-MILLENNIAL for more. You can also track where Critical Race Theory is taught in schools at CRITICALRACE.ORG.
(Click to enlarge)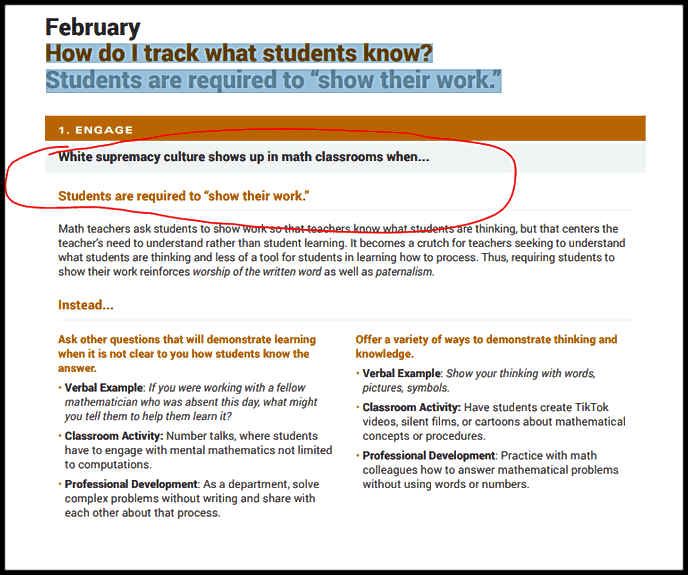 However, the best article I read so far on the topic is over at MISES INSTITUTE:
MORE CRITICAL RACE THEORY, RACISM
HOT AIR has some more hits via the racism of critical theory:
Dateline Wednesday March 19, 2014 – Portland Oregon: Portland Public Schools teachers participated in a training session where a controversial new curriculum including "Critical Race Theory," is explained. The curriculum is currently implemented in three charter schools at the K-5, middle school and high school level. The curriculum is expected to be rolled out to all schools in the Portland Public School System: thus the training.
BONUS OREGON FLASHBACK
Oregon to Ban Employers From Asking About Felonies: A statewide "Ban the Box" effort is underway which will prohibit employers from asking dangerous felons about their criminal records on job applications.
This (the above and below) comes from EAG.org, here is part of the post by them, which can be linked to below: