Clinton Cash, is a feature documentary based on the Peter Schweizer book that the New York Times hailed as "The most anticipated and feared book of a presidential cycle."
Clinton Cash investigates how Bill and Hillary Clinton went from being "dead broke" after leaving the White House to amassing a net worth of over $150 million, with over $2 billion in donations to their foundation. This wealth was accumulated during Mrs. Clinton's tenure as US Secretary of State through lucrative speaking fees and contracts paid for by foreign companies and Clinton Foundation donors.
The following is with a h-t to YOUNG CONSERVATIVES, and comes by way of THE FEDERALIST PAPERS!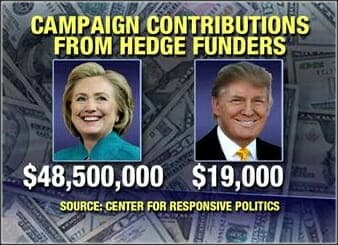 ….Topping Hillary's list is the Saban Capital Group. The "private investment firm," (read: hedge fund) has given the Clinton campaign more than $10 million this year alone. Founded by Hami Saban, an Jewish Egyptian national, he has said his greatest concern is to protect Israel. He is also part owner of Univision, Hillary Clinton's greatest Spanish-language cheerleader. Here's how the New Yorker described his relationship with the Clintons: 
By far his most important relationship is with Bill and Hillary Clinton. In 2002, Saban donated five million dollars to Bill Clinton's Presidential library, and he has given more than five million dollars to the Clinton Foundation. In February, Secretary of State Hillary Clinton delivered a major policy address at the U.S.-Islamic World Forum in Doha, co-sponsored by the Saban Center. And last November Bill Clinton was a featured speaker at the Saban Forum, an annual conference attended by many high-level Israeli and U.S. government officials, which was held in Jerusalem. Ynon Kreiz, an Israeli who was the chairman and chief executive of a Saban company and Saban's closest associate for many years, attended the conference, and when I commented that his former boss appeared to be positively smitten with Bill Clinton, Kreiz replied, grinning broadly, "No! No! I remember once Haim was talking to me on the phone, and he said in Hebrew, without changing his tone so Clinton would have no idea he was speaking about him, 'The President of the United States, wearing his boxers, is coming down the stairs, and I am going to have to stop talking and go have breakfast with him.'"
A close second on the list is Renaissance Technologies, another hedge fund. They sunk $9.5 million into Hillary's campaign this year. Founder James Simons has given more than $30 million to Democrats and their campaigns since 2006.
[….]
…It's important to note that Trump's top contributor has given a fraction of all the people on Hillary's list.
The John Powers Middleton Companies gave $150,000 to Trump this year. Middleton is a TV producer who co-producedThe Lego Movie. 
Also on the list? A boring group of contributors, really.
There's a financial group that gave $50,000, a realty company. The AON Corporation. All told, Trump has received zerodollars from Political Action Committees and has self-funded 56 percent of his campaign.
Love him or hate him, he answers to nobody but himself and the American people….
Take note that if you combine the above with this… you have in the Democratic Party EVERYTHING the Republicans are accused of.  An example:
From maligning and subverting others in the race (GOP or Democrat), from taking bribes, to making bribes… what has happened here in the primary is a giant leap ahead of what Democrats accuse George Bush of doing in Florida. Florida is chicken feed to what was revealed from these leaked DNC emails. On the DNC Convention floor, Bernie signs were confiscated, they censored the California delegation with "white noise speakers" and "reserving" the seats. It is worth noting that the woman behind this original censoring in the leaked DNC emails, stepped down because of this activity… to only be immediately hired by Hillary's campaign. I would also posit that this almost Orwellian censoring at the Democrat Convention has Debbie Wasserman Schultz finger prints all over it.
Republicans are rightly called "the stupid party" (read here Donald Trump) and the Democrats are called "the evil party" (read here Hillary Clinton).
An old Washington joke is that the Republicans are called "the stupid party" and the Democrats are called "the evil party." When the Republicans and Democrats get together on legislation, they do something both stupid and evil—and they call it "bipartisanship."
John Stuart Mill (1806-1873) called conservatives "the stupidest party" in his Considerations on Representative Government (1861). The newspaper columnist Samuel T. Francis (1947-2005) was credited in 1993 with writing "There are two parties in Washington: the Stupid Party and the Evil Party." It's probable that Francis wrote the full joke at some time in the 1980s or early 1990s. The joke (cited in print since at least 1999) is also often credited to an unnamed Congressional staffer, who was explaining the U.S. government to someone from Russia (or another country in the former Soviet Union).
I would rather be part of the Stupid Party.