A list is making its rounds showing a crapload of "school shootings" — I will post the list at the end because it is long. But this is the most recent list shared primarily on Facebook. The version I saw was by Greg Atkinson:

It is a list of 245 school shootings. This is nothing new, per-se, at every similar event some list is trotted out to use a real event to make untrue statements about others. Why? To elicit an emotional response. This was confirmed to me as I went through the comments under the list; one person was even calling for a teacher strike.
Lol.
I thought to myself at the time of reading it (but did not respond),
"Yes, please strike… it will chase EVEN MORE parents to choose private and home schooling even more than the last 2-years of masking and 'at home education. Pretty please'."
Even NPR admits issues with such lists, this is from August of 2018:
NPR goes on to note:
This confusion comes at a time when the need for clear data on school violence has never been more pressing.
All lists like the one shared [below] do is add to the confusion. This was my response to a friend sharing the list:
QUOTING MYSELF
---
SIDE NOTE
---
As an aside: I make it a habit not to post on this person's Facebook (FB), and this was one of almost zero comments on their FB I have made over time. And my comment was pretty benign (minus facts), which are abrasive to perceived narratives — I get that.  Subsequentially my status was changed so I could not see any posts on their Facebook.
Which reminded me of a recently read article,
The digital revolution has shattered that mirror, and now the public inhabits those broken pieces of glass. So the public isn't one thing; it's highly fragmented, and it's basically mutually hostile. It's mostly people yelling at each other and living in bubbles of one sort or another. (THE ATLANTIC)
It's the "bubbles" part that interests me.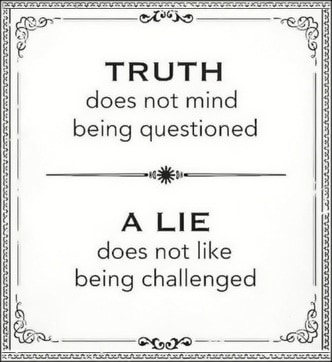 I simply offered a view unlike any other in the strain; and what did the person do? Shut themselves off to the rare viewpoint that disagreed with the consensus they wish to artificially build around themself.
Another example of regular conversation moving toward censorship of viewpoints that offer even the slightest dissent (in Orwellian fashion) is this: years ago there was a weekly series in the L.A. Times where a column would take an event or position and have a progressive leaning columnist give their thoughts and position; and another column was written by a more conservative columnist giving theirs. I believe it was called, "View from the Left," and, "View from the Right."
Often times the writer on the right was Dennis Prager.
The L.A. Times has long nixed thoughtful thinking, comparison, and columns/columnists like this and Dennis.
Another example comes by way of the Executive Editor of the New York Times (the top position in the newsroom), Dean Baquet, who admitted that it is the Left who does not want to hear thoughtful responses to issues from a countering viewpoint.
You see, progressive leaning individuals are far more likely to unfriend or censor opposing political views (see HERE). Here is a snippet of the poll via TOWNHALL shortly after the 2016 election
And this still holds true in large measure. And as you can see from my very reasonable, non-yelling, non-gaslighting comment [in the "Calvin" text box] — this holds true.
BUBBLES
---
…CONTINUING…
---
In another 2018 posting, DAILY CALLER catalogs CNN's use of bad stats as well:
Again, NPR:
"When we're talking about such an important and rare event, [this] amount of data error could be very meaningful," says Deborah Temkin, a researcher and program director at Child Trends.
PIVOTING A BIT…. REAL WORLD SOLUTIONS
When I found this video I posted it on my Facebook with the following note:
Damn. Easy peasy. Should give the teacher extra time to get her or his gun out of the lock box and protect her (or his life) as well as the lives of the kids under her (or his) care.
And that is the key… what will a teacher do, or what length will he or she go in our more secularly violent society to protect his or her own life and thus her children in the classroom? After Sandy Hook some schools offered training and more for teachers that chose to arm themselves.
Here is the training they go through:
These districts took to heart recommendations made after other school shooting. The Parkland police also failed like the Uvalde school shooting.
So 2 of the 3 deadliest school shootings made it to that gruesome list because of inaction by armed and trained professionals. When my life is about to end by violence, I need to be trained to keep it. And I can rely on myself to do so.
But the Biden Admin doesn't track with this common sense: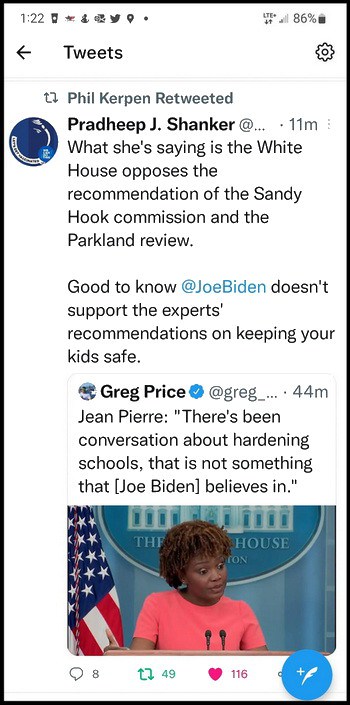 Very…
sad
---
Politicized School List
---
Thurston High School.
Columbine High School.
Heritage High School.
Deming Middle School.
Fort Gibson Middle School.
Buell Elementary School.
Lake Worth Middle School.
University of Arkansas.
Junipero Serra High School.
Santana High School.
Bishop Neumann High School.
Pacific Lutheran University.
Granite Hills High School.
Lew Wallace High School.
Martin Luther King, Jr. High School.
Appalachian School of Law.
Washington High School.
Conception Abbey.
Benjamin Tasker Middle School.
University of Arizona.
Lincoln High School.
John McDonogh High School.
Red Lion Area Junior High School.
Case Western Reserve University.
Rocori High School.
Ballou High School.
Randallstown High School.
Bowen High School.
Red Lake Senior High School.
Harlan Community Academy High School.
Campbell County High School.
Milwee Middle School.
Roseburg High School.
Pine Middle School.
Essex Elementary School.
Duquesne University.
Platte Canyon High School.
Weston High School.
West Nickel Mines School.
Joplin Memorial Middle School.
Henry Foss High School.
Compton Centennial High School.
Virginia Tech.
Success Tech Academy.
Miami Carol City Senior High School.
Hamilton High School.
Louisiana Technical College.
Mitchell High School.
O. Green Junior High School.
Northern Illinois University.
Lakota Middle School.
Knoxville Central High School.
Willoughby South High School.
Henry Ford High School.
University of Central Arkansas.
Dillard High School.
Dunbar High School.
Hampton University.
Harvard College.
Larose-Cut Off Middle School.
International Studies Academy.
Skyline College.
Discovery Middle School.
University of Alabama.
DeKalb School.
Deer Creek Middle School.
Ohio State University.
Mumford High School.
University of Texas.
Kelly Elementary School.
Marinette High School.
Aurora Central High School.
Millard South High School.
Martinsville West Middle School.
Worthing High School.
Millard South High School.
Highlands Intermediate School.
Cape Fear High School.
Chardon High School.
Episcopal School of Jacksonville.
Oikos University.
Hamilton High School.
Perry Hall School.
Normal Community High School.
University of South Alabama.
Banner Academy South.
University of Southern California.
Sandy Hook Elementary School.
Apostolic Revival Center Christian School.
Taft Union High School.
Osborn High School.
Stevens Institute of Business and Arts.
Hazard Community and Technical College.
Chicago State University.
Lone Star College-North.
Cesar Chavez High School.
Price Middle School.
University of Central Florida.
New River Community College.
Grambling State University.
Massachusetts Institute of Technology.
Ossie Ware Mitchell Middle School.
Ronald E. McNair Discovery Academy.
North Panola High School.
Carver High School.
Agape Christian Academy.
Sparks Middle School.
North Carolina A&T State University.
Stephenson High School.
Brashear High School.
West Orange High School.
Arapahoe High School.
Edison High School.
Liberty Technology Magnet High School.
Hillhouse High School.
Berrendo Middle School.
Purdue University.
South Carolina State University.
Los Angeles Valley College.
Charles F. Brush High School.
University of Southern California.
Georgia Regents University.
Academy of Knowledge Preschool.
Benjamin Banneker High School.
H. Conley High School.
East English Village Preparatory Academy.
Paine College.
Georgia Gwinnett College.
John F. Kennedy High School.
Seattle Pacific University.
Reynolds High School.
Indiana State University.
Albemarle High School.
Fern Creek Traditional High School.
Langston Hughes High School.
Marysville Pilchuck High School.
Florida State University.
Miami Carol City High School.
Rogers State University.
Rosemary Anderson High School.
Wisconsin Lutheran High School.
Frederick High School.
Tenaya Middle School.
Bethune-Cookman University.
Pershing Elementary School.
Wayne Community College.
B. Martin Middle School.
Southwestern Classical Academy.
Savannah State University.
Harrisburg High School.
Umpqua Community College.
Northern Arizona University.
Texas Southern University.
Tennessee State University.
Winston-Salem State University.
Mojave High School.
Lawrence Central High School.
Franklin High School.
Muskegon Heights High School.
Independence High School.
Madison High School.
Antigo High School.
University of California-Los Angeles.
Jeremiah Burke High School.
Alpine High School.
Townville Elementary School.
Vigor High School.
Linden McKinley STEM Academy.
June Jordan High School for Equity.
Union Middle School.
Mueller Park Junior High School.
West Liberty-Salem High School.
University of Washington.
King City High School.
North Park Elementary School.
North Lake College.
Freeman High School.
Mattoon High School.
Rancho Tehama Elementary School.
Aztec High School.
Wake Forest University.
Italy High School.
NET Charter High School.
Marshall County High School.
Sal Castro Middle School.
Marjory Stoneman Douglas High School
Great Mills High School
Central Michigan University
Huffman High School
Frederick Douglass High School
Forest High School
Highland High School
Dixon High School
Santa Fe High School
Noblesville West Middle School
University of North Carolina Charlotte
STEM School Highlands Ranch
Edgewood High School
Palm Beach Central High School
Providence Career & Technical Academy
Fairley High School (school bus)
Canyon Springs High School
Dennis Intermediate School
Florida International University
Central Elementary School
Cascade Middle School
Davidson High School
Prairie View A & M University
Altascocita High School
Central Academy of Excellence
Cleveland High School
Robert E. Lee High School
Cheyenne South High School
Grambling State University
Blountsville Elementary School
Holmes County, Mississippi (school bus)
Prescott High School
College of the Mainland
Wynbrooke Elementary School
UNC Charlotte
Riverview Florida (school bus)
Second Chance High School
Carman-Ainsworth High School
Williwaw Elementary School
Monroe Clark Middle School
Central Catholic High School
Jeanette High School
Eastern Hills High School
DeAnza High School
Ridgway High School
Reginald F. Lewis High School
Saugus High School
Pleasantville High School
Waukesha South High School
Oshkosh High School
Catholic Academy of New Haven
Bellaire High School
North Crowley High School
McAuliffe Elementary School
South Oak Cliff High School
Texas A&M University-Commerce
Sonora High School
Western Illinois University
Oxford High School
Robb Elementary School