A friend asked the following: "Question… Can you tell me what Liberal Christian means. In short form so Lisa can understand…." The Gospel Coalition defines it thus:
Liberal theology is rooted in modern, secular theories of knowledge and has moved towards participation in the work of the church as the priority for Christians at the expense of delineating theological belief, which has led to the abandonment of many orthodox beliefs in many mainline denominations.
Likewise, a friend noted, "I understand liberal theology as subscribing to the Enlightenment presuppositions concerning naturalism. Thus, liberal theology is skeptical concerning supernaturalism. Like Occam, they look for a logical/natural explanation for everything, including the 10 plagues of Egypt, the virgin birth, and the resurrection."
But this seemingly short definition is followed by a larger article discussing it's origins. The enlightenment and the differing forms it took were also heavily influential on liberalism both in religious and political reals, as well as "critical theory" stressed by Jacques Derrida:
What follows below will travel between the theological aspects of liberalism, as well as the attacks on our Founding documents (political).
Ravi Zacharias does a decent job in showing the basics of liberalism in it's "questioning" aspect, and that this has been around a long time — that is — the postmodern tendency:
(I deal with the postmodernism of the church and the Emergent Church in my chapter, "Emergen[t]Cy – Investigating Post Modernism In Evangelical Thought")
The following quotes by the author who put a warning shot across the bow of the modern "liberal" attack of the church… J. Gresham Machen. However, these quotes can in some sense be applied to the Constitution as well (more on this in a bit).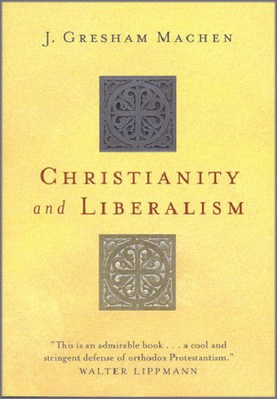 The chief modern rival of Christianity is "liberalism." An examination of the teachings of liberalism in comparison with those of Christianity will show that at every point the two movements are in direct opposition.

Here is found the most fundamental difference between liberalism and Christianity–liberalism is altogether in the imperative mood, while Christianity begins with a triumphant indicative; liberalism appeals to man's will, while Christianity announces, first, a gracious act of God.

It is no wonder, then, that liberalism is totally different from Christianity, for the foundation is different. Christianity is founded upon the Bible. It bases upon the Bible both its thinking and its life. Liberalism on the other hand is founded upon the shifting emotions of sinful men.

The movement designated as "liberalism" is regarded as "liberal" only by its friends; to its opponents it seems to involve a narrow ignoring of many relevant facts.

According to the Christian conception, a creed is not a mere expression of Christian experience, but on the contrary it is a setting forth of those facts upon which experience is based.

But if any one fact is clear, on the basis of this evidence, it is that the Christian movement at its inception was not just a way of life in the modern sense, but a way of life founded upon a message. It was based, not upon mere feeling, not upon a mere program of work, but upon an account of facts. In other words it was based upon doctrine.

Faith is essentially dogmatic. Despite all you can do, you cannot remove the element of intellectual assent from it.
So here is a "Basic" rundown… but a good definition comes from IMPACT 360 INSTITUTE (a long article):
Blogger, speaker and apologist Alisa Childers (author of the IMPACT 360 article [linked] above) talks to us about a dangerous form of Christianity invading our churches.  (Alicia has a YouTube Channel HERE)
Liberal Christianity does not mean a "politically leftist form" of the Christian Faith. Although, the same "sickness" applies that lead to similar outcomes, whether in religious beliefs or political beliefs.
That is, true conservatives conserve ideas born from natural rights, as immutable and objective —  written in stone so-to-speak… the liberal progressive sees things not "in situ" (situated in the original, natural, or existing place or position) but in flux.
Changing in that, modern definitions and understandings supersede the previous outdated ideas and definitions as applied by those earlier thinkers. Dennis Prager talks about a popular saying when he was going to college in the 60's/70's, it was,  "don't trust anyone over 35 [years old]."
What do I mean about the same sickness?
Here is a must read (a bit long) for the avid fan of Dr. Norman Geisler who enumerates the founding "in situ" nature of the political conservationist. He deals with our countries Founding ideas:
THE CONSERVATIVE AGENDA: ITS BASIS AND ITS BASICS
The Conservative Agenda:
Its Basis and Its Basics
by Norman L. Geisler
Take for instance Joe Biden's saying that he won't be "satisfied" until half of the U.S. Supreme Court is filled with women who hold a "living document" view of the Constitution. To wit, a poll taken by C-SPAN a few years back notes "that 48 percent of voters overall agree that 'the Constitution is a living document which should evolve to recognize 'new rights' and changing circumstances.' That includes 80 percent of liberals and 66 percent of Democrats — but only 22 percent of conservatives and 26 percent of Republicans. Another 42 percent of voters overall say that the Constitution "should be interpreted according to its original words and meaning." The survey found that 15 percent of liberals and 23 percent of Democrats agree with this, compared to 68 percent of conservatives and 64 percent of Republicans."
The same with Christianity, and how "leftist" progressive Christians see Christianity (even if they do not word as well):
True religion is not based on external authority

….

Christianity is a movement of social reconstruction

….

Christianity must be credible and relevant

….

Truth can be know only through changing symbols and forms

….

Theological controversy is about language, not about truth

….

The historical accuracies of biblical facts and events are not crucial, so long as we meet Jesus in the pages of Scripture

….

The true religion is the way of Christ, not any particular doctrines about Christ

….
Here is another excellent article entitled "5 Signs Your Church Might be Heading Toward Progressive Christianity"
There is a lowered view of the Bible

….

Feelings are emphasized over facts

….

Essential Christian doctrines are open for re-interpretation

….

Historic terms are re-defined

….

The heart of the gospel message shifts from sin and redemption to social justice.
LONG PRESENTATIONS:
What was the infectious inroad into Democrats thinking about the Constitution being alive and breathing? Darwinism and his evolutionary view of biology, via Woodrow Wilson's impact on progressivism. This is a large excerpt from Gary Demar's article, Charles Darwin, Woodrow Wilson, And The Evolving Constitution
---
APPENDIX
---