(This post has been updated/edited a few times since May of 2017)
My first comment is that the Left weaponizes and diminishes what it "leaches" on to. Second, here is the modern issue put forward by Dr. John Gartner, PH.D., Psychologist and author. Yes, he is "shopping" his book: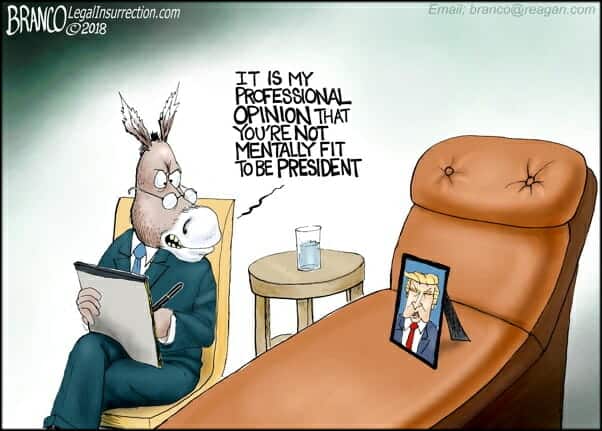 PSYCHOLOGY TODAY has a mediocre article… even though they get it wrong… but I liked this part:
Just to make clear, Trump did not mock a handicapped person's disability… he mocked a reporter who happened to be handicap.
Above, Dennis Prager discusses Dr. Gartner's article and petition saying Donald Trump is a danger to society and the world. Prager reads from and comments from Dr. John Gartner's article in USA TODAY "Donald Trump's malignant narcissism is toxic: Psychologist". The same "psychoanalysis" happened to Barry Goldwater, and since there has been the "GOLDWATER RULE" –
What Dr. Gartner is practicing sounds like "transference," which is this:
It sounds like Dr. Gartner may need some counseling. Here is another article linked at my YouTube by 4TIMESAYEAR:
To follow is a more recent attack by psychology professionals [and legislators! Sad] that again show the lack of concern for the medical ethics involved, and make the profession that truly helps people more of a tarrot card reading with a political flavor to it.
The DAILY CALLER notes that the Yale University psychology professor who called President Trump "mentally impaired" appears to lack a valid license to practice psychiatry in her home state of Connecticut (h-t WEASEL ZIPPERS). The WASHINGTON EXAMINER adds a call by the American Psychological Association (APA) to "cease-and-desist"