For the record:
TWITTER PULLED THAT MESSAGE BTW: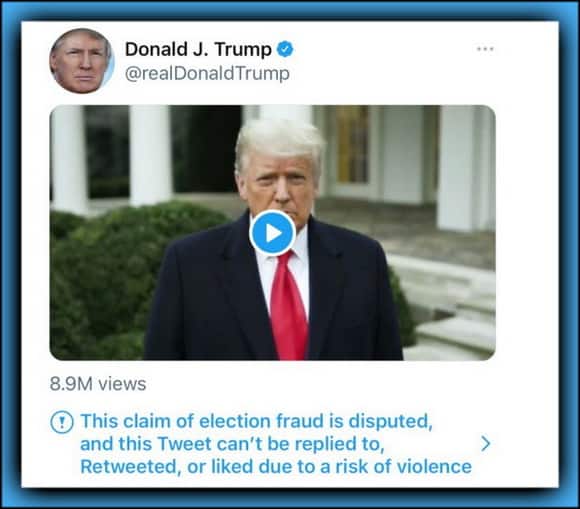 Here were my first thoughts via the FB PAGE for this site:
(And people who were ready to object, changed their minds as a consequence to what happened.)
Here are some other worthwhile articles to read before my other thought on an issue cropping up.
May I add that patriots do not remove a United States Flag and throw it on the ground (BREITBART). But to reiterate, Trump called for the protests to be peaceful:
This morning, President @realDonaldTrump explicitly called for demonstrations and protests to be peaceful.

He was far more explicit about his calls for peace than some of the BLM and left-wing rioters were this summer when we saw violence sweep across this nation. pic.twitter.com/Ef7gKwdY1K

— Rep. Matt Gaetz (@RepMattGaetz) January 7, 2021
However, unlike BLM members calling for the death of police, and then members of BLM ambushing police and killing them. Or, Antifa and BLM violence resulting in more dead black people in a few short months than all unarmed black perps were shot by police in a year…. and destruction in the havoc in the lives of hard working people,
For at least 8 years, Democrats have remained silent as both far-left groups have wreaked havoc in cities across America. (100% Fed-Up)
SIDE-NOTE FOR CLARITY
Just to be clear, I am not condoning (if Lefties cannot pick up what I am laying down) the actions at the Capital by referencing the violent actions OF THE LEFT, I agree with RED STATE when they say:
…CONTINUING
The media ignores those stories… and like the Accuser, the media "prowls around like a roaring lion, seeking someone to devour." Which is why the Bible's warning to those of us saved (and good common sense advice is, "Be on Guard" — "Be watchful." Here is 1 Peter 5:8-11 via a paraphrase Bible version:
Keep a cool head. Stay alert. The Devil is poised to pounce, and would like nothing better than to catch you napping. Keep your guard up. You're not the only ones plunged into these hard times. It's the same with Christians all over the world. So keep a firm grip on the faith. The suffering won't last forever. It won't be long before this generous God who has great plans for us in Christ—eternal and glorious plans they are!—will have you put together and on your feet for good. He gets the last word; yes, he does. (The Message)
Here are 2 commentaries on that verse 8 that the believer can simply insert "secular society" because the end result is the same in our fallen world (that is, the goals of it and the Devil):
The people entering the Capital were not of sober mind, and the "roaring lion" aspect of the Left and MSM used it to their advantage.
Now, on to another thought. Yes, Antifa infiltrated the Trump rally. And? This is no excuse for Trumpeters being led by the nose. They are responsible for their own actions. Conservatives need to be on guard. Period. When racists infiltrated T.E.A. PARTY protests, they were identified and told to leave.
Just a historical jog through our Capitals history, PJ-MEDIA has an interesting article about the other times our Capital was "breached" (link to post in graphic below):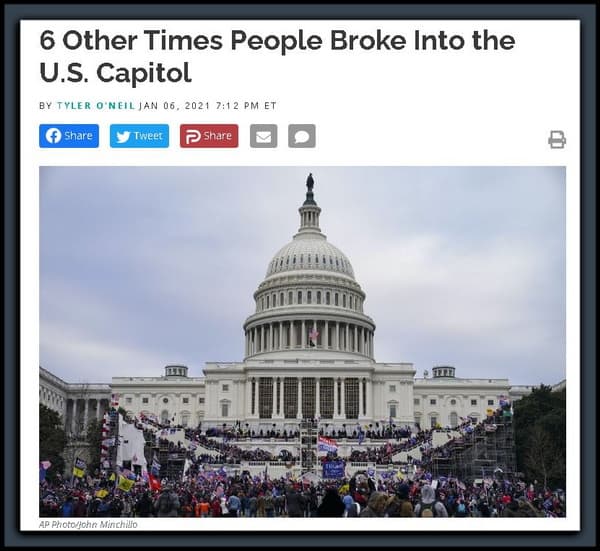 And yes, I still believe the election was stolen. There are too many issues to go ignored. I can walk and chew gum at the same time. The acts of some asses does not change the facts and eyewitness testimony.
BTW, as I type, the Democrats are already trying to have Trump removed. Lol. Even though he agreed to [after the electors were confirmed] to allow for the peaceful transition. And he has stood by his word… but that doesn't matter to the MSM… they will use the unfortunate actions on Capital Hill to blame Trump.
NEW YORK TIMES (Nov 26th): Trump, Still Claiming Victory, Says He Will Leave if Electors Choose Biden
WASHINGTON POST (Nov 26th): Trump commits to stepping down if electoral college votes for Biden
---
RIGHT SCOOP (Jan 7th): "There will be an orderly transition on January 20th" – President Trump
But this doesn't matter. The left will call him a tyrant, just like they called him a racist. When will we learn?