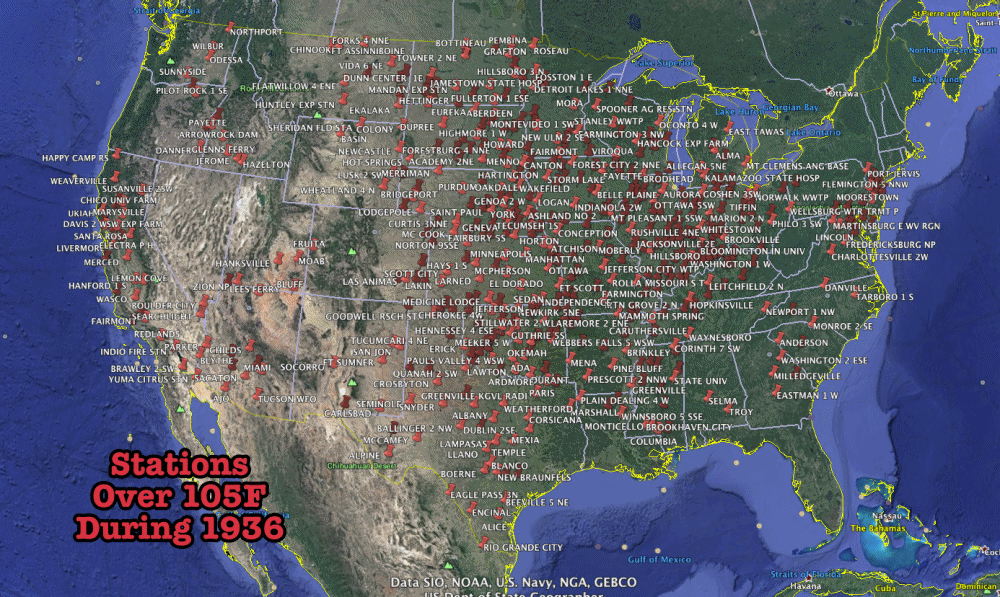 During the great heatwave of July, 2016 – temperatures in Ada, Minnesota averaged 16 degrees cooler than during July, 1936… Aurora, Illinois was about 13 degrees warmer in 1936… Same story in Bloomington, Indiana. (The Deplorable Climate Science Blog)
NOAA has found it necessary to monkey with July temperatures by 1,000% in order to note that 2016 is the hottest July on record. (Ditto)
In 1924 the outback Australian town of Marble Bar recorded the longest ever heatwave, setting a record for the most consecutive days above 100F (37.8C). In 1976 the United Kingdom sweltered in temperatures exceeding 90F (32.2C) for 15 consecutive days. A further five days saw temperatures reaching 95F (35C). Parts of the country's southwest went for 45 days without rain, prompting terrible heath and forest fires that destroyed trees and crops. The heatwave came to a dramatic end in August, with severe thunderstorms rolling across the country.
You can see more on my post about the 1930's being the hottest, globally. 
Climate experts say that July 2016 was the hottest month ever.  In the United States, it was one of the least hot months ever.
2015 was also said to be the hottest year… 1936 had the most hot days on record, not 2015. Claims 2015 is the warmest year on record ignore satellite data, which shows 2015 only ranks as the third-warmest year on record (CFACT). May I add to the satellite data being ignored that bad readings from many ground sensors are used to prop up temperatures.
The touting of all these "hottest years" and scare tactics and the U.N. saying rising oceans will threaten the Statue of Liberty, are all power grabs. Period. The EPA says their most strict legislative acts to implement new regulations that will fight global warming, are ALSO A LIE! Like the Arctic for years being prophesied to be ice-free, and in fact setting ice-expansion records during month it was suppose to be ice-free.
The DAILY CALLER notes the EPA Chief's admission:
Here is a great presentation showing the EPA to be full of B.S. Former Obama Department of Energy Assistant Secretary Charles McConnell eviscerates the President's proposed Clean Power Plan regulation to fight global warming in testimony before Congress:
I said out-loud "AMEN" to the line, "I am no lawyer, but I AM a citizen!"