Bottom Line:
The Mean Global Temperature has been stable since 1997, despite a continuous increase of the CO2 content of the air: how could one say that the increase of the CO2 content of the air is the cause of the increase of the temperature? (discussion: p. 4)

57% of the cumulative anthropic emissions since the beginning of the Industrial revolution have been emitted since 1997, but the temperature has been stable. How to uphold that anthropic CO2 emissions (or anthropic cumulative emissions) cause an increase of the Mean Global Temperature?
(more)
This is Part IV of a series from Christmas 2014.
Renown physicist Freeman Dyson says CO2 does not worry him… montage
The climate models used by alarmist scientists to predict global warming are getting worse, not better; carbon dioxide does far more good than harm; and President Obama has backed the "wrong side" in the war on "climate change."
So says one of the world's greatest theoretical physicists, Dr Freeman Dyson, the British-born, naturalised American citizen who worked at Princeton University as a contemporary of Einstein and has advised the US government on a wide range of scientific and technical issues.
In an interview with Andrew Orlowski of The Register, Dyson expressed his despair at the current scientific obsession with climate change which he says is "not a scientific mystery but a human mystery. How does it happen that a whole generation of scientific experts is blind to the obvious facts."
This mystery, says Dyson, can only partly be explained in terms of follow the money. Also to blame, he believes, is a kind of collective yearning for apocalyptic doom.
It is true that there's a large community of people who make their money by scaring the public, so money is certainly involved to some extent, but I don't think that's the full explanation.
It's like a hundred years ago, before World War I, there was this insane craving for doom, which in a way, helped cause World War I. People like the poet Rupert Brooke were glorifying war as an escape from the dullness of modern life. [There was] the feeling we'd gone soft and degenerate, and war would be good for us all. That was in the air leading up to World War I, and in some ways it's in the air today.
Dyson, himself a longstanding Democrat voter, is especially disappointed by his chosen party's unscientific stance on the climate change issue.
It's very sad that in this country, political opinion parted [people's views on climate change]. I'm 100 per cent Democrat myself, and I like Obama. But he took the wrong side on this issue, and the Republicans took the right side…..
[….]
He concludes:
"I am hoping that the scientists and politicians who have been blindly demonizing carbon dioxide for 37 years will one day open their eyes and look at the evidence."
We need MORE CO2, not less!
Dr. William Happer, currently a professor of Physics at Princeton University, was once fired by Gore at the Department of Energy in 1993 for disagreeing with the vice president on the effects of ozone to humans and plant life, also disagrees with Gore's claim that manmade carbon dioxide (CO2) increases the temperature of the earth and is a threat to mankind. Happer appeared before the U.S. Senate's Environment and Public Works Committee on Feb. 25 and explained CO2 is in short-supply in relative terms of the history of the planet.
"Many people don't realize that over geological time, we're really in a CO2 famine now. Almost never has CO2levels been as low as it has been in the Holocene [geologic epoch] – 280 [parts per million (ppm)] – that's unheard of," Happer said. "Most of the time, it's at least 1,000 [ppm] and it's been quite higher than that."
Happer said that when CO2 levels were higher – much higher than they are now, the laws of nature still managed to function as we understand them today.
"The earth was just fine in those times," Happer said. "You know, we evolved as a species in those times, when CO2 levels were three or four times what they are now. And, the oceans were fine, plants grew, animals grew fine. So it's baffling to me that, you know, we're so frightened of getting nowhere close to where we started."…
---
Must See Interview
Here is a quick intro that I combined with a great visual in reagrds to PPM and how it is benefitial to mankind:
To skip this aside, click HERE…
---
CONSENSUS
---
He mentioned most of the experts KNOW how CO2 affects climate. He says he does not and doesn't think they do either. This has nothing to do with the supposed "consensus" of experts — 97% — who "say" it is driven by mankind. This is known as anthropogenic global warming, of AGW. The myth of the 97% started with ONLY 75-out-of-77 climatologists saying they believe man is the primary cause.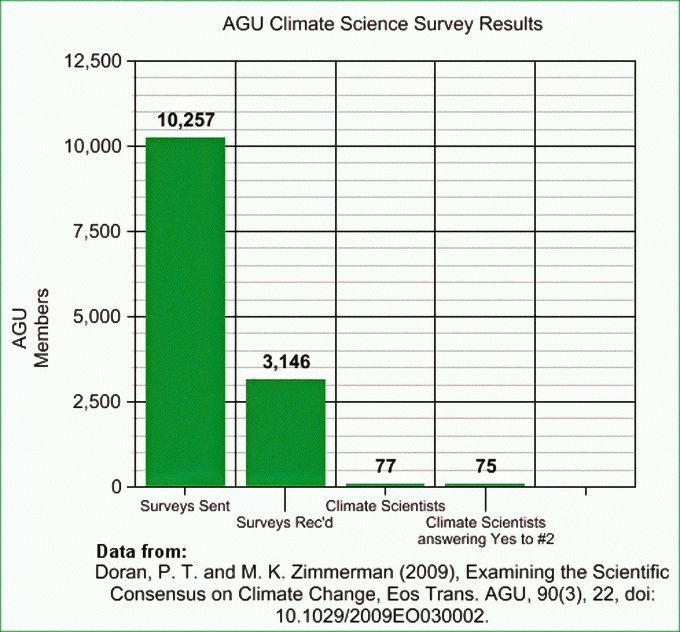 Yes, you heard me correctly, seventy-five.
Another study has undergrads and non-specialists (bloggers) search through many articles in peer reviewed journals, and noting that a large majority supported the AGW position. The problem was that they were not specialized in the field of science… AND… they only read the abstracts, not the peer reviewed paper itself. Many of the scientists behind the papers "said" to support AGW rejected that idea. So the specialists THEMSELVES said their papers cannot be read to support the AGW position.
Another study (pictured in the graph above) tries to save an earlier one with tainted information based on abstracts — a very UNSCIENTIFIC way to get to consensus (that is, relying on abstracts). Not only was this study based on abstracts, again, non specialists categorized them. Yet another study was merely based on search parameters/results. Here is more info (mainly links) for the not-faint-of-heart.
In reality, nearly half of specialists in the fields related reject man causing climates change.
And a good portion of those that do reject the claim that it is detrimental to our planet.
Only 13% saw relatively little danger (ratings of 1 to 3 on a 10-point scale); the rest were about evenly split between the 44% who see moderate to high danger (ratings of 4 to 7) and 41% who see very high or grave danger (ratings of 8 to 10). (Forbes)
Here is a list of scientists with varying views on the cause of "Climate Change," and here is a list of 31,000 who stand against man as the primary cause.
---
Continuing with the original post
---
This is meant mainly as a supplement to a Christmas Eve-Eve gathering/discussion I was at. I will make this post a little different than other posts, as, it will be "minimalist." This is the fourth installment of the topics covered, which are polar bears, rising sea levels, CO2, Inconvenient Truth (the movie), nuclear power, warmest year, electric vehicles (EVs)/hybrid cars, and bullet trains.
Can you imagine the polluted, destroyed, world we would have if the left had their way with green energy?
Environazis, like all progressives, care about two things: other people's money and the power entailed in imposing their ideology. Prominent among the many things they do not care about is the environment, as demonstrated by a monstrosity planned for Loch Ness:
A giant 67 turbine wind farm planned for the mountains overlooking Loch Ness will be an environmental disaster thanks to the sheer quantity of stone which will need to be quarried to construct it, according to the John Muir Trust. In addition, the Trust has warned that the turbines spell ecological disaster for the wet blanket peat-land which covers the area and acts as a huge carbon sink, the Sunday Times has reported.
According to global warming dogma, carbon sinks are crucial in preventing human activity from causing climatic doom.
The planet isn't the only victim of this ideologically driven enterprise:
Around one million people visit the picturesque Loch Ness, nestled in the highlands of Scotland each year, bringing about £25 million in revenue with them. Most are on the lookout for the infamous monster, but if Scottish and Southern Energy (SSE) get their way the tourists will have something else to look at: the Stronelairg wind farm – 67 turbines, each 443ft high, peppered across the Monadhlaith mountains overlooking the Loch.
Remember what the two top Google scientist in charge of their renewable energy program just said?
We came to the conclusion that even if Google and others had led the way toward a wholesale adoption of renewable energy, that switch would not have resulted in significant reductions of carbon dioxide emissions. Trying to combat climate change exclusively with today's renewable energy technologies simply won't work; we need a fundamentally different approach.
[…..]
"Even if one were to electrify all of transport, industry, heating and so on, so much renewable generation and balancing/storage equipment would be needed to power it that astronomical new requirements for steel, concrete, copper, glass, carbon fibre, neodymium, shipping and haulage etc etc would appear. All these things are made using mammoth amounts of energy: far from achieving massive energy savings, which most plans for a renewables future rely on implicitly, we would wind up needing far more energy, which would mean even more vast renewables farms – and even more materials and energy to make and maintain them and so on. The scale of the building would be like nothing ever attempted by the human race."
But asking someone who has swallowed this story is like beating a dead horse. They will tell me — to my face — that mankind releasing CO2 into the atmosphere is driving weather changes (MRCTV FILE).
I will point out a graph that shows in the past couple of decades man has produced more CO2 combined from the previous 100-years, overlayed to the temperature staying the same for over 18-years (in fact, falling a bit since 2005), and this MAJOR, FOUNDATIONAL belief being shown false doesn't sway their "belief" towards rethinking their previously held paradigm.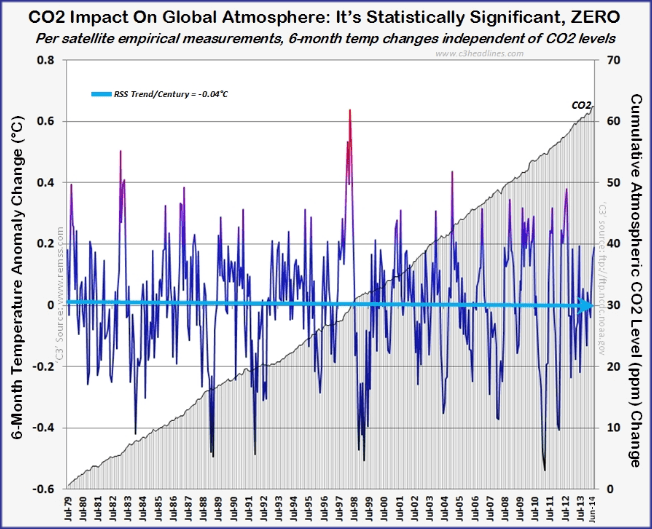 Study-after-study, notes that CO2 productions lags behind temperature rising… not the other way around (as the above video notes). IN OTHER WORDS, many proponents of anthropogenic global warming that view man's harmful creation of CO2 as a driving force behind the issue seem to have the "script flipped," to put it mildly.
Here is just one example of "The Phase Relation Between Atmospheric Carbon Dioxide And Global Temperature," discussed at THE HOCKEY SCHTICK: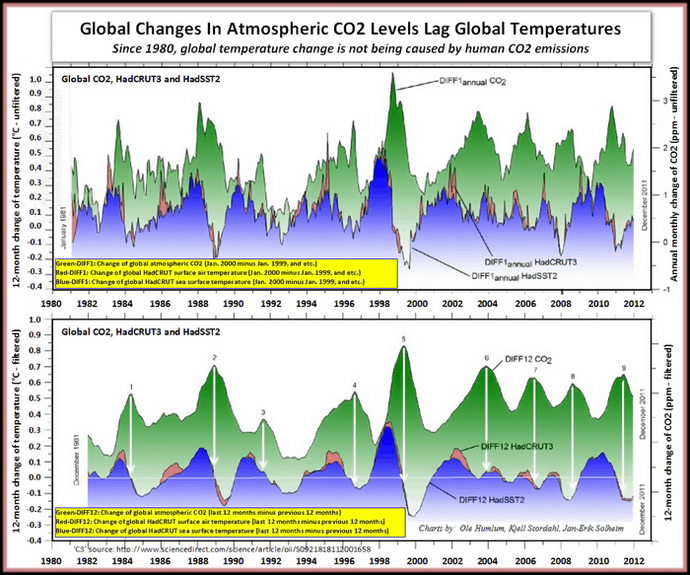 As well as ICE-CORES showing a higher PPM of CO2 in our past than today:
A new stomatal proxy-based record of CO2 concentrations ([CO2]), based on Betula nana (dwarf birch) leaves from the Hässeldala Port sedimentary sequence in south-eastern Sweden, is presented. The record is of high chronological resolution and spans most of Greenland Interstadial 1 (GI-1a to 1c, Allerød pollen zone), Greenland Stadial 1 (GS-1, Younger Dryas pollen zone) and the very beginning of the Holocene (Preboreal pollen zone). The record clearly demonstrates that i) [CO2] were significantly higher than usually reported for the Last Termination and ii) the overall pattern of CO2 evolution through the studied time period is fairly dynamic, with significant abrupt fluctuations in [CO2] when the climate moved from interstadial to stadial state and vice versa. A new loss-on-ignition chemical record (used here as a proxy for temperature) lends independent support to the Hässeldala Port [CO2] record. The large-amplitude fluctuations around the climate change transitions may indicate unstable climates and that "tipping-point" situations were involved in Last Termination climate evolution. The scenario presented here is in contrast to [CO2] records reconstructed from air bubbles trapped in ice, which indicate lower concentrations and a gradual, linear increase of [CO2] through time. The prevalent explanation for the main climate forcer during the Last Termination being ocean circulation patterns needs to re-examined, and a larger role for atmospheric [CO2] considered. (HOCKEY SCHTICK | PAPER)
But really, an increased CO2 has been historically beneficial to our planet, as well as theoretically good for us. See Also, "Dr. William Happer Speaking To The Benefits Of CO2."
This comes by way of Gay Patriot, and shows how scientific the party of science is:
Bypassing Congress yet again, Obama today announced a unilateral imposition of carbon dioxide emission limits for electrical power plants.
Even the NYTimes admits the regulations will have no discernible impact on Global CO2 levels. They will, however, cost $50 Billion per year in regulatory costs, raise energy bills an average of $1,200 per family per year, and destroy 224,000 jobs annually through 2030.
The Administration promises none of those outcomes will happen, but then, they also promised "If you like your plan, you can keep your plan," and "We will be the most transparent administration in history."
Obama is justifying his dictatorial imposition of carbon dioxide regulations partly on the basis that carbon causes asthma and heart attacks.
You read that right. Carbon. Causes. Asthma.
Party of science my ass.
---
Climate scientist Dr. Murry Salby, Professor and Climate Chair at Macquarie University, Australia explains in a recent, highly-recommended lecture presented at Helmut Schmidt University, Hamburg, Germany, why man-made CO2 is not the driver of atmospheric CO2 or climate change.
Dr. Salby demonstrates:
CO2 lags temperature on both short [~1-2 year] and long [~1000 year] time scales

The IPCC claim that "All of the increases [in CO2 concentrations since pre-industrial times] are caused by human activity" is impossible

"Man-made emissions of CO2 are clearly not the source of atmospheric CO2 levels"

Satellite observations show the highest levels of CO2 are present over non-industrialized regions, e.g. the Amazon, not over industrialized regions

96% of CO2 emissions are from natural sources, only 4% is man-made

Net global emissions from all sources correlate almost perfectly with short-term temperature changes [R2=.93] rather than man-made emissions

Methane levels are also controlled by temperature, not man-made emissions

Climate model predictions track only a single independent variable – CO2 – and disregard all the other, much more important independent variables including clouds and water vapor.

The 1% of the global energy budget controlled by CO2 cannot wag the other 99%

Climate models have been falsified by observations over the past 15+ years

Climate models have no predictive value

Feynman's quote "It doesn't matter how beautiful your theory is, it doesn't matter how smart you are. If it doesn't agree with the data, it's wrong" applies to the theory of man-made global warming.
See and Read More HERE