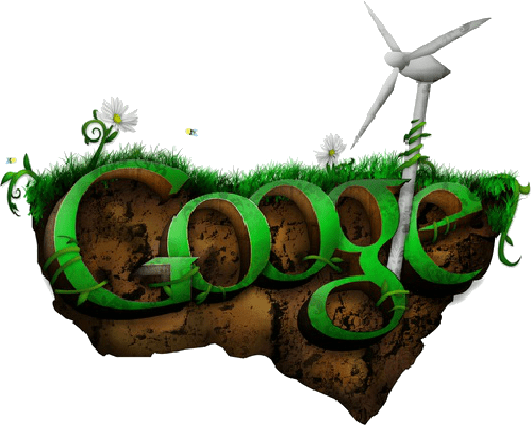 "At the start of RE<C, we had shared the attitude of many stalwart environmentalists: We felt that with steady improvements to today's renewable energy technologies, our society could stave off catastrophic climate change. We now know that to be a false hope… Renewable energy technologies simply won't work; we need a fundamentally different approach." (Spectrum, via What's Up With That)
Via Breitbart, useless venture.
Lets apply to this issue the three magic questions that are never asked by the left:
1) compared to what?
2) at what cost?
3) what hard-evidence do you have?
Now, let's apply this to the newer power plant in the Mojave desert and see if these questions were asked beforehand?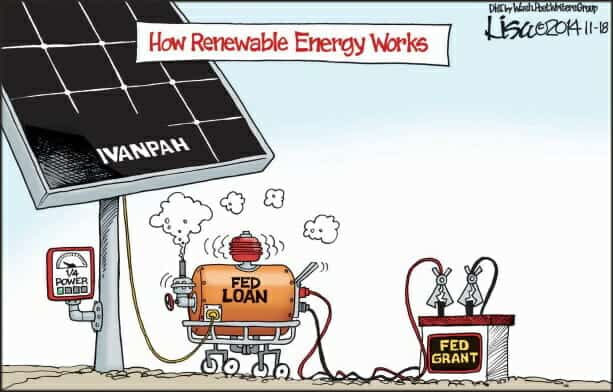 So it seems that these more left leaning environmentalists think it is okay to spend billions of tax-payer money and regulate businesses on ideas that do not work anywhere but in Utopian dreams. Let's end with WUWT quoting these Google Ph.D.s and then segway out with commentary:
"Even if one were to electrify all of transport, industry, heating and so on, so much renewable generation and balancing/storage equipment would be needed to power it that astronomical new requirements for steel, concrete, copper, glass, carbon fibre, neodymium, shipping and haulage etc etc would appear. All these things are made using mammoth amounts of energy: far from achieving massive energy savings, which most plans for a renewables future rely on implicitly, we would wind up needing far more energy, which would mean even more vast renewables farms – and even more materials and energy to make and maintain them and so on. The scale of the building would be like nothing ever attempted by the human race."
I must say I'm personally surprised at the conclusion of this study. I genuinely thought that we were maybe a few solar innovations and battery technology breakthroughs away from truly viable solar power. But if this study is to be believed, solar and other renewables will never in the foreseeable future deliver meaningful amounts of energy.
Apple as well is struggling with it's Utopian — only works on paper — dreams.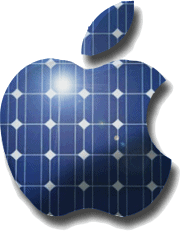 Powerline notes that "yesterday's Wall Street Journal story about the production difficulties of the Arizona supplier that Apple selected to make sapphire screens for the iPhone 6 was fascinating in its own right, but there was one little detail in the story that zipped by too quickly." Continuing they quote the WSJ:
Mr. Squiller, the GT operations chief, told the bankruptcy court that GT lost three months of production to power outages and delays building the facility.
Whoa, show down there a moment: what's this about power outages? I'd sure like to know more of the full story here. Was this simply bad engineering on site, or was there a problem with the local grid or the energy sources supplying the grid in that area? Grid stability is going to be a more serious issue going forward as we compel more and more "renewable" (meaning "less stable") energy as part of the EPA's mania to restructure the electricity sector through the Clean Air Act.