JUMP to CO2 LAGS TEMPERATURE Update!
This update comes by way of POWERLINE:
Actually, there was no study, there was just a press release. And it wasn't 11,000 scientists, it was 11,000 random people who put their names on a web page. But today's reporters are so biased and so incompetent that when it comes to "climate change," they will swallow anything.
A person I know via Facebook posted the following story on his wall: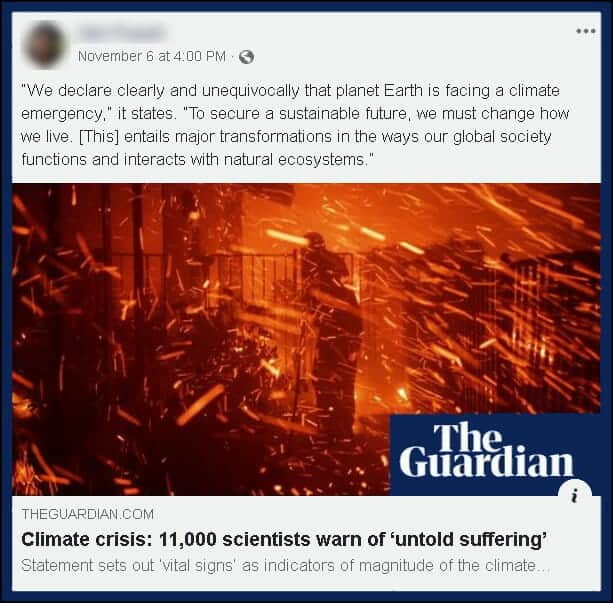 I merely responded (in order to get a response really): "Lolz" (the plural, BTW, for Lol)
I got what I was looking for from my friend, AP:
This kicked off a very short convo… but this is my response to the above:
Since the conversation is short (more to come), I wanted to pause and post some of the commentary on the OP. This comes from BREITBART:
JO NOVA also notes one of the many issues (of course JO gets into the scientific weeds a bit as well:
Who remembers that 15,000 scientists signed some climate declaration in 2017? The same Prof Ripple, and Bioscience probably hope you don't, because two years later there is the same rehashed, but with only 11,000 signatories. So 4,000 disappeared without a trace. There are however, the same comic indefendable graphs. Call it "extreme graphing" — every line needs to be diagonal. All "pauses" are disappearing. No fallacy remains unbroken.
And as JO NOVA notes, and was my point above, "The Petition Project was better done, done years ago, done twice, and has twice as many names on it."
Continuing with JO NOVA:
WATTS UP WITH THAT however, has the best info — to really get you to LOL:
Okay, moving on in the short conversation. AP said the following after my response:
I respond in short:
Here are two noteworthy videos including Dr. Dyson I mentioned later in a convo that I think we were both too busy for (from a larger post of mine regarding CO2):
Renown physicist Freeman Dyson says CO2 does not worry him… montage
Here is a good, layman article discussing AP's last question (which was related to his 2nd to last which I answered):
The benefit of this is relayed in the following via GEM STATE PATRIOT:
More as well:
(Side-Note: JO NOVA has a more detailed critique)
CLIMATE DEPOT has a great post with lots-a-links essentially saying the big 400ppm is really THE BIG YAWN. Here is a small section to respond to AP's thinking that we have never been past the 400ppm mark:
That was it… I saw this as an opportunity to respond to the Guardian OP, as well as add some issues. This is related to the The Medieval Warming Period as well. The following is an UPDATED (tweaked) section of a main post on the issue:
---
CO2 Not The Demon
It Is Made Out To Be
---
But asking someone who has swallowed this story is like beating a dead horse. They will tell me — to my face — that mankind releasing CO2 into the atmosphere is driving weather changes (MRCTV FILE).
I will point out a graph that shows in the past couple of decades man has produced more CO2 combined from the previous 100-years, overlayed to the temperature staying the same for over 18-years (in fact, falling a bit since 2005), and this MAJOR, FOUNDATIONAL belief being shown false doesn't sway their "belief" towards rethinking their previously held paradigm.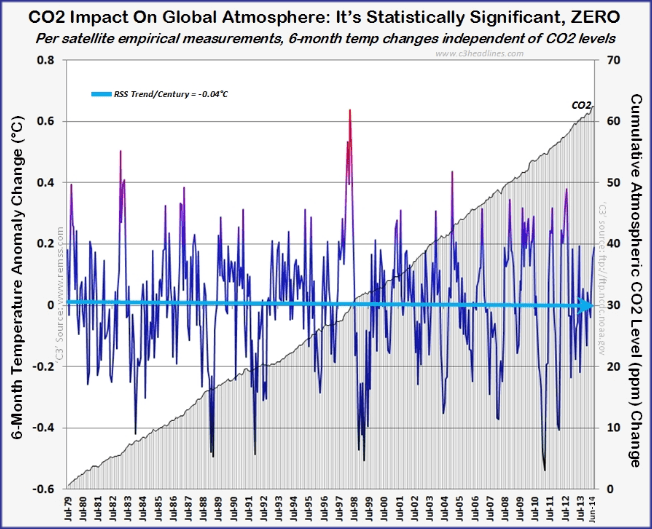 Study-after-study, notes that CO2 productions lags behind temperature rising… not the other way around (as the above video notes). IN OTHER WORDS, many proponents of anthropogenic global warming that view man's harmful creation of CO2 as a driving force behind the issue seem to have the "script flipped," to put it mildly.
Here is just one example of "The Phase Relation Between Atmospheric Carbon Dioxide And Global Temperature," discussed at THE HOCKEY SCHTICK: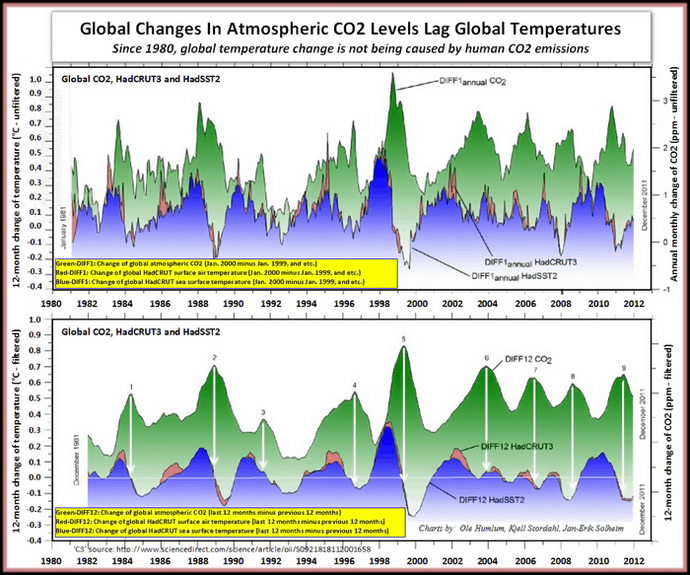 As well as ICE-CORES showing a higher PPM of CO2 in our past than today:
A new stomatal proxy-based record of CO2 concentrations ([CO2]), based on Betula nana (dwarf birch) leaves from the Hässeldala Port sedimentary sequence in south-eastern Sweden, is presented. The record is of high chronological resolution and spans most of Greenland Interstadial 1 (GI-1a to 1c, Allerød pollen zone), Greenland Stadial 1 (GS-1, Younger Dryas pollen zone) and the very beginning of the Holocene (Preboreal pollen zone). The record clearly demonstrates that i) [CO2] were significantly higher than usually reported for the Last Termination and ii) the overall pattern of CO2 evolution through the studied time period is fairly dynamic, with significant abrupt fluctuations in [CO2] when the climate moved from interstadial to stadial state and vice versa. A new loss-on-ignition chemical record (used here as a proxy for temperature) lends independent support to the Hässeldala Port [CO2] record. The large-amplitude fluctuations around the climate change transitions may indicate unstable climates and that "tipping-point" situations were involved in Last Termination climate evolution. The scenario presented here is in contrast to [CO2] records reconstructed from air bubbles trapped in ice, which indicate lower concentrations and a gradual, linear increase of [CO2] through time. The prevalent explanation for the main climate forcer during the Last Termination being ocean circulation patterns needs to re-examined, and a larger role for atmospheric [CO2] considered. (HOCKEY SCHTICK | PAPER)
But really, an increased CO2 has been historically beneficial to our planet, as well as theoretically good for us. See Also, "Dr. William Happer Speaking To The Benefits Of CO2."