This grew from a discussion with an acquaintance from work. It is not meant as a slam but as an opportunity to see if one's accepted beliefs can withstand the heat.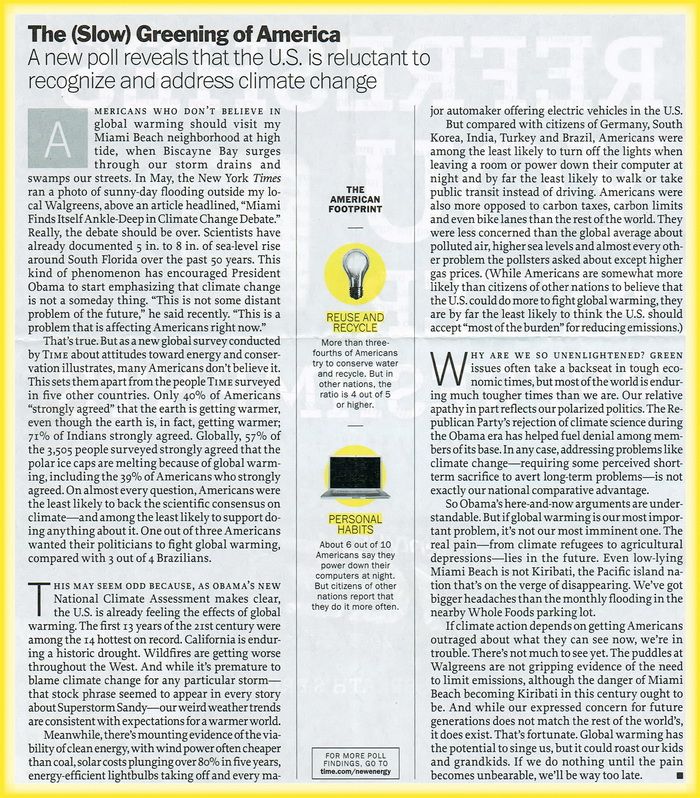 A person I dig, would love to see play the banjo, and generally support gives me articles from time-to-time. The above is one of them (click to enlarge). While I like tremendously the person, his biases are so evident that it never ceases to amaze me he accepts one position without knowing the opposition to such a belief. And it is a belief — mind you — based on what the person accepts from "authoritities"… which is, the legacy media. Or better yet, what makes it to the front-page of a paper and not what is the op-ed portions of the paper which typically offer debate. Because merely accepting a position without critical thinking is the worse kind of faith there is. Even if of the Christian faith:
I was going to refute point-for-point the above article, however, I will concentrate mainly on the conversation that ensued over the article. I will, however, deal merely with one paragraph at the end of this post, and it is this one:
I will return to this later. Continuing.
Chit-chat over the above article provided context on what exactly my friend knew (or didn't know), and is yet another example of his bias hand-fed to him by headlines. The topic of global warming "stalling" (LA Times words: Global warming 'hiatus' puts climate change scientists on the spot) over the last 17-years (almost 18 years now) was unknown to him. The LA Times article states that it may last 30-years.
Truth be told, they have NO IDEA. Why? Because they rely on computer models, not the actual climate.
Computer Models?
Yes, most of the headlines we read are driven by computer models or cherry-picking from one data set and not taking ACTUAL temperatures into account. For instance:
See more on this @ Dr. Roy Spenser's site. (BIO):
Roy W. Spencer received his Ph.D. in meteorology at the University of Wisconsin-Madison in 1981. Before becoming a Principal Research Scientist at the University of Alabama in Huntsville in 2001, he was a Senior Scientist for Climate Studies at NASA's Marshall Space Flight Center, where he and Dr. John Christy received NASA's Exceptional Scientific Achievement Medal for their global temperature monitoring work with satellites. Dr. Spencer's work with NASA continues as the U.S. Science Team leader for the Advanced Microwave Scanning Radiometer flying on NASA's Aqua satellite. He has provided congressional testimony several times on the subject of global warming.
Dr. Spencer's research has been entirely supported by U.S. government agencies: NASA, NOAA, and DOE. He has never been asked by any oil company to perform any kind of service. Not even Exxon-Mobil.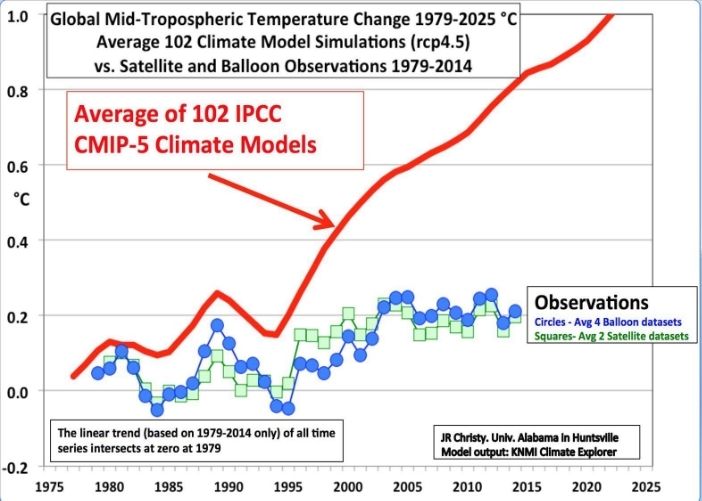 … more on this later. One thing you will notice in reading the LA Times article, every pro anthropogenic [man-caused] global warming person named has a professor, or scientist in front of their name or description. Those who disagree with "man-caused" global warming are merely described as skeptics. ALTHOUGH, you at least get this:
Climate scientists, meanwhile, have had a different response. Although most view the pause as a temporary interruption in a long-term warming trend, some disagree and say it has revealed serious flaws in the deliberative processes of the IPCC.
One of the most prominent of these critics is Judith Curry, a climatologist who heads the School of Earth and Atmospheric Sciences at the Georgia Institute of Technology. She was involved in the third IPCC assessment, which was published in 2001. But now she accuses the organization of intellectual arrogance and bias…
In case you are out of the loop, no warming has occurred in 16-years from when this article appeared in the Mail Online:
There will always be those who cannot admit the obvious, for obvious reasons (CFACT):
I doubt it.
Here is a Patrick Moore quote that shows how the left has politicised the issues we are dealing with above and below:
BIAS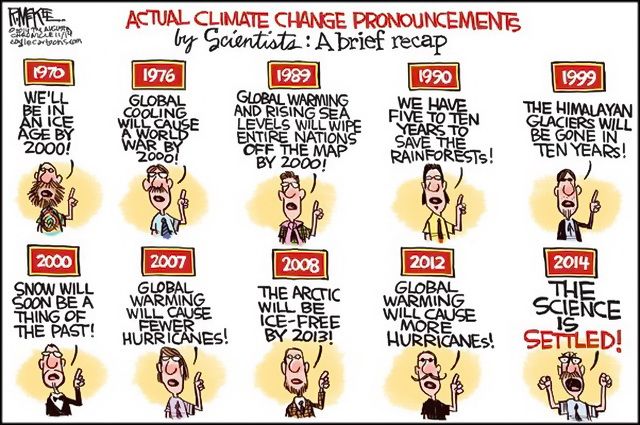 Lets address this BIAS issue, as it came up in discussion. I made the point that in the media you have a culture that is committed to this idea that the earth is getting warmer-and-warmer. In the scientific community however… it has turned into a machine that feeds off the government payroll. Not just our government payroll but the schillings ($$) the U.N. funds such ideas with, and doesn't fund others with. For instance, the United Nations Intergovernmental Panel on Climate Change (IPCC) lead author, Dr. Richard Tol admits no global warming for 17 years ~ rips bias in ipcc ~ the U.N's "inbuilt alarmism made me step down." By the time the report was finished, however, it hadn't warmed for 17 years. In the report we find items like this:
Now, Dr. Tol is not a "climatologist" per-se, but thought of as important enough to contribute to the most recent release of the IPCC report that the Obama admin pumps out Executive Orders over. But here is a small sampling of others who dissent:
Dr. Tol has been smeared though in what many call "climate McCarthyism." Why? Because the "architects of such policies know they have failed, but they have no alternative except more of the same. Maybe it's because their argument is weak that they resort to climate McCarthyism. The cost, apart from higher energy bills, is to democracy, and free speech" (Green 'smear campaign' against professor who dared to disown 'sexed up' UN climate dossier). Even if you believe man is throwing harmful gases into the air, the question becomes this: Can naturally occurring processes selectively buffer the full brunt of global warming caused by greenhouse gas emissions resulting from human activities?
Science Daily answers ~ Yes, find researchers from the Hebrew University of Jerusalem, Johns Hopkins University in the US and NASA's Goddard Space Flight Center.
This doesn't matter to the left… it is "settled science" — or — "the debate is over"
SETTLED?
PowerLine knocks another this out of the park! ~ "'The debate is over' Is A Core Progressive Tenet"
A great article by Charles "the Hammer" Krauthammer, can be found over at the Washington Post. In it, Krauthammer shows that science advances… and really… science is screaming at the climate deniers (the anthropogenic global warming crowd) to "advance."
BIAS or COVER-UP?
Uncovered emails show not merely a bias but a guided attempt to disseminate falsehood in order to push a political agenda. A good synopsis of this "Climate-Gate" comes from Conservapedia, I will include the footnotes as well for people to follow them and read the source material for this synopsis:
There was a "Climate-Gate 2.0," where more emails showed strong collusion to fool the public. The Daily Mail in the UK says this in their headline:
Climategate scientists DID collude with government officials to hide research that didn't fit their apocalyptic global warming
5,000 leaked emails reveal scientists deleted evidence that cast doubt on claims climate change was man-made
Experts were under orders from US and UK officials to come up with a 'strong message'
Critics claim: 'The stink of intellectual corruption is overpowering'
Scientist asks, 'What if they find that climate change is a natural fluctuation? They'll kill us all'
More than 5,000 documents have been leaked online purporting to be the correspondence of climate scientists at the University of East Anglia who were previously accused of 'massaging' evidence of man-made climate change.
Following on from the original 'climategate' emails of 2009, the new package appears to show systematic suppression of evidence, and even publication of reports that scientists knew to to be based on flawed approaches.
And not only do the emails paint a picture of scientists manipulating data, government employees at the Department for the Environment, Food and Rural Affairs (Defra) are also implicated.
One message appeared to show a member of Defra staff telling colleagues working on climate science to give the government a 'strong message'. The emails paint a clear picture of scientists selectively using data, and colluding with politicians to misuse scientific information….
I will venture a guess that my friend has never heard about this either. Why? Bias… collusion… culture… money from government… on and on. But the above is always swept away with monikers like "extreme view," "deniers," "climate-skeptics," etc.
Here is Richard A. Muller, professor of physics at the University of California, Berkeley, explaining the issue with Climate-Gate:
If its not in Time or other sources considered to be the "Legacy-Media," it must be extreme. ("Extremism" will conclude this rather long post.) To wit, lets deal with two claims from that paragraph from Times near the top. The first one (topic a) I wish to deal with is the statement that "our weird weather trends are consistent with expectations for a warmer world." The author sorta rejected Superstorm Sandy as being caused by global warming but then attributed it to a warming world. A few things about this.
TOPIC A
First, we haven't been warming. A simple enough fact.
Secondly, weather, especially tornadoes and hurricanes have lessened over the years. In other words, if Michael Grunwald (the author of the Time article) says weird weather is a indicator, an evidence for, that warming weather is something we should be fearful of and act on, what is normalizing weather and no warming suppose to indicate… OTHER THAN the whole premise of the article in a major magazine is undermined.
This candid admissions from the New York Post:
But keep in mind, our total Co2 (carbon) emissions is no laughing matter:
Besides the Global Warming crowd blaming everything on it (even the violence in the "arab spring"!), its failed predictions about no ice in the north-pole, no more snow in europe, islands drowning, polar bear numbers, and the like… Al Gore's claims about Hurricanes is [again], laughable, to wit: when you even lose Jeraldo Rivera, your leftist stance may be very laughable:
To be clear, this is a 60-year low… and we have increased carbon output in the past 15-years almost as much as the previous 60-years.
Via WUWT (the below and above):
ALL THIS WHILE WE PRODUCE THE MOST CO2 EVA!
Another indicator the main premise of the theory is wrong.
So I will restate more clearly: C02 follows temperature change… it doesn't lead it. That big giant ball-o'-flame in the sky has much more to do with climate change than Exxon… who has less impact on the enviro than volcanic activity (mankind that is). Below is another recent advancement in understanding out climate (more here):
The next issue I want to challenge is the idea that the 21st century has been the hottest string of years on record. It has not. Take this two sets of data that many reporters and the general public draw from (to the right).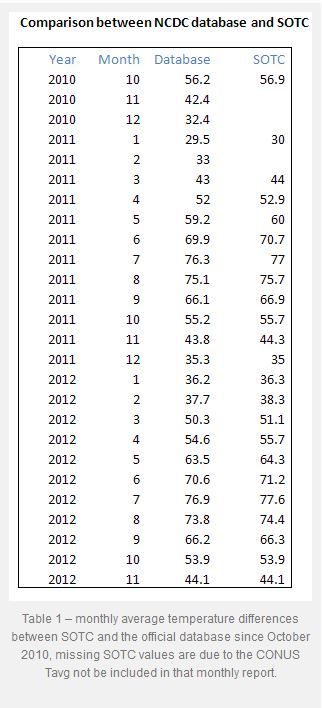 Even the Wall Street Journal chose the higher temperature reading to say that July of 2012 was July was the "hottest month in the contiguous U.S. since records began in 1895." WUWT found this on accident and it has led to quite a few other revelations as we will see. Here is description in part of what we looking at:
The Wall Street Journal made a graph showing this record setting month (left). The more accurate temperature for July likewise is shown in the same graph (right):
This looking at the data sets chosen and what is used and isn't used to support an idea that fails in every way. Combine this obvious cherry-picking with the bias, collusion, and charges against the report that the President used to route Congress, all show we have a problem Houston! But this is only the tip of the proverbial iceberg. It seems the NOAA has been skewing these temps for some time. Why? Because the left uses this as a way to promote an ever growing government and the scientists get more-and-more funding. This data fudging story is newer, and it is evolving quickley, including this newest post via Real Science where Steve Goddard notes that More Than 40% Of USHCN Station Data Is Fabricated. Here is Dr. Judith carry's synopsis (excerpted), in which she critiques a bit Goddard's post… but then bows to the evidence:
So here is a post of mine [from last week] that shows the outcome of correcting the information WITH THEIR OWN DATA!
---
The NASA US historical temperature record has changed significantly since 1999, to create the appearance of warming. Previously the NASA records showed the US cooling since the 1930s.
This comes with a h/t to Drudge!
When future generations try to understand how the world got carried away around the end of the 20th century by the panic over global warming, few things will amaze them more than the part played in stoking up the scare by the fiddling of official temperature data. There was already much evidence of this seven years ago, when I was writing my history of the scare, The Real Global Warming Disaster. But now another damning example has been uncovered by Steven Goddard's US blog Real Science, showing how shamelessly manipulated has been one of the world's most influential climate records, the graph of US surface temperature records published by the National Oceanic and Atmospheric Administration (NOAA).
Goddard shows how, in recent years, NOAA's US Historical Climatology Network (USHCN) has been "adjusting" its record by replacing real temperatures with data "fabricated" by computer models. The effect of this has been to downgrade earlier temperatures and to exaggerate those from recent decades, to give the impression that the Earth has been warming up much more than is justified by the actual data. In several posts headed "Data tampering at USHCN/GISS", Goddard compares the currently published temperature graphs with those based only on temperatures measured at the time. These show that the US has actually been cooling since the Thirties, the hottest decade on record; whereas the latest graph, nearly half of it based on "fabricated" data, shows it to have been warming at a rate equivalent to more than 3 degrees centigrade per century….
---
Which is why this will be known as the hoax of the century:
UNLESS, that is, the masses believe more-and-more that climate skepticism is truly evil, as David Suzuki believes, jail will soon await:
Richard Tol, Leslie Woodcock, James Lovelock, and others all feel the sting of the machine they were a part of. A part of because these and other men-and-women specialists have abandoned what they previously supported as being true. But this machine they helped build has a way of growing too large to fail. And it is biting them in the ass!
This comes way of WUWT, and highlights the tendency of the Left towards totalitarian thinking in order to make their vision "work.
Reason.org ends with a great commentary on this freedom restricting idea of the above lunatic:
Its funny how the left HATES profit.
---
CONSENSUS (97%)
Below is another item we spoke of, and it is that of "consensus." I have previously posted on it, of which a portion of what is below is from THAT post, which was born from a debate via FaceBook. But I also recommend the Wall Street Journal article by Dr. Roy Spencer [remember his bio was up this page a bit] as well as WUWT topic on the matter. Climate Depot has a list of his posts as well.
Warming has stopped longer than that! About 17-years. So, Sen. Inhofe asked the EPA for any stats to back up this claim… the predictable outcome is seen below, and shows how the reasoning displayed by politicians in this debate are circular
Not only is the consensus wrong, and even the EPA cannot answer simple questions to defend Obama's statement that the earth has warmed at an alarming rate over the past decade when it has "stalled" or cooled over more than a decade. But below (linked in the cartoon) are peer reviewed counter claims or challenges to the consensus that the 97% claim ignored.
† The list has been cited by Scientists (1, 2) and Professors (3)
A BAD DREAM
WASHINGTON (WNB) – As radical Islamic forces continue to rapidly overtake Iraq, Secretary of State John Kerry gave an impassioned speech today about the dire threat facing the world.
Later, when asked about the situation in Iraq, Kerry replied, "We're closely monitoring the effect on the climate and fish in the area."