This post will be an extended rebuttal to a portion of a much longer discussion. It is in response to the cartoonists website, SKEPTICAL SCIENCE, which has been responded to in a manner that should undermine it's validity. But alas, it does not. So first let me post the graphic that caused the person to run to this propaganda site for a rebuttal: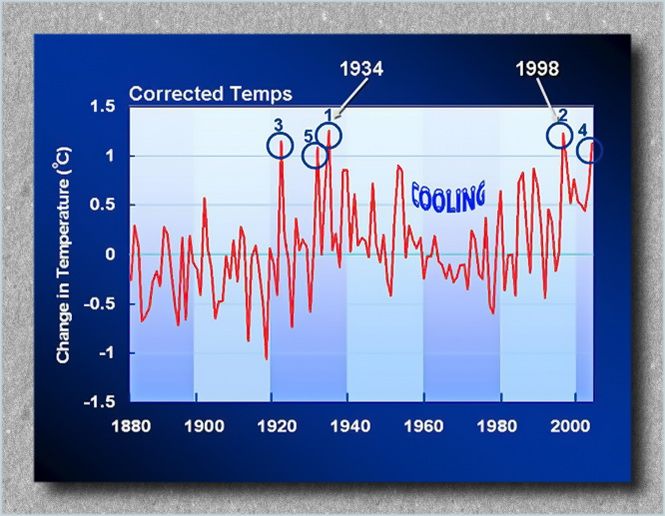 This graphic is from a larger conversation I had with a friends father about various issues, one being that 2014 was the hottest year ever. The response is here:
(Here is a good response to 2015 being the Hottest year after 2014) Here is an excerpt from the article:
There are some preliminary thoughts on this before we get into the "nitty gritty." First, in 1933-1936 (the heat wave and wild weather span), how many countries or persons were recording weather and temperature anomalies? Common sense says that of course, not nearly as much as today. We only started measuring with satellites since 1979. Another head-tilter would be have or did the NOAA or NASA previously note other years as warmer — in the past? We will find this out as we go along.
As you read this stuff (follow links to stories, and the like), that some sites just use the basic data without correcting it. I will discuss this later in the post… but first and foremost, are there reports from those years showing temperature and weather anomalies from around the world? Yes. Here is some evidences:
HEATWAVES – 1935
DROUGHTS – 1935
FLOODS – 1935
Mind you, this is a small sampling from THE NO TRICKS ZONE, many more examples can be found at C3 HEADLINES, as well as a site documenting the United Kingdom's weather for some years. So it seems that we are looking at a few year GLOBAL weather pattern. AGAIN, we did not have satellites then so we can rely on eyewitness accounts such as these.
However, I wanted to comment on some of the wrong data being used or fudged data to make climate look worse now than in the past. I have to thank the person I was discussing the issue with, because he had posted a story linked to the journal, Nature. All it had was an abstract, and while I am a member of the AAAS, the Nature journal subscription was too much. There were also a list of corrections, so I asked him for either a full article and/or some links to the corrections. Lo-and-behold he gave me a link of a corrected graph that worked in my favor:
The red area is what concerns me… but even with it is has been warmer in the past (to note the bottom line). A professor at Berkeley notes that there is a collusion between some to hide the data that counters the narrative from the "warmists." Mind you, the following video is for 2014, but I will make a point afterwords:
MRCTV BLOG notes the following that will throw a stone into the shoe of the left about 2015 being the hottest year. Remember, the internet never forgets!
I will continue with WATT'S UP WITH THAT'S commentary:
The National Center for Policy Analysis, mentions a change a few years back:
Here we see raw data vs. messaged data run through a hopper. In 2007 NASA adjusted it's U.S. findings to match the real data:
Is 2014 The Hottest Year? No (Part 2 of a Series)
Here is another post of mine continuing the data set corruption that has been clearly proven. This post is intimately connected with a previous one:
EQUIPMENT FAIL
More than half of the stations the NOAA use are tainted or wrongly placed equipment. Here is an example of a well maintained station with data sets:
Here is data sets corresponding to a site where heat corrupts the data:
Here are even more corrupt examples of these stations placed next to air conditioner outlets, next to burners, next to lights that glow at night, asphalt surrounding them and buildings that radiate heat as well as block wind (NOTE this continually growing accumulation of these sites at WUWT):
CHANGING DATA-SETS
Another example of changing averages was noted by Steve Goddard and others — even the NOAA have acknowledge it — have been discussing recently is exemplified in Dr. Judith Carry's post on the matter (from a larger post of mine):
---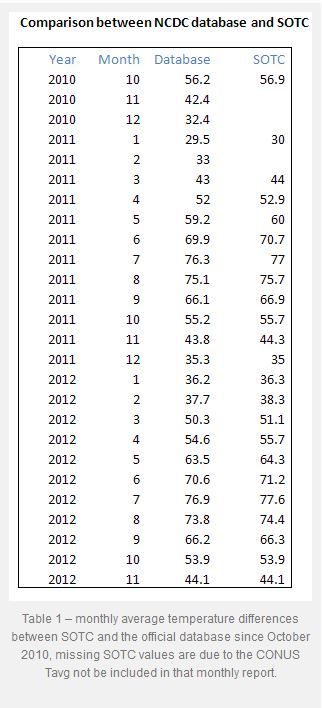 | | |
| --- | --- |
| | |
This looking at the data sets chosen and what is used and isn't used to support an idea that fails in every way. Combine this obvious cherry-picking with the bias, collusion, and charges against the report that the President used to route Congress, all show we have a problem Houston! But this is only the tip of the proverbial iceberg. It seems the NOAA has been skewing these temps for some time. Why? Because the left uses this as a way to promote an ever growing government and the scientists get more-and-more funding. This data fudging story is newer, and it is evolving quickley, including this newest post via Real Science where Steve Goddard notes that More Than 40% Of USHCN Station Data Is Fabricated. Here is Dr. Judith carry's synopsis (excerpted), in which she critiques a bit Goddard's post… but then bows to the evidence:
---
So we see in the above, that temperatures can be changed years later as the totality of the data is included. What was considered the hottest falls to just an average month in the heat index.
And this has — within the past few months — turned into a very large debate.
EQUIPMENT FAIL II
Here is another example of older/faulty equipment:
The bottom line is that those wishing to expand regulation and laws and taxes on the rest of us fudge the facts. But facts-are-facts. And the ship is sinking for these lefties.