I have for years and years (after years of studying cults and political movements, and personal contacts over the year and almost a half I spent in jail with many involved in these racist movements) noted the proclivity of the KKK and other white supremacist groups to vote Democrat (3 of the 4 largest supremacy groups told their followers to vote for Obama, as one example. Another is the Grand Dragon of California telling his peeps to vote for Hillary. [I have a myriad of them]).
IN FACT, almost the entirety of racist groups (no matter the ethnicity) vote Democrat.
BUT NOW not only have I shown [via Dinesh D'Souza's interview] that the favorite example of the leader/founder of the "Alt-Right" according to the MSM and Democrats is an avowed socialist Leftie — Richard Spencer. WHO…. has just endorsed…. Joe Biden for President. Of course he has. This from PJ-MEDIA: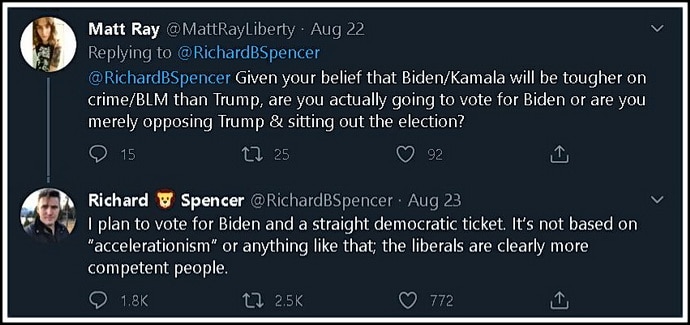 At the WASHINGTON EXAMINER they note the story in more depth:
Here are some of the mistakes that Spencer was unaware of in his trolling…
Trump was pro-Israel, one of the most pro-Israel President's in this countries history. White Supremicists hate Jews and Israel:
In the summer of 2017, Spencer was the organizer of the march at the University of Virginia that featured Nazis with torches who chanted "Jews will not replace us," "Blood and Soil," and "sieg heil."
The Democrats have been reliably anti-Israel and supportive of anti-Semitic movements such as BDS. Trump has religiously Jewish family members to boot!
Trump helped blacks excel by his policies, for example (Aug of 2018):
Democrat taxation and regulation will now hurt these black businesses, not to mention that Trump's policies lowered black unemployment to record lows. RED STATE also notes that Trump broke with GOP tradition in a bold policy outreach to the black community:
---
MEDIA and SUPPORT for CLAIMS
---
SEE ALSO
SPENCER'S OWN WORDS
Dinesh's interview can be seen here (see also GATEWAY PUNDIT):
Some of my studies were noted HERE, scroll down past the video seen. Here are a few excerpts from my post:
RPT
---
EXCERPT
---
[…..]
After the triumph of the civil rights movement and the introduction of a series of civil rights laws, the Klan broke up into various subgroups. Previously these KKK members were Democrats and they continued being so after.
"

…virtually every significant racist in American political history was a Democrat." — Bruce Bartlett, Wrong on Race: The Democratic Party's Buried Past (New York, NY: Palgrave MacMillan, 2008), ix;

"

…

not every Democrat was a KKK'er, but every KKK'er was a Democrat." — Ann Coulter, Mugged: Racial Demagoguery from the Seventies to Obama (New York, NY: Sentinel [Penguin], 2012), 19.
People do not realize why these groups, especially the KKK, vote Democrat. For instance, out of the four leaders in the "white-power" movement (the KKK subculture) with the most followers, three told their peeps to vote Democrat (Actually, then it was them telling their followers to vote for Obama in 2008).
[…..]
Reason Three
They HATE (H-A-T-E) Israel, and this is a reason they tend to support Democrats. For instance, on his YouTube, David Duke endorsed Charles Barron for Congress (video on the left). Another endorsement for Hillary was from a KKK leader here in California (right video).
So attributing racism to the GOP is silly, because as a whole, the almost 8,000 KKK members nation wide vote Democrat. AS DO ALL THE OTHER RACIST CULTS IN AMERICA (*booming megaphone affect in a cave*). NOT TO MENTION where all the hub-bub is when all these hate groups vote for Democrats in years past?
In other words, WHY is it only "newsworthy" when they vote for Republicans and not for Democrats?
I smell something fishy here.
I can continue, but this post is already long enough. On the racial issues, I suggest my page entitled: U.S. RACIAL HISTORY. This page deals with the supposed party switch by racist Democrats to Republicans, slavery, American Indian narratives, some VERY PROUD BLACK HISTORY in our country… and the like.
Recap
Again, let's recap for clarity some of my reasons white racist/nationalists cults vote Democrat:
They are typically socialist in their political views, and thus support the welfare state for personal financial reasons (poor) and ideological reasoning (socialist); or for the reason that it is a way of controlling minorities (racist reasoning). A modern plantation so-to-speak; There is a shared hatred for Israel and supporting of groups wanting to exterminate the Jews (Palestinians for instance).
This is why a majority STILL supported Hillary Clinton over Donald Trump. She is a socialist at heart, wants a big welfare state, and does not like Israel as much as Trump, who has kids practicing the Jewish religion. Thee ONLY issue a racist could want to vote for Trump on is his immigration policies… hardly a racist position. It has only now become an issue of bigotry and racism because the Left has moved the goal post in the use of language. Racists no longer means "genetically superior," rather, it mean you disagree with a Democrat and/or hurt their feelings. Otherwise, these people would be RACISTS!
---
END
---
Here are some other examples (recent as well as old):
Duke has continued his support of Gabbard via social media, updating his Twitter background asking, "Tulsi is being unjustly banned from the Dem Debate. Why?…She opposes the insane Neocon wars!" (NEWSWEEK)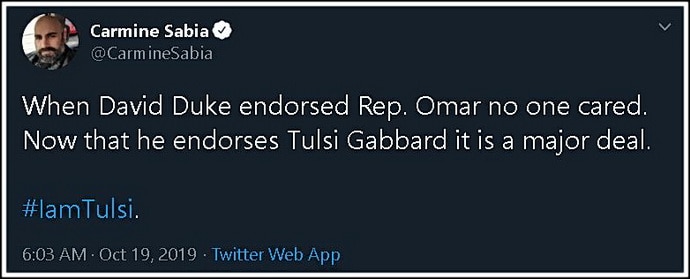 More from SARAH PALIN:
D'SOUZA
ZO
BRET STEPHENS
This comes from the NEW YORK TIMES article entitled:
The Progressive Assault on Israel: A movement that can detect a racist dog-whistle from miles away is strangely deaf when it comes to some of the barking on its own side of the fence.