This is part of a conversation that was ongoing over the past few days. It started out because a friend posted about how childishly awful these riot were. J.D. rightly noted the same childlike behavior when Obama won — at least partly right. So I simply noted some of the differences. There were not wide-spread violent attacks by pre-and-post Obama like there were for Trump. Another difference is the GOP did not fund through shell activists groups these activities, like the DNC did as well as Hillary's campaign. I noted that one of the signs he used as an example of this equal behavior was in fact a sign made by the political cult of Lyndon Larouche.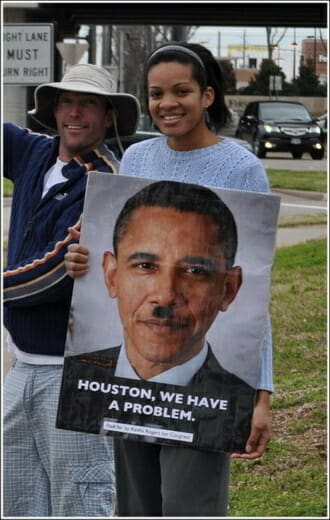 Larouche founded the U.S. Labor Party in 1971, and in his eight-campaigns throughout his career, some being bids for the Presidency, he ran either as a Democrat or with the support of Democrats. In fact, this black woman, Kesha Rogers, pictured to the right was the Democratic nominee (and won) for a Texas district. She is part of the LaRouche "movement" — well, political cult. These signs are from the "LaRouchites," and have been featured as proof of racism by MSNBC and others at Tea Parties. During Bush's Presidency however, similar posters were made depicting him as Hitler.
Another difference I pointed out was that the T.E.A. Party was started/founded to oppose Bush's T.A.R.P. program. Not to oppose the first black President as the media like to portray them. With each successive "bailout" Obama enacted, the T.E.A. Party grew. The reason why can be seen in the acronym of the name: taxed enough already (T.E.A.). But even to say "cut taxes" is racist now. And this labeling comes up in the below conversation and is one of the reasons people voted for Trump. They are tired of the unfounded hyperbole used against them.
The point was pressed, partly by me that his characterization of white-nationalist charges attributed to Trump and his people are unfounded, whereas my studies of Obama's church of Twenty years is well founded for me to say "Obama went to a NAZI "style" church for twenty years. (You can go here for more of what I used for examples: HOT-TUB CONVERSATIONS).
Of course the very next point by J.G. was the ever vaunted KKK. I knew it would come. Leftists are soo predictable. This is where we pick up the convo which is mainly myself, as, J.G.'s comments were short and merely calling people names — essentially. Take note that I may add media and emphasis that FB does not allow via its platform:
I continued after his posting a link to Stormfront, a racist online site used by white power groups…
As an aside. Just to make a distinction between the Nation of Islam (NOI) and the many — very small — factions of the white supremacy groups. Since there are many small groups of white racists, their "leaders" are just heads of their chapter. They do not view them in any messianic way, or take their word as "set in stone." NOI on the other hand is a cult in the truest sense of the word. They do look to Farrakhan in a messianic sense. And if he says vote Trump, probably 100% of his people will. Whereas the percentages for voting Republican in the white nationalist cults would swing a bit toward voting GOP, but not in a unified block.
Someone asked J.G. the following in regards to J.G.'s previous responses and interaction with me and others:
"Are you ok man? I mean seriously … you sound like you might need some help."
J.G. responded:
I'm fine. Excited for the long overdue implosion.
To which I then note the following:
He then continued by merely noting I was an Evangelical (he meant it derogatorily, I am proud of my Evangelical heritage). This is a common position taken by the Left as Wikileaks noted in released emails with the higher ups in the Hillary Campaign), and mentioned a graphic/shirt I own that says straight pride. Yes, if there is such a thing as gay pride, there can be such a thing as straight pride.
I continued to enlighten him: