SAME-OL-SAME-OL. Pelosi was reelected as leader, serious consideration for Keith Ellison DNC Chair (a racist/segregationist and cult member – see also: "Louis Farrakhan's First Congressman" and "The Ellison Elision."), and the "head-bobbing – womansplaining" Pocahontas speaking down to all Americans (she is the 2020 choice so far of the Bernie people). We will win more ground in 2020 at this rate… IF, "the Donald" doesn't effe it up.
— Must Listen to the Previous Panel Discussion —
A trifecta is when a Party controls both state houses AND the governorship. Here is the post-2016 map to show states that have this: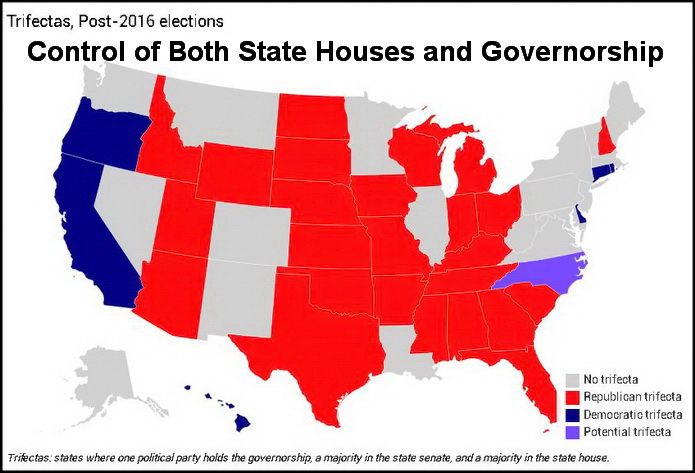 I think this is a good indicator that the general public is rejecting the PC, gender-politics and tendency to label every thing as sexist, intolerant, xenophobic, homophobic, Islamophobic, racist, bigoted (S.I.X.H.I.R.B.). Hillary even saying all white people are essentially racist, supporting anti-Semitic groups like Black Lives Matter, allowing men into women's bathrooms with parents daughters, etc.
And so each election season something is happening across our nation:
Pre-2016 Trifecta

Pre-2014 

Trifecta

Pre-2012 Trifecta

Pre-2010 Trifecta
I love these maps. It was something I was made aware of (trifectas) by Michael Medved and his statistician historical mind back in 2010. But I haven't really kept up on it… till this Victor Davis Hanson article, from which I include an extended excerpt:
Here is the map of Republican Governors: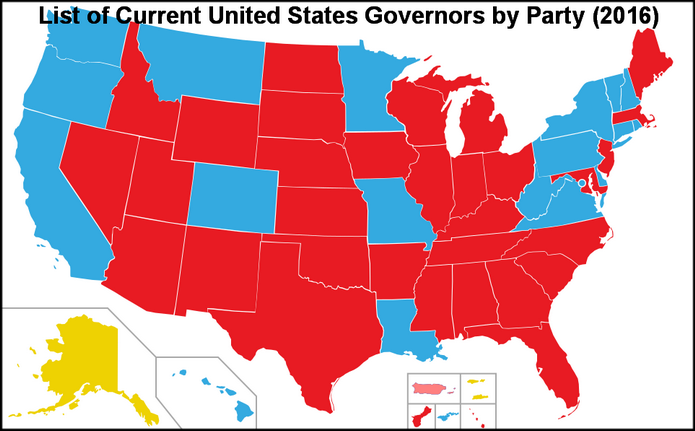 As the liberal agenda becomes more brash and evident, I am seeing a slow change in demographics. Which is great in many respects.