Here's a video compilation of the original vaccine narrative (aka promise) from early 2021. https://t.co/e82wKb17to pic.twitter.com/W1yRxPkKyI

— Dr. Martyupnorth® – Independent Fact Checker 🇨🇦 (@Martyupnorth_) December 17, 2021
FIRST, some studies showing how vaccines impede spreading and heart issues…. then some stories.
myocarditis
This first article is via FLOPPING ACES, and is worth reprinting some of it herein: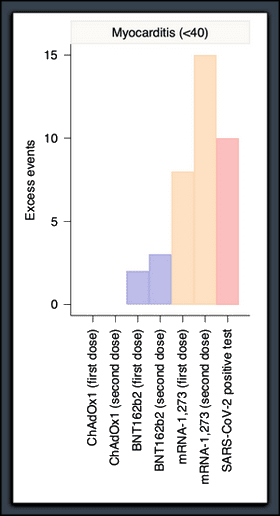 This was the key figure in a Nature Medicine paper published on Dec 14, 2021. It showed clearly that myocarditis after vaccination (in this case, Moderna dose 2) was higher! than myocarditis after sars-cov-2 infection for people <40.
But the story does not end there…
[Graphic To The Right]
There were a few remaining issues. While the denominator for vaccines is known with precision, the true number of infections is unknown. Many people don't seek testing or medical care. So the red bar above will be shorter if you used a sero-prevalence (aka the correct) denominator. The authors needed to fix this.
The other problem is that this analysis lumps together men & women, while men have the greatest risk. Well, the authors are back with a new pre-print to fix this point, and here is what they find.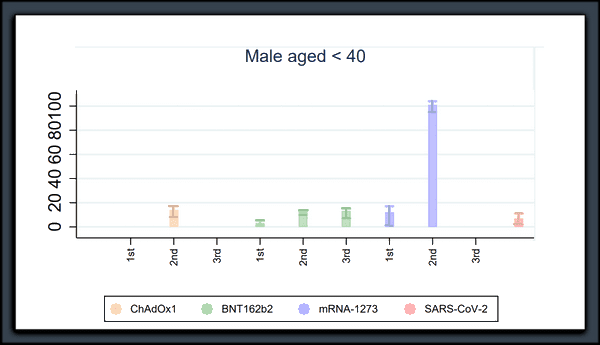 It is now clear for men <40, dose 2 and dose 3 of Pfizer have more myocarditis than sars-cov-2 infection, and this is true for dose 1 and dose 2 of Moderna.
Pfizer boosters (Dose 3) have more myocarditis for men <40 than infection.

Myocarditis post infection is more common as you get older, in contrast with myocarditis post vaccination, which is more common as you are younger (reverse gradients)
But the truth is STILL WORSE than these data.
If the authors fixed the denominator for viral infection (i.e. used sero-prevalance), it would look even worse

If the authors separate men 16-24 from 12-15 and 25-40, it would likely look worst in 16-24 age group.
But regardless, these findings already clearly dispel the true misinformation online: Yes, sorry to break it to you, vaccines can have risks of myocarditis EXCEEDING risks of myocarditis from infection. Pls stop saying otherwise…..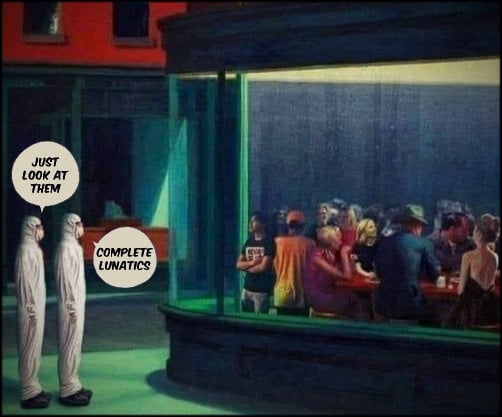 INCREASED INFECTION RISK
This other story comes by way of RED STATE and deals with how vaccines increase the risk of contracting Omicron:
……In South Africa, nearly every early case of Omicron was in fully vaccinated people, despite only 23.8% of the population being vaccinated at the time. While that data would suggest that vaccinated people are more likely to be infected with Omicron than the unvaccinated, I stopped short of saying that because it was still very early in the spread of Omicron and the data could change. What was clear, though, was that South Africa was in the midst of an outbreak of a new and more transmissible variant.
Again on December 13th, I tackled this myth that Omicron was going to make it worse in the US, by updating that data out of South Africa, this time showing that there was even more data to suggest that not only was Omicron nowhere near as severe as the fear-nibarbital consuming cultists want you to believe. With an astounding 1100% increase in cases, South Africa only had an 8.32% increase in deaths. Again, at the time, South Africa's vaccination rate was below 25%. Meanwhile, the United States, with more than double the vaccination rate of South Africa, has nearly twice the new caseload and five times the rate of death from COVID than that of South Africa. That data would suggest that being vaccinated makes you more likely to be infected with Omicron than being unvaccinated.
Making such a bold claim was something I still held short of actually doing as I feared earning the undeserved eye of social media fact-checkers, who could ban the link or label it as misinformation. It wouldn't be the first time a vaccine has made the situation worse either, as admitted by Anthony Fauci early in the pandemic. As I reported December 15th, Fauci said during a Facebook Live event with Mark Zuckerberg in March 2020 that vaccine development must include the potential that vaccines could make people worse. While I had my suspicions that the vaccine may actually make you more likely to be infected with Omicron than being unvaccinated, I was careful to make sure that I made clear I wasn't specifically stating that.
"Yet, while I claim that the vaccine lacks the efficacy they suggest it has, I have never said that the vaccines could make it more likely that you're infected with COVID-19."
Fauci went on to state that vaccines which he supervised the development of, "actually made individuals more likely to get infected."
Now, data from a new study suggests negative effectiveness, that is the very thing Fauci warned as a potential: a higher likelihood of being infected with Omicron than if you had simply been unvaccinated, 90 days after being vaccinated. The study, entitled "Vaccine effectiveness against SARS-CoV-2 infection with the Omicron or Delta variants following a two-dose or booster BNT162b2 or mRNA-1273 vaccination series: A Danish cohort study," shows that both mRNA vaccines maintained a better than 50% effectiveness against previous variants of COVID-19, that effectiveness drops to nearly zero 60 days after the vaccine is administered and actually provides a negative response after 90 days. In fact, initial vaccine efficacy against Omicron for both vaccines tested was below that of the effectiveness against Delta after more than 90 days.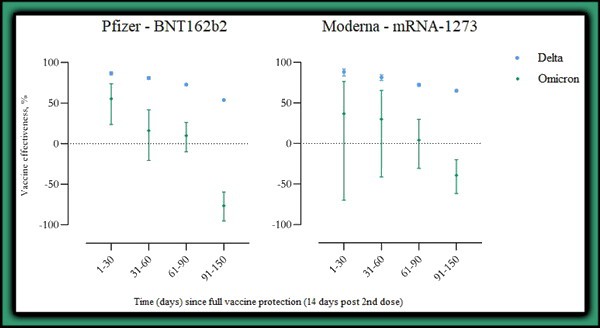 When factoring for the confidence interval, both vaccines show a potential of causing negative effectiveness after 30 days, and the data show that only the Pfizer vaccine has results that indicate a positive effect for the first thirty days. Moderna's vaccine consistently shows the potential of cause in negative results, that is, a higher likelihood of infection, from the date of vaccination forward.
---
STORY TIME
---
These should be taken with the above for a deeper understanding.
USS Milwaukee
Coronavirus Outbreak Sidelines Ship Whose Crew Is Fully Immunized, Navy Says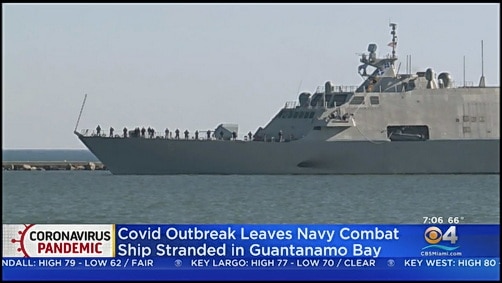 A coronavirus outbreak aboard the USS Milwaukee, whose entire crew was "100 percent immunized," has forced the ship to remain in port after a scheduled stop in Cuba barely one week into its deployment, the Navy announced Friday.
An unspecified "portion" of the Milwaukee's 105-person crew is isolated aboard the ship at Naval Station Guantánamo Bay, according to Cmdr. Kate Meadows, a spokeswoman for U.S. Naval Forces Southern Command. The Navy does not disclose infection counts "at the crew/unit level," she said in an email.
Some of the personnel who tested positive for the virus have displayed mild symptoms, Meadows said. Officials have not determined whether the highly transmissible omicron variant — which has demonstrated an ability to evade coronavirus vaccines, leading to a surge in breakthrough infections — is responsible for the Milwaukee's outbreak…..
While there has been an amazing amount of soccer player deaths since forced vaccinations, here are four deaths just in a week: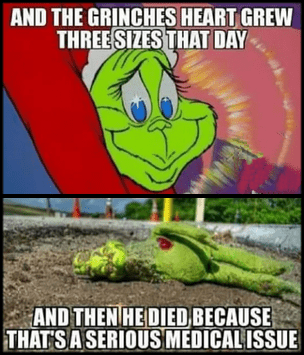 SOCCER DEATHS
Four young international soccer stars died this week after suffering a sudden heart attack.
Croatian footballer Marin Cacic, Oman international player Mukhaled Al-Raqadi, Egyptian goalkeeper Ahmed Amin, and Algerian football player Sofiane Loukar all died this week, the COVID world reported.
In fact, if this look at past deaths is accurate… all the evidence points to a change recently…. which would be vaccinations:
An investigation of available data shows that worldwide football / soccer match cardiovascular deaths in 2021 are 278% higher than the 12-year average, and analysis further indicates that the vast majority of excess mortality in the UK this year has been due to cardiovascular, immunological and neurological damage caused by the Covid-19 injections.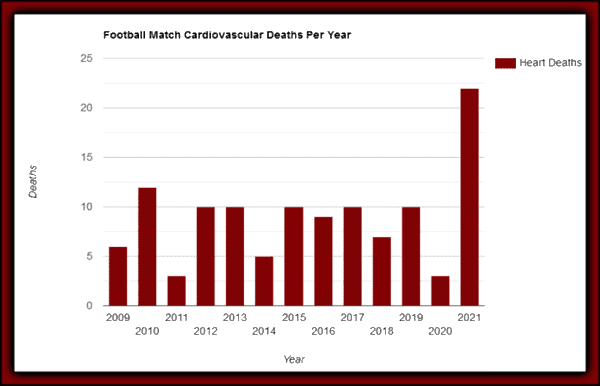 [….]
SUMMARY:
If you combine –
The 8 year clinical study paper of Dr Steven Gundry given to the American Heart Association in Boston showing that vaccinated people have a 127% increase in Cardiovascular risk

The whistleblowers evidence given to Dr Malhotra

The Analysis of Dr Campbell requiring MRI scans to confirm the results of Dr Gundry, which scans exist according to the whistleblower of Dr Malhotra

The 178% increase in cardio vascular football player deaths this year compared to the 12 year average and many have not even had the vaccine. So the true danger to the vaccinated players is much higher.

The 2:1 ratio of cardiovascular deaths found in the vaxxed compared to the unvaxxed in the original Pfizer clinical vaccine trial

The totally unacceptable yet admitted rises in heart attacks and strokes and myocarditis and pericarditis in children who hitherto have not suffered from such malaises.

The addition of the heart attack drug Tromethamine to children's Pfizer vaccinations.
Then you are dragged to the inescapable conclusion that mRNA vaccines more than double the heart attack risk in sedentary people and more than triple the rate of heart attacks in athletes (since many wisely remain unvaccinated).
Add to that the extensively documents reduction in effectiveness of vaccinated immune systems; which suggests the fully vaccinated are developing a new form of vaccine induced acquired immunodeficiency syndrome, then you have a charming little cocktail that leaves with about as much chance of extending your life as a large dose of Midazolam.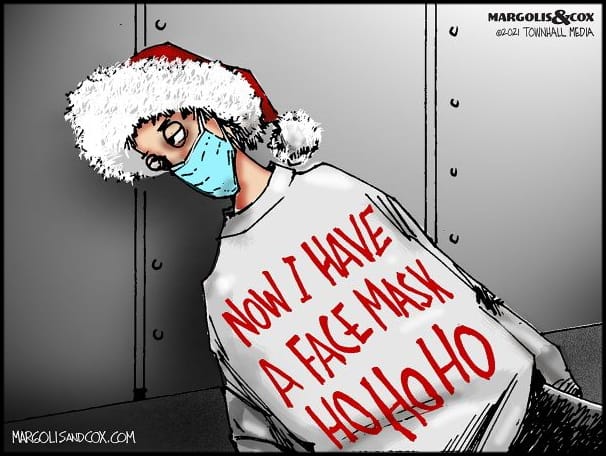 NURSES SPEAK OUT
The CONEJO GUARDIAN reports:
Ventura County nurses from differ­ent sectors and specialties are coming forward to blow the whistle on what they deem serious lapses in local health care practices, mostly related to COVID-re­lated protocols, "vaccine" mandates and politically and financially motivated bul­lying of medical staff, which these health care workers say is seriously compromis­ing the general quality of local care.
The Guardian spoke with multiple nurses of various ages and at different stages in their careers, all of whom work in medical care settings or hospitals in Ven­tura County. Each preferred to speak un­der a pseudonym for now. Each described seriously declining standards of care, at­mospheres of intimidation and fear in hospitals, and distrust and disillusionment among medical professionals.
"Before COVID, nurses, staff and the community were confident in treatment modalities and in doctors' competencies," says one nurse. But now, "People are con­fused."
"They're very confused," agrees a veter­an Ventura County nurse. "I think doctors are confused.… I don't think the commu­nity's confident. I'm not.… Because where's the truth?"
Angela, a nurse for more than 25 years, confirms that in her hospital's emergency room, they say they are seeing more heart problems in young adults, which are never reported to the Vaccine Adverse Event Re­porting System (VAERS) as potential ad­verse reactions to COVID "vaccinations."
Another nurse, Jennifer, says ER nurs­es privately say they are seeing "all the clot­ting, bleeding and things you would expect from the vaccine six months later — brain bleeds, heart attacks in younger 50-year-olds. No doctor will admit this is from the vaccine. They won't make the VAERS re­port."
When Daniel asked fellow nurses and practitioners if they report to VAERS, they looked at him like, "What's that?"
"I've seen people in their thirties [with these problems], and the doctor's just like, 'Oh, you have s—y genes,'" he says. "I'm like, are you kidding me?"
In an updated article, more nurses are speaking out:
After the Conejo Guardian's report on alarming trends in Ventura County hospitals, more nurses have come forward to affirm the rise in unexplained heart problems, strokes and blood clotting in local vaccinated patient populations. They also say doctors refuse to consider that these could be adverse reactions to Covid shots.
Sam, a critical care nurse at an ICU in a Ventura County hospital, came forward because, "I'm tired of all the B.S. that's going on," he told the Guardian. "It's crazy how nobody questions anything anymore."
BOOSTER DEATH
This story is about a journalist bragging about getting his booster, with unfortunate side-effects., Take note, I do not post these stories with any sense of glee… just a growing concern of our gullibility:
Sad news is coming from the NY Times as Deputy Asia Editor Carlos Tejada has died from a heart attack. In their 700+ word article discussing his life and career, they mentioned how he died but omitted one extremely important detail.
Tejada, 49, received his booster shot the day before his death. Independent Journalist Alex Berenson reported on his SUBSTACK:
On Dec. 16, in Seoul, South Korea, he received a Moderna mRNA/LNP "booster." No clinical trials have ever been conducted to examine the safety or efficacy of mixing various types of these vaccines, and Carlos did not give informed consent, as the consent form was in Korean, a language he could not read. He joked that Omicron should "hit me with your wet snot."
FIRST FROM CARLOS ON HIS TWITTER FEED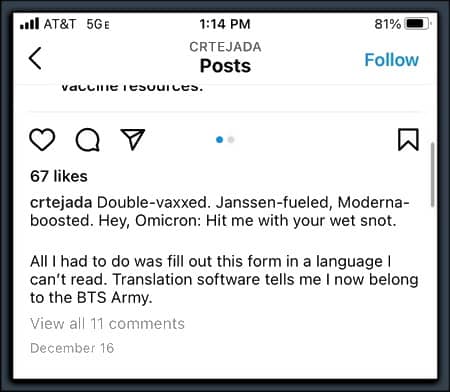 THEN HIS WIFE TWEETING ON HER DECEASED HUSBAND'S TWITTER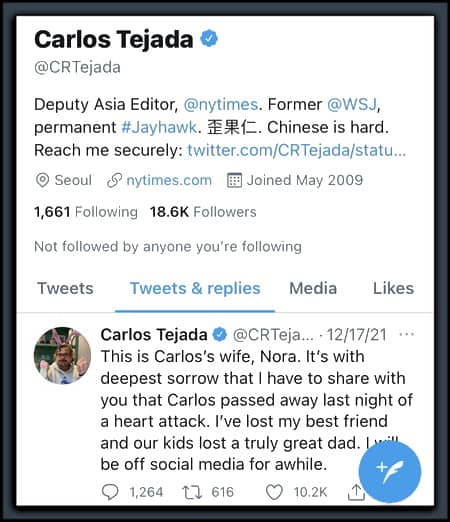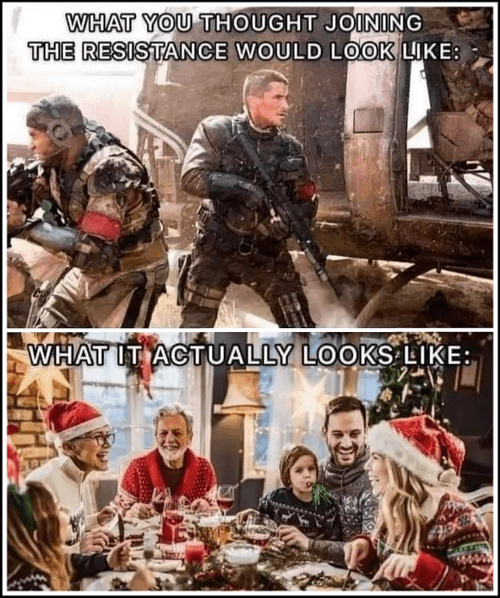 CBS News' "Face The Nation"
This isn't going unnoticed… that is… the failed "super omnia salutem" type policies of the reign of health tyranny are finally drifting into the Sunday shows.
(Latin) super omnia salutem (English) health above all else
This comes by way of RED STATE:
Most of the time, the panel or roundtable portion of any weekly Sunday political program is a lively exchange among the moderator and the panelists. But that wasn't the case during one segment of CBS News' "Face The Nation" this week.
As the show does once a year, it convened a panel made up entirely of the news division's correspondents, ostensibly to review the big stories of 2021 and make some predictions about where those storylines will go in 2022 and beyond.
"They will be paying for our generation's decisions the rest of their lives": @JanCBS explains why she thinks 2021's biggest underreported story was the devastating impact of COVID policies on children pic.twitter.com/AUU1f6AFNi

— Face The Nation (@FaceTheNation) December 26, 2021
[….]
But at some point in the segment, the panel sat in stunned silence for over a minute-and-a-half, as one of their own spoke the truth about how damaging the lockdowns and other governmental measures have been to our nation's children. And it's implicit in her answer that the media is not off the hook for the blatant lack of reporting about it.
[….]
Notice in the video that Brennan was the only one to acknowledge any of what Crawford said, when the reporter mentioned the "mental health crisis among kids," leading into her sharing that staggering statistic on suicide rates among girls.
RedState has reported on the ways schools have treated children, which verge on child abuse in how they're implemented. I also previously reported about cities closing skateparks by filling them in with trucks full of sand. And I doubt anyone will soon forget the images of what Crawford described — the playgrounds across the country closed and their gates secured with locks.
Yes, as CBS News' tweet read, the reporter outlined "the devastating impact of COVID policies on children." But the unspoken word in that sentence is "Democrat." It's been mostly Democrat governors and other officials — elected and unelected — who have imposed the harshest policies during the pandemic, including the ones devastating our young people. It's not even close.
[See also POWERLINE]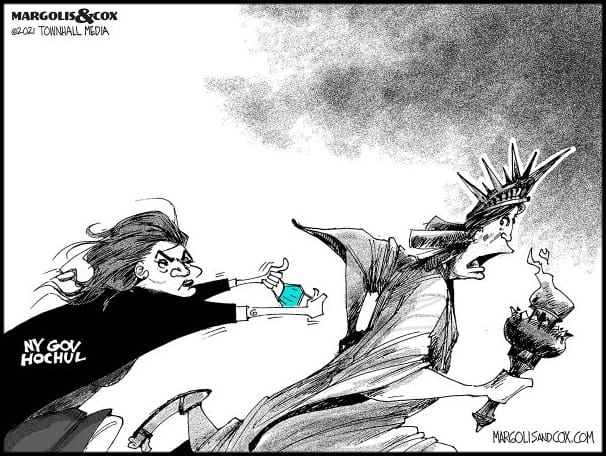 SILENCE TELLS ALL
If this administration knew different and had the health victories they claim…. you would expect the opposite of this lack of openness:
Press Records Show Joe Biden Is The Least Accessible President In Modern History
….Biden also has the distinction of setting the presidential record for the most number of days (64) without holding a single news conference since taking office. The next highest president on that list is George W. Bush, who waited 33 days before giving his first press conference. Former President Donald Trump held his first press conference just 27 days into his presidency.
Biden is now on record as having held six solo "press conferences," but even that number is misleading, considering that he almost exclusively calls on pre-selected reporters (who need to be granted access to the East Room by his handlers) and often appears to have the answers to their softball questions written down ahead of time.
As of Nov. 20, Biden had held just nine combined solo or joint press conferences in his first ten months in office, and he still has yet to step foot inside the James S. Brady Press Briefing Room, where more reporters would be able to ask him questions. By comparison, Trump held 21 combined solo or joint press conferences in his first year in office, including a whopping 35 solo press conferences in 2020…..
Let's Go Brandon!