(WIKI) Amen (Hebrew: אָמֵן, 'ʾāmēn'; Greek: ἀμήν, 'amín'; Arabic: آمین, 'āmīna'; Aramaic/Syriac: ܐܵܡܝܼܢ, 'ʾāmīn') is an Abrahamic declaration of affirmation first found in the Hebrew Bible, and subsequently in the New Testament. It is used in Jewish, Christian and Islamic worship, as a concluding word, or as a response to a prayer. Common English translations of the word amen include "verily", "truly", and "so be it". It is also used colloquially, to express strong agreement.
[….]
The usage of amen, meaning "so be it" (as found in the early scriptures of the Bible), is a word of Biblical Hebrew origin. The word originated in the Hebrew Scriptures, as a confirmatory response; it is found in Deuteronomy as a confirmatory response made by the people. Moreover, in the Books of Chronicles (16:36), it is indicated that around 1000 BC, the word was used in its religious sense, with the people responding "Amen" upon hearing the blessing, "Blessed be the Lord God of Israel from now and unto all eternity". The basic triconsonantal root from which the word is derived, is common to a number of languages in the Semitic branch of the Afroasiatic languages, including biblical Aramaic. The word was imported into the Greek from the Judaism of the early Church. From Greek, amen entered the other Western languages. According to a standard dictionary etymology, amen passed from Greek into Late Latin, and thence into English. Rabbinic scholars from medieval France believed the standard Hebrew word for faith emuna comes from the root amen. Although in English transliteration they look different, they are both from the root aleph-mem-nun. That is, the Hebrew word amen derives from the same ancient triliteral Hebrew root as does the verb ʾāmán.
Grammarians frequently list ʾāmán under its three consonants (aleph-mem-nun), which are identical to those of ʾāmēn (note that the Hebrew letter א aleph represents a glottal stop sound, which functions as a consonant in the morphology of Hebrew). This triliteral root means to be firm, confirmed, reliable, faithful, have faith, believe.
Here is the video:
DAILY WIRE great commentary:
This sparked some responses
MY FACEBOOK:
BEN SHAPIRO + CLIFFORD D. MAY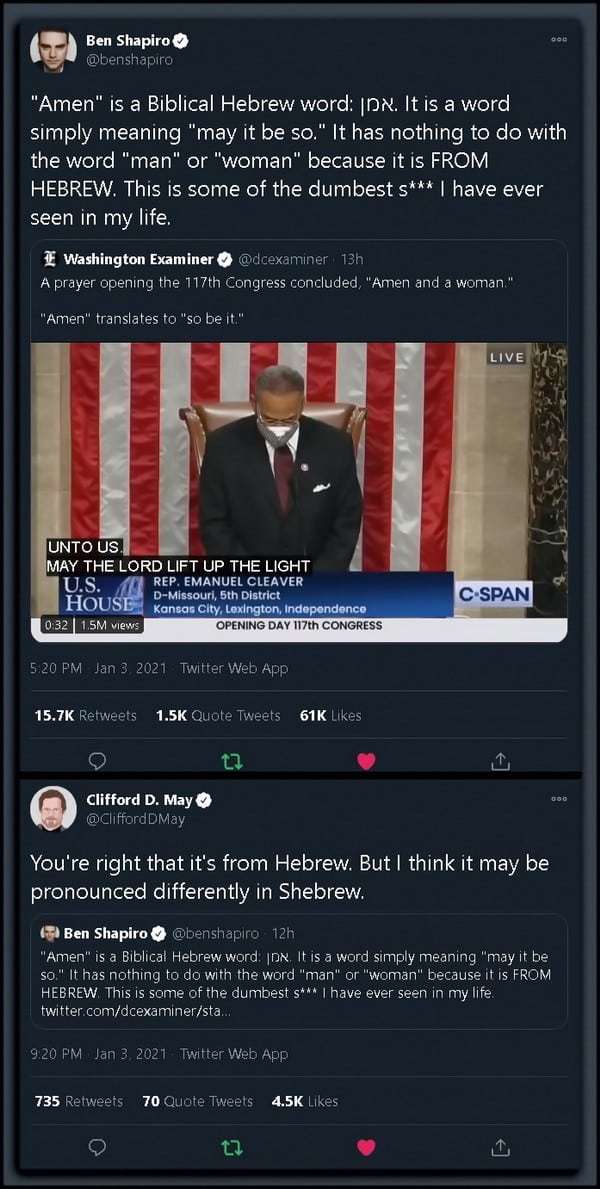 THE O.T. via JERRY ADAMS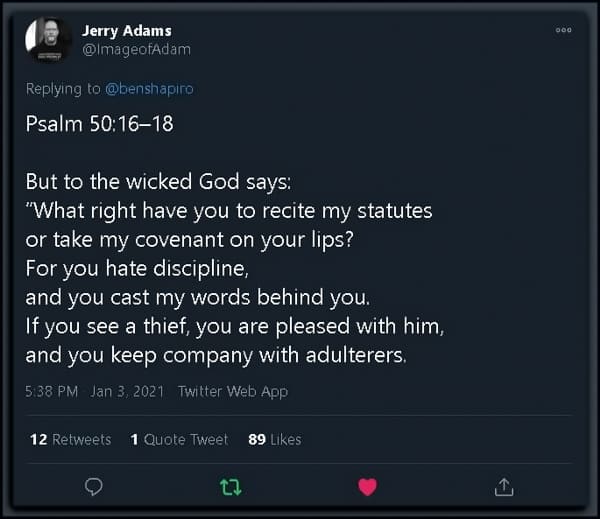 ---
SOME APOLOGETICS
---
SEE ALSO: