(This is with a hat-tip to Santa Clarita Community Watchdog Group — a Facebook group) In a post on Facebook I came across this linked article to LAW ENFORCEMENT TODAY discussing a Democrat politician from Florida's 18th Congressional district apparently putting out a "hit list" against Republicans. Here is a portion of that article:
Politics is hardly ever pretty when it comes for folks racing toward an election, and thus that means the election for Florida's 18th congressional district is not immune from the likes of nasty rhetoric from people trying to get a seat at the table.
But when you have people calling for an "open season" for killing your political opponents, then that is where a line has been crossed.
DCCC-Backed Congressional Candidate Asked 'Is It Open Season?' on Killing Trump Admin. Officials | https://t.co/MIkMPKZJmr pic.twitter.com/dIiSS9aWyN

— National Review News Wire (@NRWire) August 28, 2020
The person who crafted a hypothetical call for murdering the likes of President Trump, Roger Stone and AG Bill Barr is Pam Keith. This Democrat is vying to land Florida's congressional seat for the 18th district, but a Twitter post dating back to June 10th of this year puts her disturbing mindset on full display:
"GOP: Yeah he's dead. But it's not a big deal because he was a "bad guy." Is that REALLY the new rule they want? Killing is OK if it's a "bad guy?" Is it now open season on: Flynn, Manafort, Stone, Gates, Cohen, Trump, Barr, Kavanaugh, Lewandowski, Bolton, Pompeo, Papadopolous, Parscale."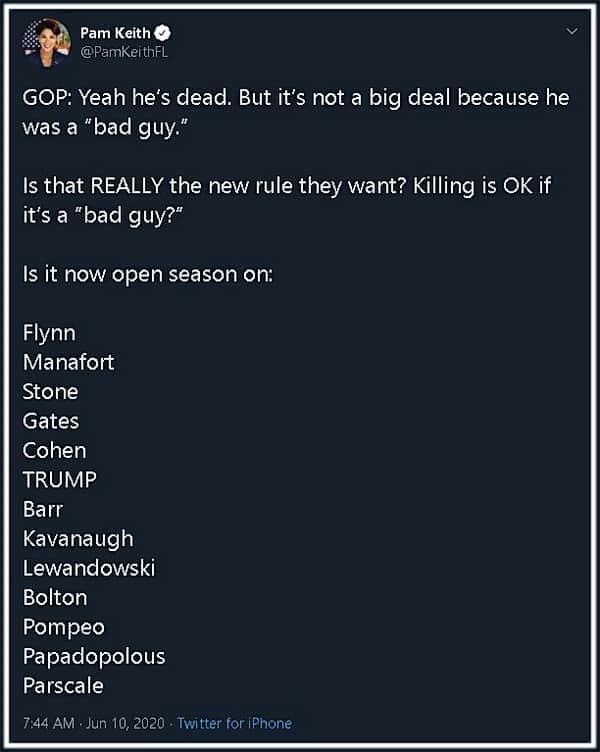 NATIONAL REVIEW is the original source for the LET article and notes the political struggle in that district, writing that "The race between Mast and Pam Keith for Florida's 18th district is now considered a toss up by the Niskanen Center." Continuing they note:
…The district has swung Republican since 2016, however Keith represents a first major challenge to Mast's tenure.
Mast is a veteran of the Afghanistan War, where he lost both legs after a bomb exploded under him. Keith is herself a former judge in the Navy, and is an African American who has voiced support for the Black Lives Matter movement.
Democratic Congressional Campaign Committee chairwoman Cheri Bustos has said of Keith, "Pam has never backed down from fighting for what's right. She's running for Congress to put an end to the petty partisanship that gets in the way of delivering results for Floridians." However, Keith is not one of the candidates listed as part of the organization's "Red to Blue" campaign to flip Republican-held districts.
With a competitive election on the horizon, focus has shifted to both candidates' social media history. Keith was the subject of a profile in the Washington Post on Friday which did not mention her more controversial posts…..
Of course if this were a Republican, WaPo would have included those "controversial" posts. All this led to a humorous aside: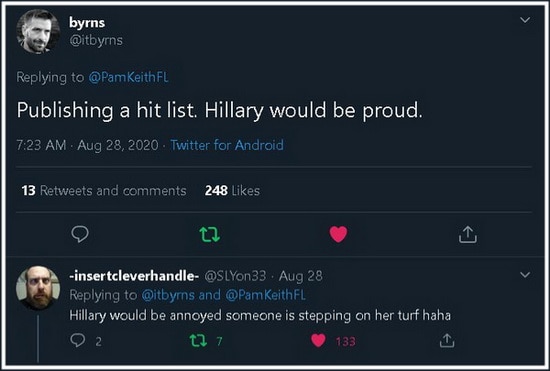 HOWEVER…
This made me think of a connection to the Democrat Party's historical past. Here is my comment on that part of the group on Facebook: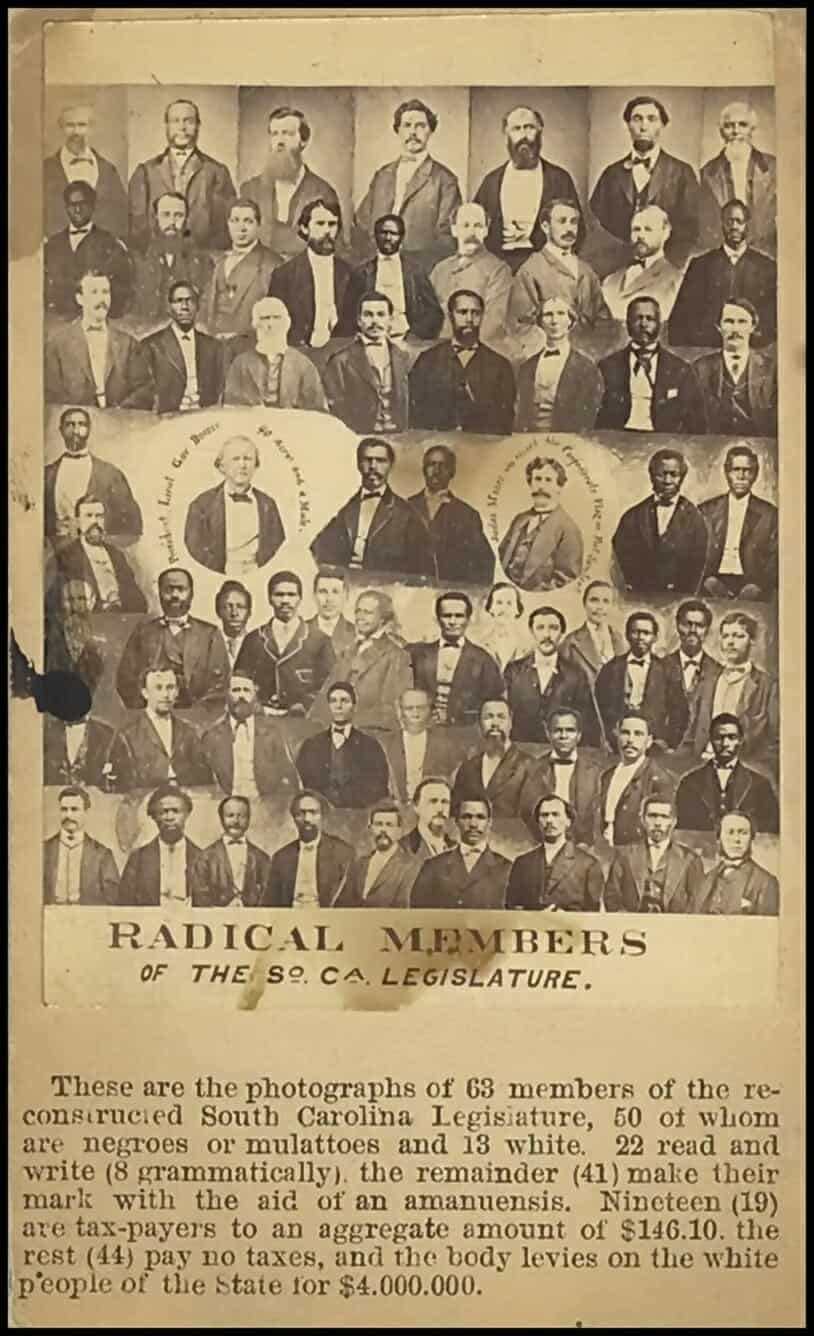 You know, this reminds me of something from the Democrats past. What this is is a "hit card" that the violent arm [the KKK] of the Democrat Party use to carry around with them. They would use it as an identifier to kill or harass members of the "radical group" (Republicans who thought color did not matter) in order to affect voting outcomes. While we hear of the lynchings of black persons (who did make up a larger percentage of lynchings), there were quite a few white "radicals" lynched for supporting the black vote and arming ex-slaves. It is also ironic that the current Democrat melee is focused on racial differences.
I could go on, but I won't.
Here is a short video discussing the matter:
"

…virtually every significant racist in American political history was a Democrat." — Bruce Bartlett, Wrong on Race: The Democratic Party's Buried Past (New York, NY: Palgrave MacMillan, 2008), ix;

"

…not every Democrat was a KKK'er, but every KKK'er was a Democrat." — Ann Coulter, Mugged: Racial Demagoguery from the Seventies to Obama (New York, NY: Sentinel [Penguin], 2012), 19.