(This is with a hat-tip to Santa Clarita Community Watchdog Group — a Facebook group) In a post on Facebook I came across this linked article to LAW ENFORCEMENT TODAY discussing a Democrat politician from Florida's 18th Congressional district apparently putting out a "hit list" against Republicans. Here is a portion of that article:
NATIONAL REVIEW is the original source for the LET article and notes the political struggle in that district, writing that "The race between Mast and Pam Keith for Florida's 18th district is now considered a toss up by the Niskanen Center." Continuing they note:
Of course if this were a Republican, WaPo would have included those "controversial" posts. All this led to a humorous aside: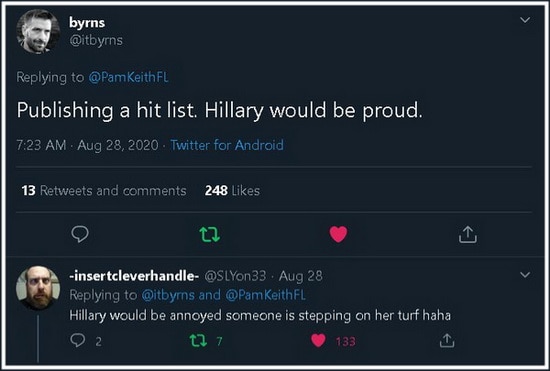 HOWEVER…
This made me think of a connection to the Democrat Party's historical past. Here is my comment on that part of the group on Facebook:
Here is a short video discussing the matter:
"

…virtually every significant racist in American political history was a Democrat." — Bruce Bartlett, Wrong on Race: The Democratic Party's Buried Past (New York, NY: Palgrave MacMillan, 2008), ix;

"

…not every Democrat was a KKK'er, but every KKK'er was a Democrat." — Ann Coulter, Mugged: Racial Demagoguery from the Seventies to Obama (New York, NY: Sentinel [Penguin], 2012), 19.