(Posted April 2014, Updated December 2017 and Today)
This comes via THE BLAZE, and is merely a confirmation of what many fair minded people already know, these are some quotes from Sharyl Attkisson during an interview on CNN. I think that CNN was a bit late to the party, maybe, feeling the hit to their ratings for not doing what Fox had already done with Miss Attkisson, that is, interview her:
THE BLAZE continues the story with the video interview:
UPDATED WITH CURRENT GRAPHS (12-6-2020)
This brings us back to some older news, but refreshing it in our minds helps us remember the uphill battle we face. Lets compare the first 100-days of each of our recent presidents. And as you will see, the media was most fair (down the middle, so-to-speak) with Clinton. But as the Left gets more entrenched due to brainwashing at the university, you see a slide to one end:
Well, Sharyl Attkisson, a 21-year vet at CBS confirms to us what Bernie Goldberg years ago already did. That CBS (obviously not the only network) has sold its soul to the gods of progressivism. While Fox should remain center-right, they should always allow the other voice an opportunity to speak. Scott Whitlock at NEWSBUSTERS, for instance, noted that "as of April 3, 2014, it's been 140 days since the once-vaunted Nightline covered ObamaCare or any of the problems associated with it. Instead, the ABC News program has mostly avoided hard news, focusing on tabloid-heavy topics such as a city in Brazil that has become known as the "model factory." So it isn't just WHAT you report as it is what you choose to ignore that affects the public's perception. Sad.
BTW, CNN doesn't escape this malaise either.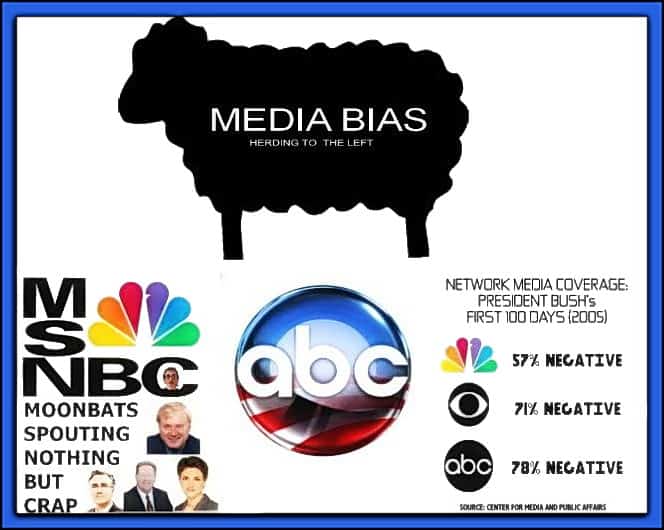 UPDATED… (April 2014)
…with GATEWAY PUNDIT'S erudite [not always mind you] fishing into what was just revealed (that I missed):
This will unfold more over the weeks to come, if the pressure is kept on CBS.