This is a post dealing with the many aspects of the Korean cult known as World Mission Society Church of God (as well as: The Church of God, WMSCOG, COGWMS, The Church of Ahnsahnghong, Elohists). CARM has some helpfully concise information on the cult…
The following video is a great (albeit badly filmed) introduction to some of the concerns of WMSCOG presented by Professor Ji-il Tark via Steven Hassan's "Freedom of Mind" YouTube Channel: Here is the video description followed by the video:
"The World Mission Society Church of God (Korean: 하나님의교회 세계복음선교협회) was founded by Ahn Sahng-hong (안상홍) in 1964. The church believes that he is the second coming of Christ. Ahn Sahng-Hong was baptized in 1948 and died in 1985 and the current leader of the church is Ahn's spiritual wife, Zang Gil-Jah (장길자), known in the church as "the Heavenly Mother", and the General Pastor is Kim Joo-Cheol."
I shot this video in July 2010 of Professor Tark at a conference where many former members of a wide variety of destructive, totalitarian groups met. I had never heard of Professor Tark, but came to learn that his father was the most famous anti-cult minister in Korea. He was unfortunately assassinated by a cult member (not someone from WMSCOG). He is professor of Religion at Busan Presbyterian University. 
There is another video testimony by a 12 year ex-member/missionary for WMSCOG on Steve Hassan's YouTube Channel HERE.
A partial — quick — dealing with WMSCOG can be found at Got Questions:
And here I wish to shift gears a bit and discuss a few of their false prophecies. Dueteronomy 18:20-22 reads thusly from a few different versions: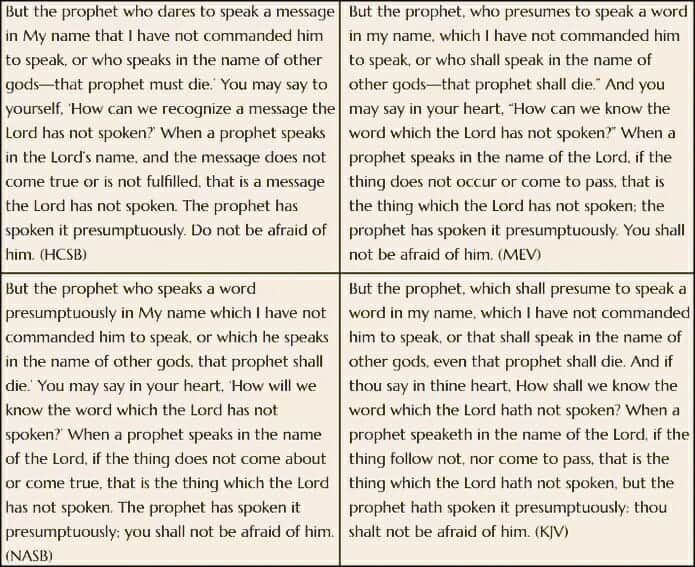 One commentator notes the following about the above verse:
False prophets could be detected in various ways. We have previously learned that they were false if they sought to lead the people away from the worship of the true God (13:1–5). Here is another means of detection: If a prediction failed to come to pass, that prophet should be put to death, and no one need fear any curse he might pronounce.
William MacDonald, Believer's Bible Commentary: Old and New Testaments, ed. Arthur Farstad (Nashville: Thomas Nelson, 1995), 217.
So one-way to see a false prophet is by their fruits. Matthew 7:15-20 reads:
So here Jesus is analogizing "bad fruit" with false prophecies. How does this relate to WMSCOG? Because they made 3-major false prohecies. This came out in a court case where the cult lost hands down… here are some of the key portions, I will highlight them:
There was also a false prophecy about the end of the world in 1967. But above we see also 1988; 1999, and 2012 were dates set for the end of the world as well.
Most cults have false prophecies: Jehovah's Witnesses; Mormons; etc.
Here is another example of a false prophecy as detailed by Examining The World Mission Society Church of God site:
When we compare the Green Book in 1993 to the Green Book in 2010, we find some curious changes.
The "Second Coming Jesus" Writes About the Future "Second Coming Jesus"?
Just to be clear, Ahn Sahng-Hong never claimed anywhere in his writings to be Jesus Christ. Rather, it is the WMSCOG which claims he was the Second Coming of Jesus. Yet, we find that Ahn Sahng-Hong in his own writings in 1993 speaks about the future Second Coming of Jesus: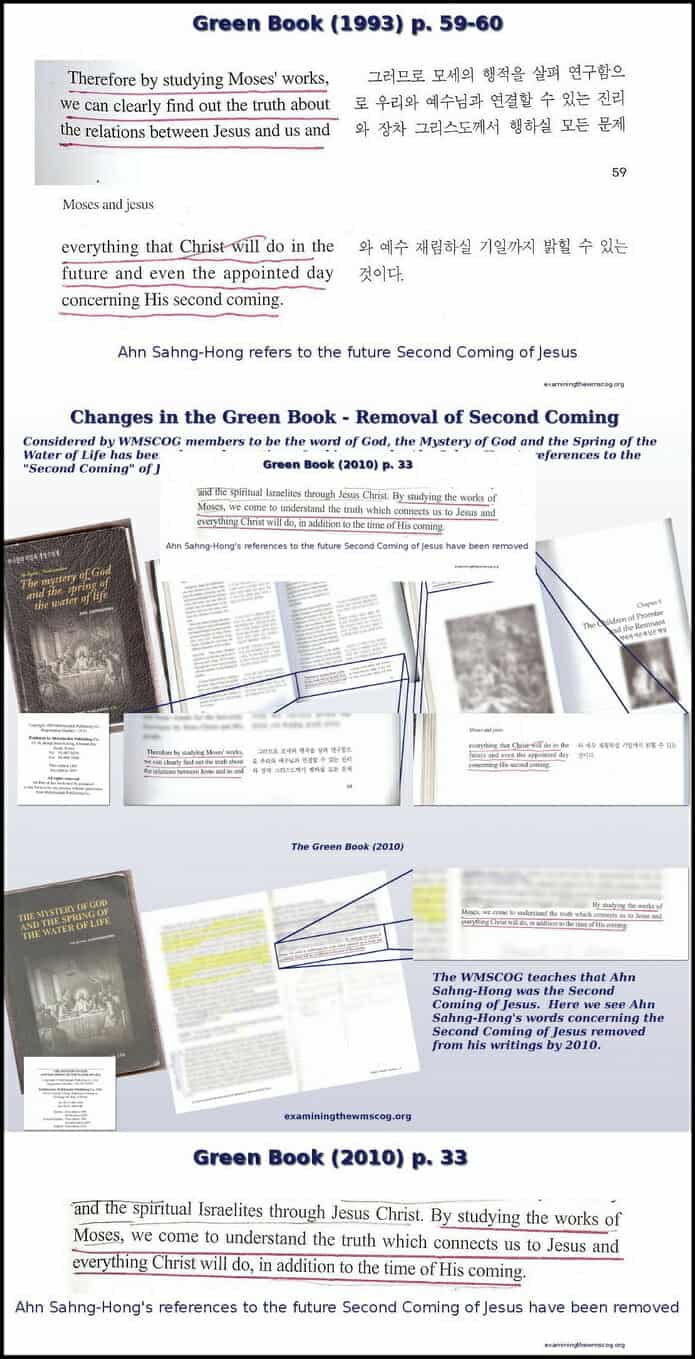 (See more false prophecies in this index at Encountering the Cult of Ahnsahnghong)
So what should the layman walking around the college campus do when approached by these people knowing that their theology teaches that Ahnsahnghong will judge/save us (only God the Father, Christ, Ahnsahnghong and God the Mother [Heavenly Mother] can give people salvation), then you can quickly explain that the Bible forbids one to follow such salvific pronunciations because the Bible clearly teaches that we should "not be afraid of the false prophet."
I will continue the topic on WMSCOG in the future.