(Originally posted in April of 2014)

Pic above is linked to an in-depth review of the Temple symbols ~ FYI
This is a tough topic to deal with. Mainly because there are many who talk about the same topic who insert many wild-eyed conspiracy stories and points of view that include the New World Order, and many other historical reinterpretations that dilute both the goal and the veracity of the truth of the matter. However, there are many LDS respected, Mormon authors, that have come to the conclusion that Joseph Smith borrowed heavily from Freemasonry, which is really modern day Gnosticism (see #7 in my run-in with actor, Michael Berryman). One video presentation that includes a BYU Professor/Mormon, that speaks about this occultic connection found in Mormonism is the following video:
The Mormon author/professor who is mentioned in the above video, Dr. Quinn, wrote a book that caused a brow-or-two to raise within the Mormon church. His fellow compatriots that is. It is entitled Early Mormonism and the Magic World View. Here is a partial review of the book from MRM:
I wish to temporarily step away from the occult connections and temple rites to look simply at the divergent theology of the two faiths, which are Christianity and Mormonism:
Jesus of Historic Christianity:

Jesus is eternal, there never was a time when He did not exist.He is the creator of the time/space continuum which includes the entire known and unknown universe, all the planets and stars, energy, gravity, natural laws, and the like – all this places him as part of the Trinity.Because of His all-knowing, all-powerful, and all-presence nature, he is rightly called God Almighty.

Jesus of the Watchtower (Jehovah's Witnesses):

Michael the Archangel is the first creative act of God, after that God creates everything else through Michael the Archangel.When Michael comes to earth he is known as Jesus Christ, but when back in heaven once again takes his place as Michael the Archangel.

Jesus of LDS (Mormons):

Jesus was the first begotten son by Heavenly Father and Mother (one of many mothers, but presumably this one is the most important.Polygamy is practiced in the Mormon top-tear heaven), Lucifer was also born of a sexual act in heaven, so Jesus and Satan are literally brothers – as we are all brothers and sisters, albeit most likely half-brother or sister.During the judgment period Elohim, Jesus, and Joseph Smith will judge every Mormon and according to his works.(I say his, because in Mormon theology women are consecrated to a Mormon man, so her salvation depends on his good works.If he does not make it, in heaven she may become one of the many wives of a Mormon male that did make the cut, so-to-speak.) Again, Jesus had to become exalted Himself to also attain the best Heaven so he to can be a god of his own world.This godhood exaltation goes back to infinity in Mormon theology.So Heavenly Father was once a man on a planet much like our, and he too had to attain exultation, he had a father, that father had a father, and so on. (see video below)
As I point out in my chapter on Mormonism, the "god" Mormons worship is too small. Why? Because Jesus is understood to be part of the ETERNAL Holy Trinity, and thus, as God proper, created even the space-time-continuum. Why is this significant? I will explain from an old post that turned into my chapter:
Do you understand? One would be better off worshiping information (as found in DNA: adenine, guanine, cytosine, and thymine) rather than "heavenly father." Information, so-to-speak, is more powerful than the Mormon god. Hell, gravity is as well. Two completely different Gods — the Christian vs. LDS.
Again, to be clear, Mormons are not a Christian sect in the same vein as say, Lutheran, Methodist, Catholic, Evangelical, or the like. Many LDS say they are Christians, but here is a simple example to show that they are waaay off following their conclusions to logical ends.
Imagine if you will, myself walking into a Mormon stake (church) and proclaiming myself a Mormon. To which, when asked/quizzed, I elucidate:
A knowledgeable Latter-day Saint would defy that such a person was, in fact, a true Mormon. why? Because this person who claims to be Mormon denies the very doctrines that make Mormons what they are. At the same time, however, a Mormon who claims to be Christian denies the very doctrines that make Christians what they are.
Indeed, Mormonism denies or distorts the basic tenants of Biblical Christianity. The two religions are incompatible. The areas of difference include the doctrine of God, the basis for authority, and the idea of salvation for mankind.
Enough said to make it clear we are talking about two separate — completely separate — faiths, we can wade back into the occult aspect of the LDS faith.
A hidden camera was brought into a temple ceremony that collaborates well the following video presentation showing the pre-1990 ceremony (which was replaced heavily with video presentations versus actors). The LDS church's theology and ceremonies are always in flux, even the "historical" First Vision has been changed many times over.
The hidden camera footage (found here) is interesting because near the end the slits in the fabric wall are explained, and as we shall see in yet another video, these tie into the "magic Mormon underwear." But first, the classic presentation of some of the temple ceremonies:
Here are a few of the similarities listed between Masonic and LDS temple ceremonies which cause HONEST Mormons to agree with historical evidences of Joseph Smiths involvement with Freemasonry, as well as well as aesthetic comparisons:
Of course, even after all the above, many Mormons will brush aside dealing with these challenging presentations to their theology. And thus reject truth for religious ideology.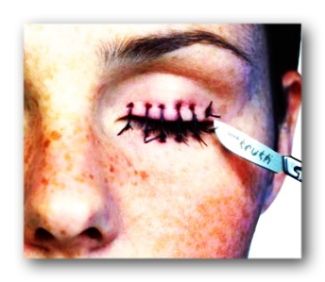 Faith is even viewed differently in LDS theology than it is in Christianity:
I know God is unchangeable (Hebrews 13:8), cannot tell lies (Hebrews 6:18-19), again, does not lie…
Within Mormonism — if you were diligent to follow the above conversation — there is an endless line of gods, many, many gods in fact…. into infinity; that would negate truth being told us from either Elohim or Yahweh. To wit…
I will end with this presentation that is a good — humorously of course… but with an air of warning — connecting the Temple ceremony with the vaunted magic Mormon underwear, is this presentation by John Safran, entitled, "John Safran vs God – Masonic Mormon Underwear Exposed (pardon the pun..)" Here it is, enjoy: