THE "AIR CULT" (Practice)
Here is a quick run-down of the cult via THE INDEPENDENT:
JASMUHEEN (Founder)
Of course… a cult based around a "diet." Twenty-one days is also the time in the TV series, Naked and Afraid. Here is some information via APOLOGETICS INDEX:
PRANA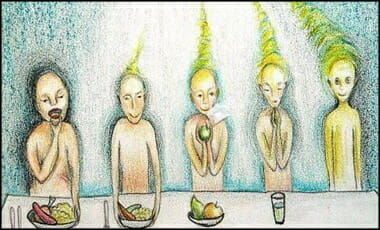 Sanskrit for "breath" or "life-force."
---
Prana is believed to be universal divine energy residing behind the material world (akasa). Prana is said to have five forms, and all energy is thought to be a manifestation of it. Swami Nikhilananada describes it in his Vivekananda – The Yogas and Other Works as "the infinite, omnipresent manifesting power of this universe" (979:592). Perfect control of prana makes one God. One can have "infinite knowledge, infinite power, now"
A death in 1999 was this one recounted by THE INDEPENDENT:
The most recent death was that of Verity Linn, an Australian woman whose emaciated body was found on amountain in north-west Scotland in July. Among her possessions were a copy of Jasmuheen's book, Living On Light, and a diary revealing that she was taking part in a 21-day fast. Jasmuheen's books and Internet sites may also have contributed to the fatal fasts of a Melbourne woman, Lani Morris, last summer, and of a German kindergarten teacher, Timo Degen, in 1997.
HOLLYWOOD
There is — of course — a Hollywood connection:
Hollywood seems to be susceptible to the cults, at a higher rate than the general public. One cult that has less influence in Hollywood than say, Scientology, is "Breatharianism." Michelle Pfeiffer shared recently that she was involved many years ago in the cult when she first came to Hollywood and was very impressionable (Breitbart). She talked about how her first husband, who worked on a movie about the Moonies, helped her see the cult like aspect of this group:
"They worked with weights and put people on diets. Their thing was vegetarianism," Pfeiffer said. "They were very controlling. I wasn't living with them but I was there a lot and they were always telling me I needed to come more. I had to pay for all the time I was there, so it was financially very draining."
"They believed that people in their highest state were breatharian," the actress added.
According to Pfeiffer, she did not realize she was a member of a cult until she married former husband and fellow actor Peter Horton, who at the time was researching for a role in a movie about the Unification Church, founded by Sun Myung Moon. Members of the Unification Church have traditionally been referred to by the term 'Moonies,' though it is today regarded as a pejorative by the current leaders of the church.
"We were talking with an ex-Moonie and he was describing the psychological manipulation and I just clicked," Pfeiffer told Stella magazine. "I was in one."
(NEWSMAX)
I am glad she got out, but with many in Hollywood, the New Age is the biggest draw, then Scientology. The French have been vigilant in keeping an eye on the group: