(Originally Posted Apr 22, 2015 | New Audios)
I wanted to play the video in whole, then go through 6-points it makes to shed more light on them.
(I recently added to this next section)
DEFORESTATION
Prince EA's mentioning that a future generation of people will not know what trees are is JUST LIKE people telling us kids will not know what snow is like:
Funny thing is, some record breaking snow-fall followed in the years after… so much so that kids wished they forgot what it was.
But in all seriousness we are seeing similar dire predictions fail about the deforestation of trees. Keep in mind this is not a polemic proving all stories of deforestation false. I merely wish to bring some balance to the issue. For instance, in the Amazon, well over 95% of deforestation comes from cattle ranching, commercial agriculture, and infrastructure improvements. Less than 5% is from legal and illegal logging. Take note as well that The New York Times makes the point that,
"

…

for every acre of rain forest cut down each year, more than 50 acres of new forest are growing in the tropics on land that was once farmed, logged or ravaged by natural disaster."
I love balance.
William Shatner, Captain Kirk of Star Trek fame, mentioned in a National Geographic video that, "rainforests [are] being cleared at the rate of 20 football fields per minute."  If this were truly the case, the forests would have been completely wiped out years ago.  In Prince EA's video he said 40 football fields! In an interview with Dr. Evaristo Eduardo de Miranda (one of the world's leading experts on deforestation in the Amazon, is a professor of ecology at the University of Sao Paulo, Brazil's largest institution of higher learning, and president of ECOFORCE, a private, nonprofit, environmental research/educational institution), he was asked where these numbers come from:
One comment from the inter-webs noted: "The Amazon is just fine, as the people are moving out of the jungle to the cities and the jungle is raging back quite nicely. It's in Indonesia and the area that the forests are being cut down for palm oil/biofuel productions." Yep
In fact, the co-founder and long-time director of Greenpeace, Patrick Moore, said: "All these save-the-forests arguments are based on bad science….  They are quite simply wrong… [Phillip Stott and I] found that the Amazon rainforests is more than 90% intact. We flew over it and met all the environmental authorities. We studied satellite pictures of the entire area." Phillip Stott, who has 30 years of studying tropical forests under his belt as well as being professor of biogeography at London University mentioned that, "there are now still – despite what humans have done – more rainforests today than there were 12,000 years ago."
Conventional wisdom is often challenged as well by climatologists and specialists in their field. The NEW YORK TIMES passes along the complexity of an issue most people take for granted:
SCIENTIFIC AMERICAN gets a bit more detailed regarding the above. But this is a very complicated issue… especially since chopping down massive forests is being posited as a boon to fight "global warming" – to wit:
Here are some other FLASHBACK articles regarding trees and the varying ideas of their effects on our climate:
Like I said – challenging conventional wisdom. In reality, what throws many of these studies of deforestation off is the urban heat island effect and rural cold island effect. For more on this see Dr. S. Jeevananda Reddy's (bio) book/chapter: "Climate Change: Myths & Realities", 2008 — Chapter 7: Ecological changes.
NATIVE-AMERICANS
The second point I wish to comment on, and it is Prince EA's mentioning of the Native-Americans. I do not doubt that Prince was taught these things in school. However, like many other issues cornered in the monopoly of the government, balance is needed.
For instance, I wrote a response to an in-class supplement to my sons elementary class lesson [he is now married and lives in Florida] about HOW the Settlers treated the New World versus how the Indians treated it. I made sure each parent got a copy and this engendered a visit to see the principle. Here is a quote from that post:
These little historical facts changes the narrative just a tad, doesn't it? Like when the Iroquois directed their most furious attacks against the Hurons during the Beaver Wars. One Jesuit missionary wrote, "it is the design of the Iroquois to capture all the Hurons, if it is possible; to put the chiefs and great part of the nation to death, and with the rest to form one nation and one country." American Indians, alongside the Settlers, accelerated their hunting of the American Bison (Buffalo) that contributed to the near extinction of this plains beast. All in the name of the Mighty Buck! (READ MORE)
---
POLAR BEAR BREAK
(An UPDATED POST on an old one can be found showing the bottom line is that the current population is at record highs.)  While not dealt with well in Prince EA's video, his presentation  shows a computerized Polar Bear[s] walking in the background while intimating extinction or low numbers. Again, he probably learned about this in school, so you cannot really blame him fully. He is the product of indoctrination. However, this just isn't the case. In fact, there are a record number of Polar Bears. Here Is The Bottom Line:
Again, this throws a monkey wrench into the narrative, and makes the next proposition trues if the counter proposition can be true:
Truth About Stranded Polar Bears Image
(SEE MORE)
FOX NEWS & SEA LEVEL RISE
Want to move on quick over this section? Here is my response to a Starbucks patron (of which I count myself) when they bring up sea rise:
"I believe in sea rise? Hell, 10,000 years ago it was 350ft lower. That is how the American Indian populated the continent."
Mic Drop!
This was interesting because he calls out a news network. Good for him! He is wrong, but I like his style. This section I will deal with sea level rise in general, and then deal with the Bangladesh portion of Prince EA's claims. The general sea rise refutation of the school-house session can be seen here, but let us look at a graph:
But what interested me was his mentioning Bangladesh specifically… wrapped up in a challenge to Fox News.
Woa Whoa! Throwin' down the gauntlet. I am going to answer this from various sources, but as you will see, this is another fail on the eco-fascists side. Here is a conservative source first:
WHAT'S UP WITH THAT calls this Bangladesh "THE POSTER CHILD," and here is the end of their report:
Scientific American also takes a wholly different course and shows that current flooding is caused in big part to the Bangladeshi's themselves:
OF COURSE the magazine then goes on to assert Climate Disruption is still a threat to Bangladesh (towing the line is tough!). But this problem is moot because they gain land from the delta and the flooding is mainly "man-made," so are the solutions [technology].
CHINA vs SARAH PALIN
WOW, another challenge. Good for you Prince EA! But again, your understanding is wrong.
The Atlantic Monthly has a VERY interesting article I read a few years back. They note that in reality the pollution in China is at our 1980-levels.
Beijing just happens to be, similar to Los Angeles, in a geographical bind. Bloomberg makes this point as well around the same time the Atlantic Monthly does:
But as I have clearly shown… wind and solar energy is no cleaner. And the dream in peoples heads is truly just that, a dream… I mean when Google caves, you know the end-is-nigh.
And bio-fuels cause, literally, food riots and starvation in poor countries and raise the price of food which hurt the poorer people in the more well off nations: Ethanol is killing children around the world… Democrats! It takes 450lbs of Corn to fill one SUV tank… that is a years worth of food for multiple children, not to mention the rise of corn-based food for the poor worldwide. (SEE MORE)
ICE MELTING
Here is another fail on the part of the doomsayers who speak with a tongue very similar to the eschatology handed us at the most fiery southern Baptist church.
Prince EA is just relying on others work that have been either proven wrong or fraudulant in nature. Here for instance we see some predictions simlar to Prince's:
"Peter Wadhams, who heads the Polar Ocean Physics Group at the University of Cambridge… believes that the Arctic is likely to become ice-free before 2020 and possibly as early as 2015," (YALE ENVIRONMENT 360 REPORTED IN 2012). Yet government data shows that arctic sea ice has increased since then….
Here I will post information from a PREVIOUS POST about Polar Bear population levels, in which I point the following out:
Recent Population Increase Partly Due To Lots of Sea-Ice
Canada (CBC News via the Canadian Coast Guard, 3/2014) [ARCTIC Sea Ice] The Canadian Coast Guard is pleading with merchant ships to plan their voyages well in advance this year as the organization's icebreaker fleet confronts some of the worst ice conditions on the Atlantic Ocean in decades.
"Plan your voyage and we'll all get through this," said Mike Voight, the Atlantic region's director of programs. "We've got a pretty bad or challenging ice year."
The Canadian Ice Service, an arm of Environment Canada, said there is 10 per cent more ice this year compared to the 30-year average.
"We probably haven't seen a winter this bad as far as ice for the past 25 years," said Voight, referring to both the amount and thickness of the ice….
The American Geophysical Union (AGU) Abstract (12/2014) [ARCTIC sea ice] Despite a well-documented ~40% decline in summer Arctic sea ice extent since the late 1970's, it has been difficult to estimate trends in sea ice volume because thickness observations have been spatially incomplete and temporally sporadic. While numerical models suggest that the decline in extent has been accompanied by a reduction in volume, there is considerable disagreement over the rate at which this has occurred. We present the first complete assessment of trends in northern hemisphere sea ice thickness and volume using 4 years of measurements from CryoSat-2. Between autumn 2010 and spring 2013, there was a 14% and 5% reduction in autumn and spring Arctic sea ice volume, respectively, in keeping with the long-term decline in extent. However, since then there has been a marked 41% and 9% recovery in autumn and spring sea ice volume, respectively, more than offsetting losses of the previous three years. The recovery was driven by the retention of thick ice around north Greenland and Canada during summer 2013 which, in turn, was associated with a 6% drop in the number of days on which melting occurred – climatic conditions more typical of the early 1990's. Such a sharp increase in volume after just one cool summer indicates that the Arctic sea ice pack may be more resilient than has been previously considered.
Talking About Weather (7/2014) [ANTARCTIC sea ice] Antarctic sea ice has hit its second all-time record maximum this week. The new record is 2.112 million square kilometers above normal. Until the weekend just past, the previous record had been 1.840 million square kilometers above normal, a mark hit on December 20, 2007, as I reported here, and also covered in my book.
Mark Serreze, director of the National Snow and Ice Data Center, responded to e-mail questions and also spoke by telephone about the new record sea ice growth in the Southern Hemisphere, indicating that, somewhat counter-intuitively, the sea ice growth was specifically due to global warming.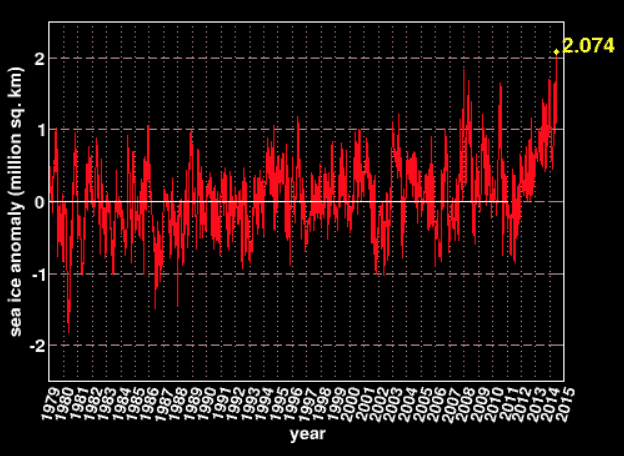 Let us compare this to Al Gore saying the northern ice-caps will be gone
NewsBusters makes the point another way, in that the "media" is derelict in their duty:
Remember, you can lead a horse to water but cannot make it drink.…read it all at Fox News.
"The West Antarctic ice sheet sits on bedrock which is below sea level. It formed during the ice age but the sea level rose 12,000 years ago and has been chipping away at it ever since. What happens to ice which sits on rock which is below sea level? Hint: it has nothing to do with CO2." This is a comment from Real Science's FLASHBACK to 1932 and how the ICe-Sheets were melting then (to the right).
AND FINALLY….
ROCKETS
I hate to break it to Prince EA, but that rocket to find other worlds would have to be powered by (in part) fossil fuels to break earths gravitational force. Not to mention the massive amount of energy (fossil fuels again) And often times the left kills innovation in areas (like nuclear) for ideological reasons. Keeping us dependent on fossil fuels.
You see, all of the above "sounds good," and grand. But as Thomas Sowell says, liberals — unlike conservatives — do not ask three simple questions:
compared to what?

at what cost?

what hard-evidence do you have?
FOR INSTANCE, as an example, Google came to the logical conclusion that such endeavors with alternative fuels is unattainable: