UPDATED!!
(Originally posted in March 2018)
Here is an update due to some discussion on my Facebook for the skeptics. This first article excerpt from THE HILL dated December 2011:
| | |
| --- | --- |
| Democrats View of Trump's Game | Donald's Real Game |
The morning after Trump signed the ominous OMNIBUS bill, a friend and I were very disappointed, to say the least. Below is our conversation… and let me say, I was wrong and not in tune with what this business man was after. And he was after getting his way because he loves America. My buddy is the orange boxes, I am the light colored boxes:

And it is that "what if" at 10:53am that got me thinking that Trump just may have bitch-slapped that evil grin on Schumer's face off! And speaking for myself as an Evangelical conservatarian, I am reinvigorated — greatly.
How I now see it… The Omnibus Bill is a temporary spending procedure to keep the government funded for a while (I don't know how long? 6-months? a year?). It was a mess of funding every pet project the Dems wanted to continue to fund, like Planned Parenthoood, NPR, etc. The bill may have even increased spending in some of these areas. But again, this is a t-e-m-p-o-r-a-r-y fix, and can be revisited in the future. It has to be.
A REAL BUDGET passed by the Congress and signed into law has to allocate money specifically to earmarked results — so if monies were said to go to the "a", they couldn't then be used for "a(i)". So the monies allocated to these projects are more "malleable," so-to-speak. Especially if the executive "declares" something that this office has power over. Congress would have a much rougher go at it, as they would have to collectively agree on what they have authority over, and THAT ain't happening anytime soon.
So Trump's Monday Tweet was as follows: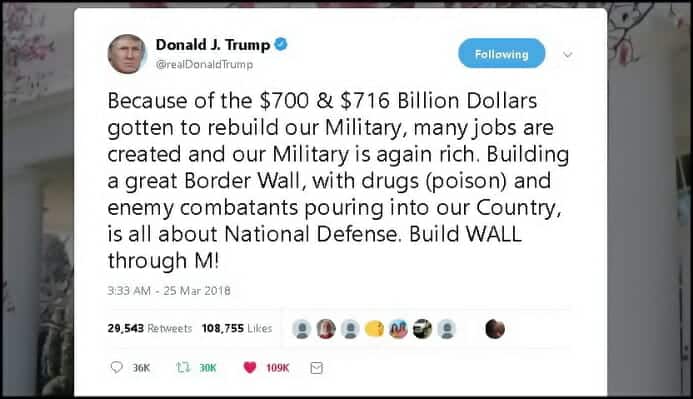 The "M" me thinks (hat-tip to Rush Limbaugh BTW) is the military. What that Tweet shows are the two requirements needed to use the military funds and know-how to build a large portion of the wall. A humanitarian emergency (crime, rape, drugs, etc. — related to the border and at the border) as well as a national security threat (terrorists being able to easily enter through our Southern border).
And walla, the ARMY Core of Engineers can get to work.
And he knew this from the get-go.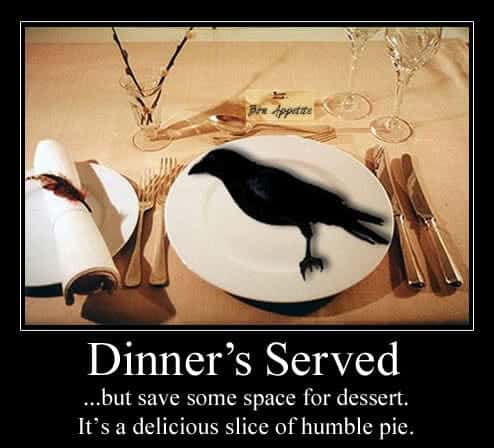 So 5-hours before he signed the bill he said he was going to veto it. Naw, that was a head-bob and weave. After he signed it he said never again. That is because he got what he wanted/needed.
The graphic to the right is for me: "Oh ye [me] of little faith."
I could imagine this happening behind closed doors:
---
My Tweet regarding the 33-million the Dems gave Trump: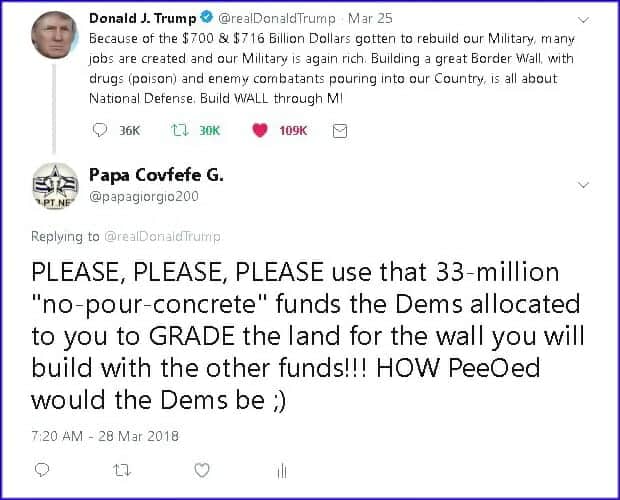 ---
Even if the above is not true to the "tee"… it has to be true in some respect. The Democrats got played. And I bet they are pissed! So are the spineless GOPers! (A two-fur one)
Trump strengthened the military greatly, and he can now come at North Korea and Iran with a stronger military and a bigger bargaining chip — and keep China's ambitions with their Navy to a minimum. And, he gets his wall. AND he routed the Dems. Awesome! I am not worthy: