See more here:
The question first should be, How radical is "La Raza?"
ANSWER: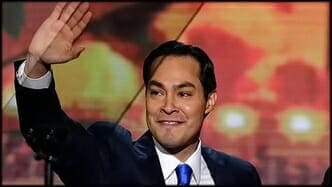 Whatever happened to the days of people like Caesar Chavez, founder of the UFW, who saw these movements now fully integrated into the Democratic Party, as the racist organizations they are:
A Professor preaches his la Raza Hate/racism in Los Angeles… he has many students learning this hatred, funded by tax payers:
It is amazing to me that Democrats would support a movement called "The Race." It solidifies the idea that Democrats are not against racism, but against "Americanism." Dana Loesch has an article that points to Julian Castro's radical positions:
…Castro and Obama both had radical parents. Castro's mother, Rosie Castro, is described as a "firebrand" and helped to found La Raza Unida. Julián Castro and his twin brother are considered "legacies" of La Raza's mission:
Also among these legacy children: San Antonio Mayor Julián Castro and brother, Joaquín, sons of Rosie Castro, who was also there at the beginning of La Raza Unida. Joaquín Castro is a state House rep and a congressional candidate.  
Said Rosie Castro of The Alamo:
"When I grew up I learned that the 'heroes' of the Alamo were a bunch of drunks and crooks and slaveholding imperialists who conquered land that didn't belong to them. But as a little girl I got the message — we were losers. I can truly say that I hate that place and everything it stands for."…
International Business Times points this connection out:
Castro is the son of Maria "Rosie" Castro, a Chicano political activist who helped establish the Chicano political party La Raza Unida in the 1970s.